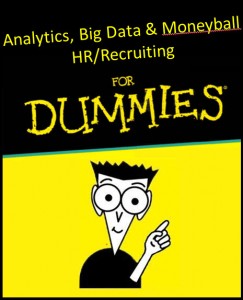 The interest in leveraging big data, analytics and Moneyball in HR and recruiting is gaining significant steam.
Ever since my first article on the subject back in 2011, I've set up Google Alerts and Hootsuite streams set up to catch any mention of big data, analytics and/or Moneyball in conjunction with HR, sourcing or recruiting,  and the volume of activity is bordering on surprisingly massive and overwhelming, and I'm not the only person to notice this.
Yes, it does seem like everyone is talking about big data in HR.

In 2012, "big data" was mentioned in 2.2M tweets by 980,000+ authors, at a peak rate of 3,070 times per hour!
However, as is often the case with relatively new and nebulous concepts, there is quite a bit of confusion surrounding big data and Moneyball and how they can be applied to HR and recruiting, as evidenced by the obviously incorrect usage of the terms in many cases. It's also nearly impossible to stay on top of all of the content being generated on the subject (although I am trying my best!).
This is precisely why I'm going to take the opportunity to clear up any confusion by concisely explaining the concepts of big data, analytics, and Moneyball as it relates to HR and recruiting, as well as illustrate some obviously incorrect references to these concepts in recent articles, including those from the Wall Street Journal, Forbes, The Economist, The New York Times, and more.
I'll tackle analytics first, big data second, and then Moneyball in HR/recruiting, leveraging Slideshare presentations and YouTube videos from experts for support.
Analytics ≠ Big Data!
Many articles use the term "big data" when they are really referring to analytics and data-based decision making.
For example, the recent New York Times article Big Data, Trying to Build Better Workers, The Wall Street Journal's  How Big Data Is Changing the Whole Equation for Business, and Forbes' Big Data in Human Resources: Talent Analytics Comes of Age all use "Big Data" in their titles, but the data they refer to do not meet the criteria for "big data" (definitively defined in a moment). The same can be said for the very popular Robot Recruiters article in The Economist.
Although inaccurate with regard to referencing "big data," what each of those articles does do a good job of is provide excellent and interesting examples of leveraging analytics for HR/recruiting.
For example, Forbes' piece features a company who ran a statistical analysis of sales productivity and turnover against a variety of demographic factors to develop a new sourcing and screening process to identify and hire people based on factors that data proved to be highly correlated with success, increasing sales performance by $4M in 6 months!
Analytics refers to the discovery and communication of meaningful patterns in data, which can be achieved with any data set, "big" or small.
Using analytics in human resources, such as developing correlations between employee performance, retention, demographic and assessment data to make data-based decisions  is certainly a best practice, but making data-based decisions doesn't have anything to do with "big data" unless the data being analyzed meets certain criteria.
Let's explore the criteria required for data to be classified as "big data."
So What is Big Data?
You may think you have a good grasp of the concept of big data, but if the misuse of the term by the writers for the New York Times, Forbes and many other respected publications is any indication, there is still quite a bit of confusion as to exactly what "big data" is and what it is not.
To clear up any confusion, I'll guide you through the concept of big data, referencing industry pioneers and experts, as well as providing practical examples.
Wikipedia claims that "Big data is a term applied to data sets whose size is beyond the ability of commonly used software tools to capture, manage, and process the data within a tolerable elapsed time," and that "Big data sizes are a constantly moving target currently ranging from a few dozen terabytes to many petabytes of data in a single data set." Other sources attempting to define big data include "the tools, processes and procedures allowing an organization to create, manipulate, and manage very large data sets…"
Regardless of how big data is defined or measured (terabytes, exabytes, etc.), the big data concept centers around relatively large amounts of data that are not only increasing in volume, but also in velocity and variety. Many big data pioneers and experts such as IBM agree that for something to be defined as "big data," it should adhere to the "3 V's:" Volume, Velocity, and Variety.
Here is IBM's explanation of the 3 V's along with some practical examples: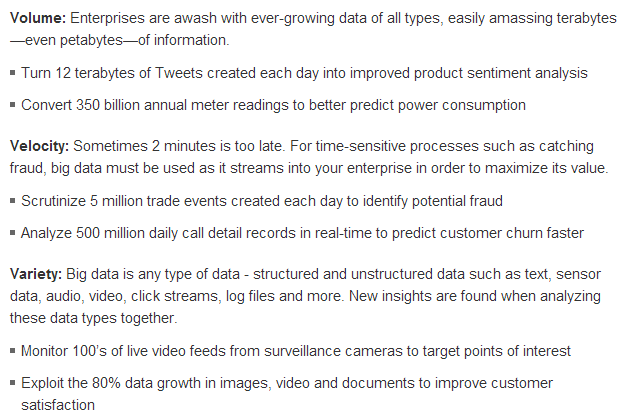 This excellent Slideshare containing a presentation on big data from Nick Weir, former VP of Data Strategy for Yahoo, clearly explains the "3 V's" and is definitely worth a review.
Furthermore, Gartner's definition of big data also includes the 3 V's:
"Big data" is high-volume, -velocity and -variety information assets that demand cost-effective, innovative forms of information processing for enhanced insight and decision making.
When it comes to volume, the line seems to be drawn as low as the level of 100′s of gigabytes, but more often at the multi-terabyte+ level.
The variety aspect of big data refers to the mix of data types and sources (e.g., tracking sensors on employees) and varying degrees of structure, from structured to completely unstructured (free text in the form of social network updates, recommendations, awards, endorsements, blog posts, comments, press releases, announcements, etc.).
The "velocity" of data is the speed at which new data is generated. Social media provides and excellent example of high data velocity, with Twitter serving as the poster child, with over 400,000,000 tweets/day (that's 2.8 billion updates every week!).
To get a better sense of how fast data (text, in this case) is being generated on Twitter, you can view real time Twitter activity via Tweetping (this is really cool!):
It really isn't the volume of data that poses the processing challenge and requires the specific technologies that Gartner suggests – companies have been processing large volumes of data for over 10 years now, with massive data warehouses (50-100TB+) powering business intelligence, reporting, and analytics.
As you might imagine, it's really the variety and velocity aspects of big data that necessitate the use of specialized information processing solutions. and more specifically unstructured data that poses the technology challenge.
So, to recap, no matter how large the data set being used to power analytics and to develop insights, if it doesn't fit the 3 V criteria, it isn't "big data" – the velocity and variety factors must also be present.
Now that we've established that understanding, get ready for this revelation: regardless of volume, velocity and variety, the value of big data isn't the data!
Using technology to crunch big data is great, but the latent power of data lies in the ability to draw actionable insights (aka – analytics).
Check out this interesting presentation from Daniel Tunkelang, who currently serves as the Head of Query Understanding at LinkedIn (how's that for a cool job?). He observes that data scientists worry about volume, variety and velocity, but  the real bottleneck isn't technology or computational – it's cognitive!
Furthermore, powerful insight comes from a comment on the recent HBR article  The Value of Big Data isn't the Data, in which a data scientist with a Ph.D in machine learning recognizes the fact that we need business domain experts to ask the right questions: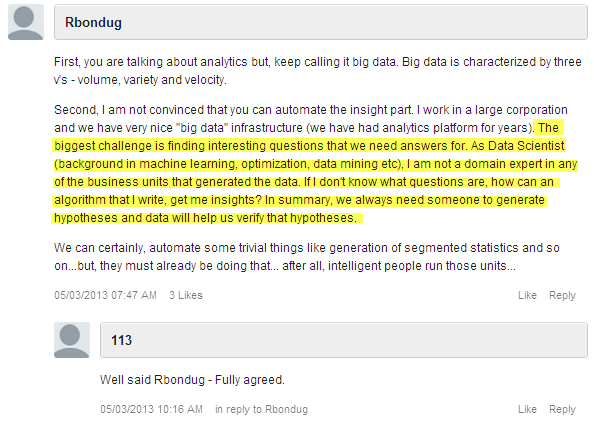 In other words, having a team of talented data scientists using all of the right technology isn't enough to develop a competitive advantage.
Domain experts are necessary when building teams to develop big data insights and drive data-based decision making. When it comes to human resources and workforce science, the domain experts are HR professionals, sourcers, recruiters, and hiring managers – these are the people who should be able to ask the right questions that the data scientists can develop answers/solutions for.
Questions such as:
Where do our best employees come from? (specific schools, companies, industries, etc.)
What is the "DNA" of our best employees? (degrees, prior experience, backgrounds, demographics, personality traits, interests, etc.)
How can we more effectively and consistently find and recruit our ideal employee profile?
Who are our best managers?
Do we really need to hire people with prior industry experience?
Should we biased against "job hoppers?"
How can we leverage assessments to increase our quality of hire?
Does our interview process really "work?"
Do reference checks actually have any value?
Who should I be giving new challenges to/promoting?
Who is likely to quit in the next 6 months?
Where are our talent gaps today, and what will they be in near future?
What are our most effective sources of talent, and why?
The Ideal Big Data /Analytics Team
I've marked up this excellent big data / big analytics graphic from Karmasphere to show examples of the types of relevant human capital data (structured and unstructured) that can be leveraged by various domain/functional experts – sourcers, recruiters, HRIS analysts, and hiring managers.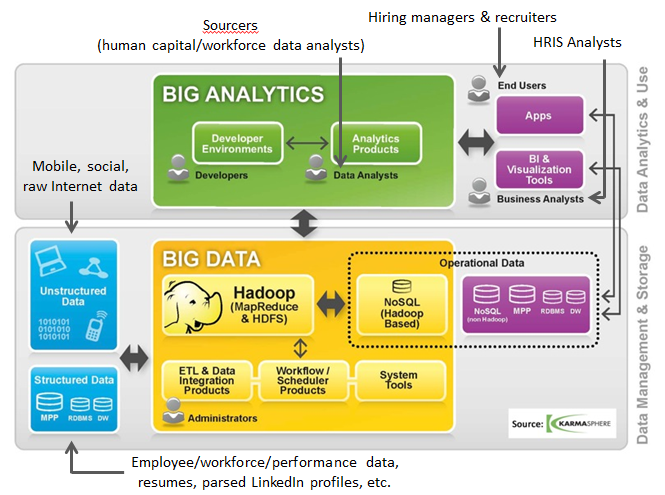 Additionally, this recent big data article in the Financial Times recognizes that the challenge we face when it comes to leveraging big data isn't technology, it's skills.
While there are many articles and experts that recognize the current and looming significant future talent shortage of analytics/data science professionals, I don't agree with the idea that data scientists need or should be "all-in-one" technical, functional, and business experts – it is highly unlikely that all of these skills will be present in any one individual.
In fact, I think it's ridiculous to expect data scientists to be able to ask all of the right questions, and the HBR article comment by the Fortune 500 data scientist with a Ph.D in machine learning confirms it.
Data scientists should be leveraged to crunch, analyze and present data to enable teams to derive sensible answers and possible solutions/courses of action based on questions developed by the functional/domain/business experts.
In software development, most mature software engineering departments don't expect their software engineers to be "all-in-one" technical, functional, and business experts. Instead, software engineers rely on business analysts who serve as functional experts to solicit requirements from domain experts and users and translate them into technical specs and design documents that they pass on to software engineers to develop the solution.
Similarly, I believe the ideal talent analytics team is a mix of data scientists, human capital data analysts (sourcers), and domain experts (hiring managers, HR and recruiters). In fact, it could be argued that hiring data scientists with little-to-no specific business domain experience might actually be more effective – the story behind Moneyball actually supports that argument (Paul DePodesta graduated from Harvard with a degree in economics).
Speaking of Moneyball, let's take a look at this other hot buzzword that is often used incorrectly when it comes to HR and recruiting.
Moneyball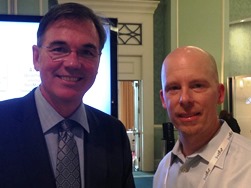 To understand and correctly use a moneyball reference, you first have to learn its origin.
If you're not already familiar with the origin of the team "moneyball," it comes from Moneyball: The Art of Winning an Unfair Game, a book by Michael Lewis about the Oakland Athletics baseball team, its general manager Billy Beane and his assistant Paul DePodesta. I recommend reading the book if you haven't already, watch the movie – even if you're not a baseball fan (I'm not), or at least watch this 2.5 minute Moneyball trailer on YouTube.
The premise of the book is that the collected wisdom of baseball insiders (including players, managers, coaches, scouts, and the front office) over the past century with regard to player selection is subjective and often flawed. The Oakland A's didn't have the money to buy top players, so they had to find another way to be competitive. Billy and Paul took an analytical, statistical and sabermetric approach to assembling their team, picking players based on qualities that defied conventional wisdom and the beliefs of many baseball scouts and executives.
For example, Billy Beane and Paul DePodesta found that on-base percentage and slugging percentage are better indicators of offensive success than batting averages, and the A's became convinced that these qualities were cheaper to obtain on the open market than more historically valued qualities such as speed and contact. Billy and Paul also often picked players that other scouts and teams would overlook because the players didn't have the right body type or they had a funny swing.e book is that the collected wisdom of baseball insiders (including players, managers, coaches, scouts, and the front office) over the past century with regard to player selection is subjective and often flawed.
The Oakland A's didn't have the money to buy top players, so they had to find another way to be competitive. Billy and Paul took an analytical, statistical and sabermetric approach to assembling their team, picking players based on qualities that defied conventional wisdom and the beliefs of many baseball scouts and executives.
Seriously!
Check out this YouTube video in which Paul DePodesta is talking about recruiting by body type and this one in which a team loses out on a future hall of fame player because someone thought he had "the weakest freaking hack" they had ever seen.
In 2002, with approximately $41 million in salary, the Oakland A's were competitive with larger market teams such as the New York Yankees, who spent over $125 million in payroll that same season. The A's finished 1st in the American League West and set an AL record of 20 consecutive wins. Today, many professional baseball teams employ sabermetricians, and in fact, the NY Yankes now employee a whole team of sabermetric analysts.
Ultimately, the essence of "moneyball" lies in using data and statistics to "arbitrage miscalculated pay rates" (those are Billy Beane's exact words from a keynote I recently attended), to avoid overvalued skills/experience, and to identify undervalued skills when building teams to develop a competitive advantage without having to "buy" expensive talent. If you are leveraging data to identify and acquire people who can perform the same or better than people who are more expensive to acquire, then the moneyball concept applies (hence the "money" in moneyball).
For example, if you can find, hire and train a certain type of person with no prior specific industry or role experience, who, once trained, can outperform people in the same role who have 5-10 years of specific role/industry experience, then you are effectively "playing" moneyball. I've been doing this for years with sourcers, recruiters and sales people.
Why pay to hire someone with 10 years of experience when the right person with less or no experience can outperform them at a fraction of the cost?
Moneyball in HR/Recruiting
Now that you have a clear understanding of the moneyball concept, you can appreciate that articles such as Moneyball in the Workplace, Forbes' What Moneyball Can Teach You About Hiring the Right People, and Business Insider's MONEYBALL AT WORK: They've Discovered What Really Makes A Great Employee aren't actually about moneyball at all.
While one of the lessons in Moneyball is to challenge conventional wisdom, there has to be some aspect of labor arbitrage at work or else there is no money in the moneyball approach.
Business Insider's "Moneyball" article talks quite a bit about what really makes a great employee, and many of the findings illustrated do fly in the face of conventional hiring wisdom, there isn't any aspect of identifying and acquiring the same level of talent at a lower cost, or better talent at the same cost. The Business Insider article also incorrectly references big data, which as I've noted above is quite common.
What the MONEYBALL AT WORK: They've Discovered What Really Makes A Great Employee article does do a good job of, however, is illustrate excellent, practical and real-world examples of leveraging data to develop non-intuitive and actionable insights into what makes a great employee – aka talent analytics or workforce science. Many "moneyball" articles reference Evolv On Demand's work, including findings such as:
People who fill out online job applications using browsers that did not come with the computer (such as Microsoft's Internet Explorer on a Windows PC) but had to be deliberately installed (like Firefox or Google's Chrome) perform better and change jobs less often
For customer-support call center jobs, people with a criminal background actually perform a bit better than people who don't have a criminal background
Call center workers who had "job-hopped" in the past were no more likely to quit quickly than those who had not frequently changed jobs
These are all excellent examples of analytics / workforce science, but not moneyball, unless the insights are leveraged for a combined cost/talent advantage. In that vein, here is a solid moneyball example from Evolv, demonstrating their finding that, for hourly workers, it is not necessary to pay top dollar for experienced labor because people with no previous experience in a similar job had the same "probability of survival" over 180 days as experienced workers.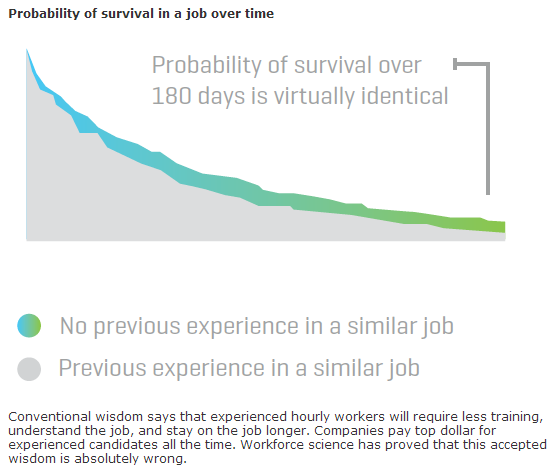 The reason why this can be used as an accurate reference to Moneyball is because the findings can allow companies to hire from a lower cost labor pool and achieve the same business results.
Evolv has been performing some very interesting work – if you haven't already, I recommend you download their Q2 2013 Workforce Performance Report.
Although it incorrectly makes reference to big data, if we revisit the Forbes article Big Data in Human Resources: Talent Analytics Comes of Age, one of the examples demonstrated within could be a good example of moneyball. One of Bersin by Deloitte's clients, a large financial services company, believed that their best sales people came from prestigious universities and achieved high G.P.A.'s. One of their analysts "performed a statistical analysis of sales productivity and turnover. They looked at sales performance over the first two years of a new employee and correlated total performance and retention rates against a variety of demographic factors."
Here is what they found: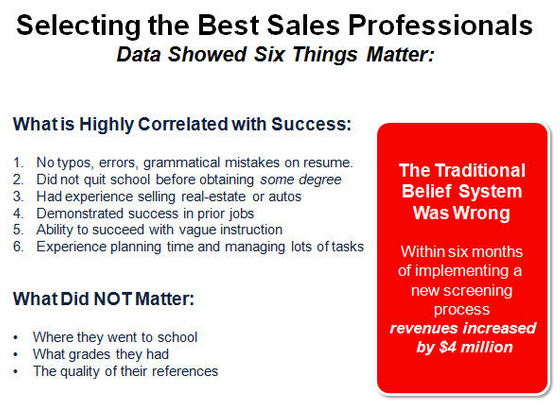 While this is not an example of "big data," it is a powerful example of analytics and moneyball – they were able to use data to challenge their own conventional wisdom when it came to hiring sales professionals, and to change their sourcing and screening process to identify and hire people based on factors that data proved to be highly correlated with success, and increase their performance ($4M in 6 months!) as a result.
While not explicitly stated in the article, one could presume that they could (and probably did) lower their cost per hire by not targeting people coming from prestigious universities who might command higher compensation.
Analytics, Big Data and Moneyball for HR/Recruiting – Take Aways
I've covered a lot of ground in this article, but I can summarize the main points quite concisely:
Analytics is the discovery and communication of meaningful patterns in data, which can be achieved with any data set – big or small. You don't need big data to leverage analytics and drive data-based decision making
No matter how "big" the data set, if it doesn't meet the 3V criteria – volume, velocity, variety – it isn't "big data"
The foundation of the Moneyball concept is based on using data, statistics and analytics to achieve a form of labor arbitrage – to identify undervalued skills when building teams to develop a competitive advantage without having to "buy" expensive talent. If you're only using data and analytics to challenge conventional wisdom, it doesn't qualify as "moneyball" – there must be some aspect of cost savings and/or increased performance/results at the same cost
Don't expect data scientists to solve all of your talent challenges and develop data-based insights by themselves. The ideal analytics team is diverse and should involve domain experts to ask the right questions. When it comes to hiring, the domain experts are hiring managers, HR professionals and recruiters.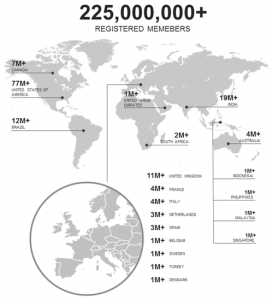 I've compiled a list of the top 100 most connected people on LinkedIn, who represent the top .000044% of LinkedIn's reported 225 million+ registered users.
Here are a few interesting facts:
There are only 5 women in the top 100, but 2 are in the top 10, and a total of 4 are in the top 20
The U.S. accounts for more than half of the top 100 (55)
The other 45 members represent the following 15 countries: U.K. (11), India (6), Netherlands (5), Canada (5), Brazil (5), Australia (3), U.A.E. (2), Turkey (1), Spain (1), South Africa (1), Israel (1), Singapore (1), Venezuela (1), Monacao (1), and France (1)
As might be suspected, a solid percentage of the top 100 are in staffing/recruiting/HR (28%). Other highly represented industries include I.T., Management Consulting, Financial Services, and Marketing and Advertising.
Beyond those top 5, the industry diversity in the top 100 is quite broad, including Logistics and Supply Chain, Telecommunications, Wine and Spirits, Construction, Transportation, Internet, Online Media, Think Tanks, Venture Capital, Utilities, Aviation and Aerospace, Computer and Network Security, Research, Translation and Localization, Photography, Mining and Metals, Real Estate, Security and Investigations, Public Policy, Accounting, Pharmaceuticals, and Non-Profit.
You might be surprised to know that it takes at least 36,000 1st degree connections to crack the top 10.
If you try to send invitations to connect with these folks, don't be upset if they aren't accepted – some of them simply can't be.
Once you hit the 30,000 1st degree connection mark, LinkedIn won't allow you to accept invitations to connect – so any connections added past that point must be invitations sent out to others to accept.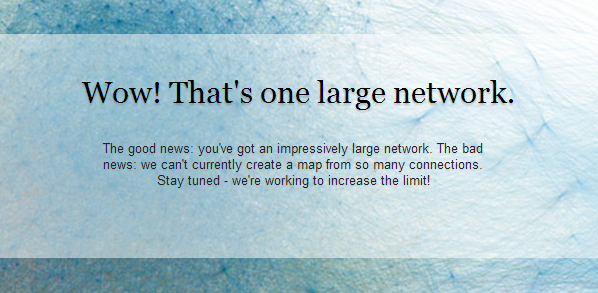 Do you *really* know the size of your LinkedIn network?
While everyone can easily find the number of their 1st degree connections and estimated total network size on their LinkedIn home page…

…LinkedIn has long since removed the "Network Statistics" feature that allowed you to see their estimate of your 2nd and 3rd degree networks.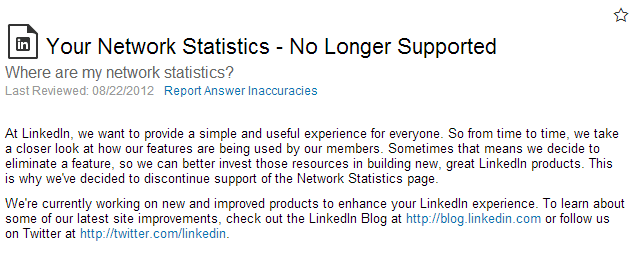 If you recall, this is what it used to look like (I had to dig this image up from a few years back):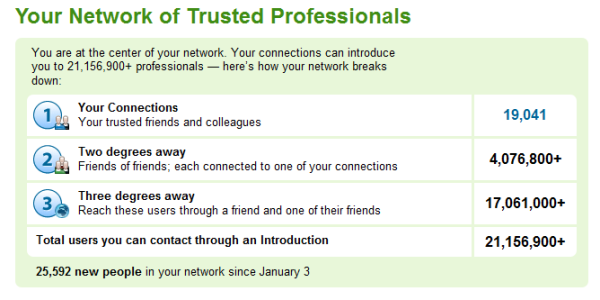 LinkedIn Network Statistics Lives!
I know I can't be the only one missing the ability to see LinkedIn network statistics broken down by first, second, and third degree.
That's why I am so I am happy to share some good news - a coworker in the Netherlands recently shared with me that the network statistics link actually still works.
http://www.linkedin.com/network?trk=hb_tab_net  
Granted, the figures listed for your second and third degree network are only estimates - here's proof. More on that in a bit.
Unfortunately, if your network is quite large, the link might not actually work for you. Sadly, it doesn't work for me – I get an unexpected error every time.

Just curious – would the error not ever be "unexpected?"
Of course, because LinkedIn no longer supports your network statistics, they can pull the plug on the link I'm sharing with you at any time.
Another Method for Determining Your Network Statistics: LinkedIn Search
If you're like me and the LinkedIn Network Statistics link doesn't work for you, there is another way to determine your 2nd degree network.
Simply enter a special, non-searchable character (I use an asterisk) in the first name field, select "Anywhere" as the location and hit search.
You can do this with a free LinkedIn account as well as with LinkedIn Recruiter, although with Recruiter, you will get evidence that you are effectively searching the entire LinkedIn network, as evidenced by the 200M+ results. LinkedIn Recruiter:

If you are searching with a free account, you will get a much smaller number – not sure why:

Regardless of the type of LinkedIn account you're using, go down and look at the relationship facet, and you can see the number of your "2nd Connections" and even your Group connections, although sadly, these are not Group-ONLY connections.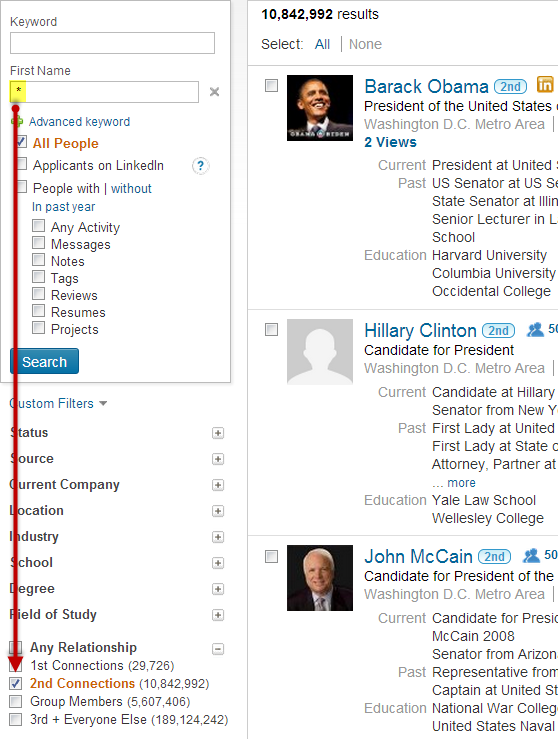 Unlike the figures listed in your network statistics, which are only estimates (read further for proof), I believe the number of second degree connections that are shown in the search results above are actual numbers. Unfortunately, your 3rd degree connections are lumped in with "Everyone Else," so we can't use this method to divine the size of our 3rd degree networks.
LinkedIn Network Statistics Don't Add Up
If you can't use the LinkedIn Network Statistics link due to network size (or if LinkedIn kills the link), you can still use your first and second degree connection numbers from the LinkedIn search method shown above to roughly calculate your third degree network, or at least what LinkedIn might estimate to be the size of your 3rd degree network.
For example, LinkedIn claims my total network size is 30,995,402 professionals.

If I take 30,995,402 and subtract my 10,842,992 2nd degree connections as well as my ~30,000 1st degree connections, I get about 20,122,410.
Here's the issue – that seems artificially low, doesn't it?
This takes me back to my original post about LinkedIn's estimates for 3rd degree networks that references a very interesting exchange on getsatisfaction.com in which a LinkedIn rep mentions that the numbers shown in network statistics are estimates based on an algorithm and are "purely used for display purposes."

That leads me to believe that the figure displayed as the number of professionals that LinkedIn claims my 1st degree network links me to (30,995,402+) is only an estimate, and I happen to think it's much lower than the real number.
Even with significant network connection overlap, I don't see how 10,800,000 2nd degree connections can yield a total network of only 31,000,000 people.
Am I missing something here?
Any math/statistics gurus out there  care to weigh in?
I really would like to hear from anyone who has insight into what a more realistic 2nd degree to 3rd degree ratio would be.
Bonus LinkedIn Network Content
While some of you no doubt know about LinkedIn's InMaps, I am quite sure many people don't. As such, I thought I would share that you can get a very cool visualization of your LinkedIn network by going here: http://inmaps.linkedinlabs.com/
Unless, of course, you have a large LinkedIn network, in which case, you will only see this: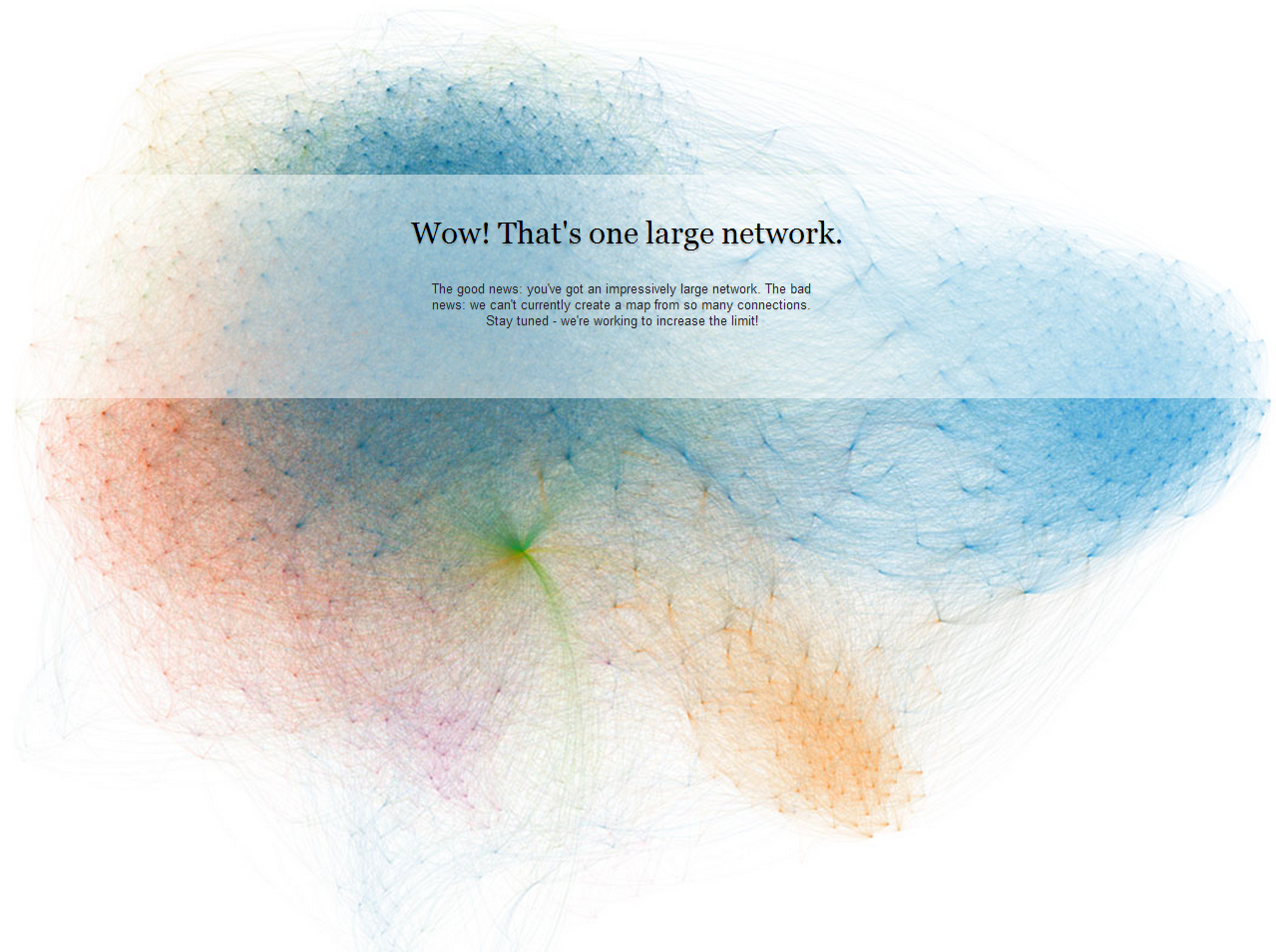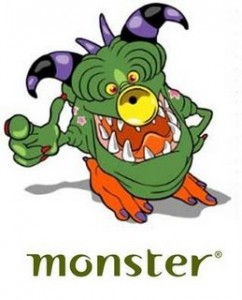 The other week I came across a question regarding Monster's search operators in the Boolean Strings group on LinkedIn and I realized that most people don't know that Monster's classic resume search has a few undocumented search operators as well as powerful semantic search capability.
In this article I will detail two of Monster's undocumented search operators, how to compress your Boolean search strings by more than 30%, and remind you of Monster's documented but seldom used NEAR search operator.
AND = & + OR = |
Although I can't seem to find any documentation of it, Monster's search functionality does support the & for the Boolean AND search operator as well as | for OR Boolean search operator – which can save on character space for longer queries.
While most people don't run searches that will test Monster's main search field limit of 500 total characters (including spaces), there are those sourcers and recruiters who extensively leverage conceptual search, employing comprehensive OR statements for each concept in their Boolean search string, which can easily exceed 500 characters, especially when searching for a number of target companies.
In cases such as these, it can be helpful to use the ampersand (&) for AND and the pipe symbol (|) for OR, effectively cutting the number of characters used for AND's and OR's by 60% (5 total characters down to 2).
For example, compare these two searches which return the exact same results:
iOS AND (ObjectiveC OR "Objective-C") AND (cocoa OR xcode) AND (iPhone* OR iPad*) AND ("apple store" OR iTunes OR "app store") AND (SQL* OR xib)
iOS & (ObjectiveC | "Objective-C") & (cocoa | xcode) & (iPhone* | iPad*) & ("apple store" | iTunes | "app store") & (SQL* | xib)
Even with a relatively short Boolean search string of 144 characters, you can save over 10% by using & and | (128 vs. 144 characters).
If you wanted to compress your queries further, you can actually eliminate all spaces in your Boolean search string with no negative effects.
For example – this Boolean search string returns the exact same results as the above two searches:
iOS&(ObjectiveC|"Objective-C")&(cocoa|xcode)&(iPhone*|iPad*)&("apple store"|iTunes|"app store")&(SQL*|xib)
Sadly, Monster does not support the minus sign (-) for the NOT operator.
However, you do not have to type AND NOT, nor & NOT – a simple NOT will do.
In fact, you don't even have to capitalize NOT or any other Boolean search operator, for that matter – lowercase not works exactly the same.
Thanks Monster!
Boolean Search: Who Needs AND Anyway?
Interestingly, most people also don't know that you don't have to type AND or & – similar to LinkedIn, Google, Bing, etc., any space can be an implied AND.
For example, this search runs exactly as the ones above:
iOS (ObjectiveC|"Objective-C") (cocoa|xcode) (iPhone*|iPad*) ("apple store"|iTunes|"app store") (SQL*|xib)
Furthermore, you don't even have to use a space to leverage implied AND functionality – this search returns the exact same results:
iOS(ObjectiveC|"Objective-C")(cocoa|xcode)(iPhone*|iPad*)("apple store"|iTunes|"app store")(SQL*|xib)
Now we're down to 101 characters, which is nearly 30% more efficient than our original 144 character search.
How's that for Boolean search efficiency?
If you're wondering how I figured this stuff out, it's actually quite simple – curiosity and experimentation.
I challenge you to be curious and to experiment – from time to time, simply ask, "I wonder what would happen if…..?" and give something a try.
Hopefully all of what I've shared with you today has made you curious about your other sources and how you might be able to experiment and tweak your searches for other sites to make discoveries and yield additional benefits.
If you you do – please let me know!
Monster's NEAR Operator: Documented but Seldom Used
Although Monster's extended Boolean NEAR search operator is documented, most people don't use it. This is unfortunate, because proximity search is incredibly powerful and can help you zero-in on people based on what they've actually done vs. resumes containing search keywords.
Monster's NEAR operator is an example of fixed proximity search, which can be used to return results with words, phrases or OR statements within 10 words of other words/phrases, or OR statements, which can enable semantic search at the sentence level.
Would you be interested in learning more about sentence level semantic search using the NEAR operator?
It's been a LONG time coming, but I finally got around to updating my free sourcing & recruiting tools, guides and resources page where I now keep a current list of the best of my work all in one place for easy bookmarking and reference.
You can find it here on my main page:

Additionally, I thought I might as well put all of my best work all in one blog post as well – over 110 of my articles in one place for easy referencing!
My blog is a pursuit of passion and not of profit – if you've ever found anything I've written helpful to you, all I ask is that you tweet this out, share it on LinkedIn, like it on Facebook, or give this a +1 on Google.
Many thanks for your readership and support – please pay it forward to someone who can benefit.
Big Data, Analytics and Moneyball Recruiting
Big Data, Data Science and Moneyball Recruiting
The Moneyball Recruiting Opportunity: Analytics and Big Data
Human Capital Data is Sexy – and Sourcing is the Sexiest job in HR/Recruiting! 
Is Sourcing Dead? No! Here's the Future of Sourcing
The End of Sourcing 1.0 and the Evolution of Sourcing 2.0
How to Find Email Addresses
How to Use Gmail and Rapportive to Find Almost Anyone's Email Address
Social Discovery
2 Very Cool and Free Social Discovery Tools: Falcon and TalentBin
Talent Communities
The Often Overlooked Problem with Talent Communities
Lean / Just-In-Time Recruiting / Talent Pipelines
What is Lean, Just-In-Time Recruiting?
Lean Recruiting & Just-In-Time Talent Acquisition Part 1
Lean Recruiting & Just-In-Time Talent Acquisition Part 2
Lean Recruiting & Just-In-Time Talent Acquisition Part 3
Lean Recruiting & Just-In-Time Talent Acquisition Part 4
The Passive Candidate Pipeline Problem
Semantic Search
What is Semantic Search and How Can it Be Used for Sourcing and Recruiting?
Sourcing and Search: Man vs. Machine/Artificial Intelligence – My SourceCon Keynote
Why Sourcers Won't Be Replaced By Watson/Machine Learning Algorithms Any Time Soon
Diversity Sourcing
How to Perform Diversity Sourcing on LinkedIn – Including Specific Boolean Search Strings
How to Use Facebook's Graph Search for Diversity Sourcing
Social Recruiting
How to Find People to Recruit on Twitter using Followerwonk & Google + Bing X-Ray Search
Google Plus Search Guide: How to Search and Find People on Google Plus
Facebook's Graph Search Makes it Ridiculously Easy to Find Anyone
How to Effectively Source Talent on Social Networks – It Requires Non-Standard Search Terms!
How a Recruiter Made 3 Hires on Twitter in Six Weeks!
Twitter 101 for Sourcers and Recruiters
How Social Recruiting has NOT Changed Recruiting
Social Recruiting – Beyond the Hype
Sourcing Social Media Requires Outside the Box Thinking
Social Networking Sites vs. Job Boards
LinkedIn Sourcing and Recruiting
Sourcing and Searching LinkedIn: Beyond the Basics – SourceCon Dallas 2012
LinkedIn's Dark Matter – Profiles You Cannot Find
How to Get a Higher LinkedIn InMail Response Rate
The Most Effective Way to X-Ray Search LinkedIn
LinkedIn Catfish: Fake Profiles, Real People, or Just Fake Photos?
LinkedIn Search: Drive it Like you Stole It – 8 Minute Video of My LinkedIn Presentation in Toronto
How to Search LinkedIn and Control Years of Experience
How to Quickly and Effectively Grow Your LinkedIn Network
How to View the Full Profiles of our 3rd Degree Connections on LinkedIn for Free
How to Find and Identify Active Job Seekers on LinkedIn
LinkedIn Profile Search Engine Optimization
Free LinkedIn Profile Optimization and Job Seeker Advice
The 50 Largest LinkedIn Groups
How to See Full Names of 3rd Degree LinkedIn Connections for Free
How I Search LinkedIn to Find People
LinkedIn's Undocumented Search Operator
Does LinkedIn Offer Recruiters any Competitive Advantage?
Have You Analyzed the Value of Your LinkedIn Network?
Where Do YOU Rank In LinkedIn Search Results?
What is the Total Number of LinkedIn Members?
Beware When Searching LinkedIn By Company Name
How to Search for Top Students and GPA's on LinkedIn
What's the Best Way to Search LinkedIn for People in Specific Industries?
18 LinkedIn Apps, Tools and Resources
LinkedIn Search: What it Could be and Should be
How to Search Across Multiple Countries on LinkedIn
Private and Out of Network Search Results on LinkedIn
How to "Unlock" and view "Private" LinkedIn Profiles
Searching LinkedIn for Free – The Differences Between Internal and X-Ray Searching
Sourcing and Boolean Search
Basic Boolean Search Operators and Query Modifiers Explained
How to Find Resumes On the Internet with Google
Challenging Google Resume Search Assumptions
The Top 15 Talent Sourcing Mistakes
Why Boolean Search is Such a Big Deal in Recruiting
How to Become a World Class Sourcer
Enough with the Exotic Sourcing Already – What's Practical and What Works
Sourcing is So Much More than Tips, Tricks, Hacks, and Google
How to Find, Hire, Train, and Build a Sourcing Team – SourceCon 2013
How to Use Excel to Automatically Build Boolean Search Strings
The Current and Future State of Sourcing
Why So Many People Stink at Searching
Is your ATS a Black Hole or a Diamond Mine?
How to Find Bilingual Professionals with Boolean Search Strings
How to Best Use Resume Search Aggregators
How to Convert Quotation Marks in Microsoft Word for Boolean Search
Boolean Search, Referral Recruiting and Source of Hire
The Critical Factors Behind Sourcing ROI
What is a "Boolean Black Belt?"
Beyond Basic Boolean Search: Proximity and Weighting
Why Sourcing is Superior to Posting Jobs for Talent
The Future of Sourcing and Talent Identification
Sourcing is an Investigative and Iterative Process
Beyond Boolean Search: Human Capital Information Retrieval
Is Recruiting Top Talent Really Your Company's Top Priority?
Sourcing is NOT an Entry Level Function
The Internet Has Free Resumes. So What?
How to Search Spoke, Zoominfo and Jigsaw for Free
Job Boards vs. Social Networking Sites
What to Do if Google Thinks You're Not Human: the Captcha
What if you only had One Source to Find Candidates?
Passive Recruiting is a Myth – It Doesn't Exist
Sourcing: Separate Role or Integrated Function?
The #1 Mistake in Corporate Recruiting
How I Learned What I Know About Sourcing
Resumes Are Like Wine – They Get Better with Age!
Why Do So Many ATS Vendors Offer Such Poor Search Functionality?
Do Candidates Really Want a Relationship with their recruiter?
What to Consider When Creating or Selecting Effective Sourcing Training – SourceCon NYC
Sourcing Challenge – Monster vs. Google – Round 1
Sourcing Challenge – Monster vs. Google – Round 2
Do You Have the Proper Perspective in Recruiting?
Job Boards and Candidate Quality – Challenging Popular Assumptions
When it Comes to Sourcing – All Sources Are Not Created Equal
Boolean Search String Experiments
Boolean Search String Experiment #1
Boolean Search String Experiment #1 Follow Up
Boolean Search String Experiment #2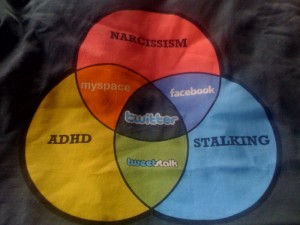 There are over 500 million Twitter accounts with over 200 million represent active users globally. I'd say that qualifies it as a solid source for finding and engaging talent for recruitment.
Of course, you can't engage someone you haven't found in the first place, and it's been far too long since I've posted an update to how to search Twitter to find people - can you believe it's been 4 years?!?
It was just the other day that I was hacking around on Google and Bing trying to find people on Twitter based on the text in their bio's (yes, I am familiar with Follwerwonk – you'll see why I prefer Google/Bing in a moment) and while I was getting some results, I wasn't getting as many as I thought I should, nor were the results as "clean" as I would like.
That led me to a few minutes of tinkering with Bing and Google and I made a few discoveries with some simple pattern recognition that I would like to share that will help you quickly find your target talent pool on Twitter.
I use two main examples – mechanical engineers in South Africa and software engineers in Chicago – you can of course fork my Boolean strings to suit your specific sourcing needs replacing my titles and locations with yours.
How to X-Ray Search Twitter with Bing
While I do search for what people tweet about, I prefer to search for information contained in Twitter bio's/profile summaries where people often identify themselves by what they do for a living (e.g., software engineering, accounting, etc.).

Furthermore, I prefer to search for bio data using Google and Bing, as there is no service/app I am aware of that indexes as many Twitter profiles as the 2 search engine titans. When I was using Bing to search for Twitter profiles the other day, I was looking for patterns in the results that were consistent across my desired results (actual Twitter profiles) and not my undesired results (Tweets and jobs/job posting-only accounts),
I noticed that Twitter profiles all mentioned "followers," "tweets" and "following."

I simply added "tweets" to a basic X-Ray search of Twitter and a little bit of magic happened. For example: site:twitter.com tweets "south africa" "mechanical engineer"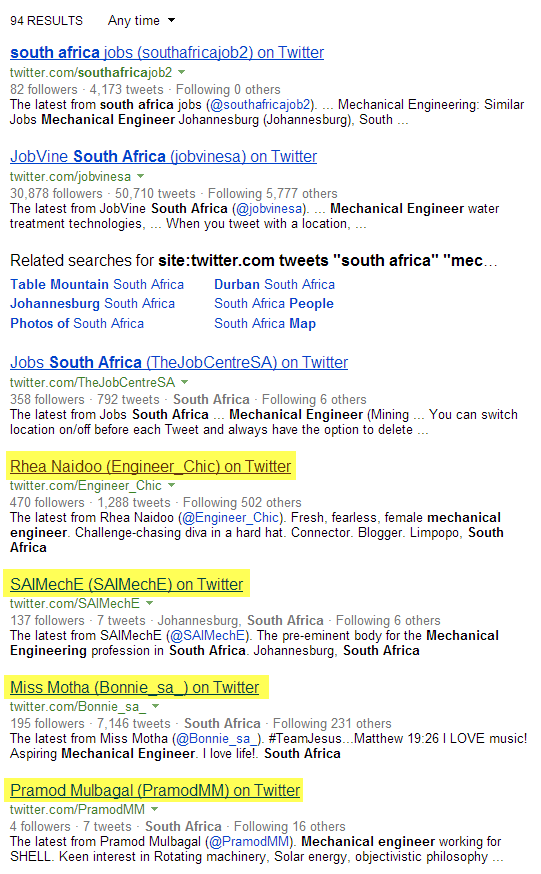 Here is an example of a positive hit in the search results: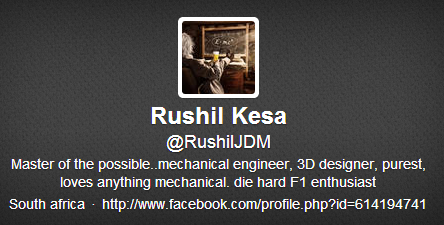 Getting back to the Bing search results – you probably noticed the top 3 results were for "jobs" accounts.
I did too.
I tried adding a simple -jobs to the string and for some reason it kills the search and returns 0 results.
Then I noticed that many of the job posting accounts have "jobs" in the title lines, so I simply added -intitle:jobs to the string.
site:twitter.com tweets "south africa" "mechanical engineer" -intitle:jobs
As you can see below, only 1 job posting account was able to sneak in – the rest are profiles of people.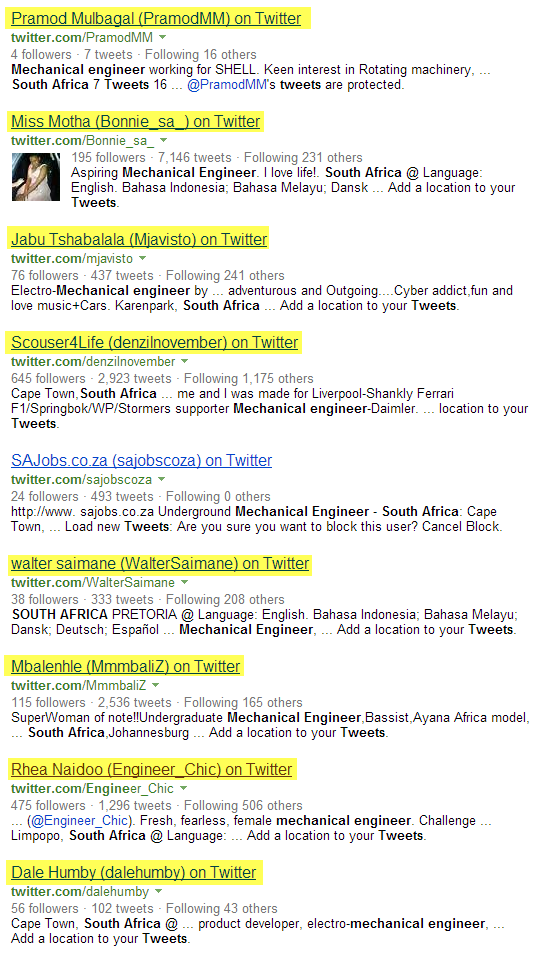 Simply overlooking the job spewing Twitter profiles is easy – I often advise people that an acceptable percentage of false positives is fine with any search. Trying to "over cleanse" results can have undesired consequences, such as eliminating valid results.
Always remember – every search you run both includes AND excludes qualified people/desired results.  Think before you tweak!
So how many results would Follerwonk return in a Twitter bio search for mechanical engineers in South Africa? 51 vs 88 for Bing.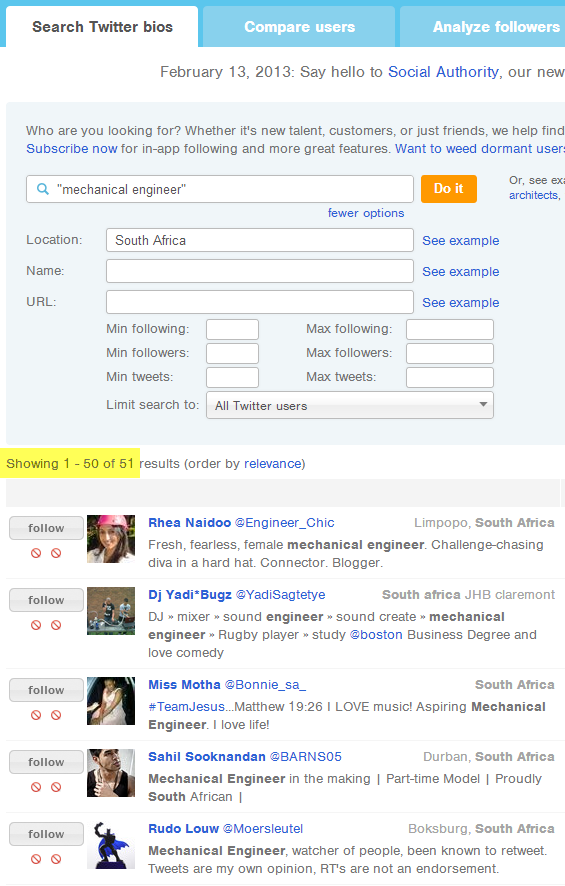 While there are no doubt a few false positives in the Bing search, I didn't have much trouble quickly finding people in the Bing search results that Followerwonk did NOT find.
This confirms my concern with any search app/service like Followerwonk – they simply don't index as many Twitter profiles as the major search engines such as Bing or Google.
Feeling pretty good about what I had found using Bing to find mechanical engineers in South Africa, I tried searching for software engineers in a large U.S. city.
site:twitter.com tweets "software engineer" "Chicago" -intitle:jobs
As you can see, 6 out of 12 of the first page results are people, and most of the other Twitter accounts are for actual companies, not just job spamming accounts.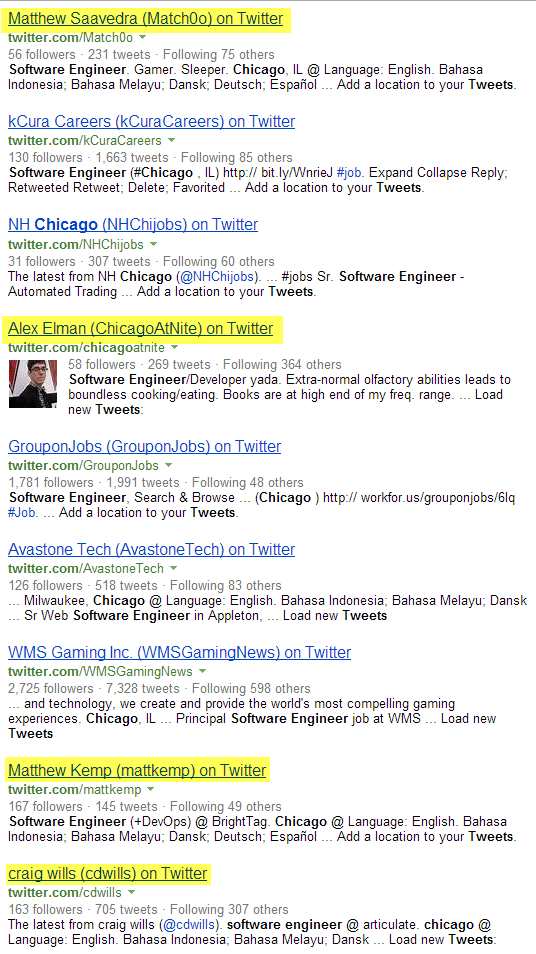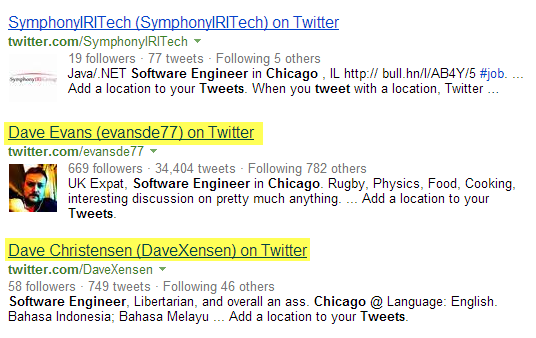 Moving to page 2 of the results, 100% of the results are individual profiles of software engineers. Sweet!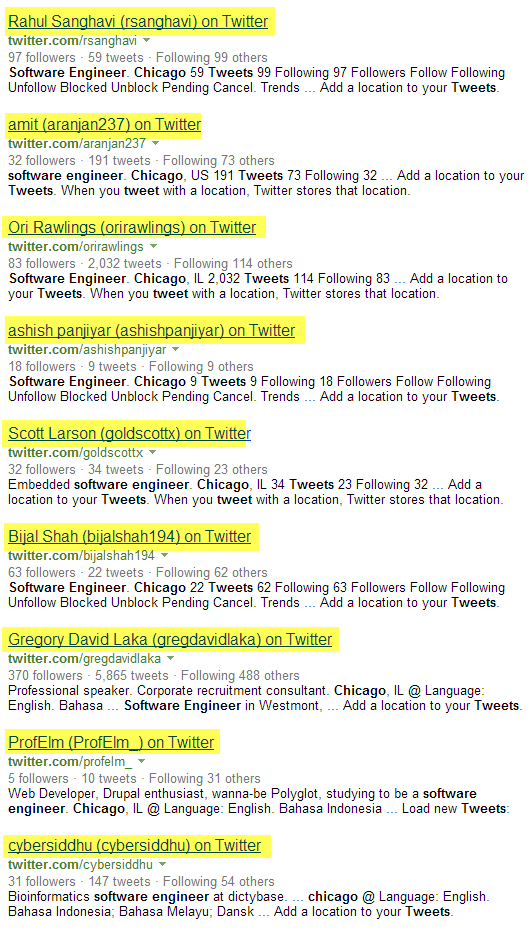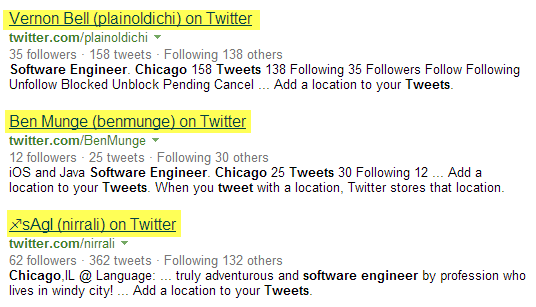 How to X-Ray Search Twitter with Google
When I switched over to Google, I tried the same search I used on Bing:
site:twitter.com tweets "south africa" "mechanical engineer" -intitle:jobs
As you can see from just the first page of results, Google turns up more job posting accounts than Bing, which returned only 1 job posting account with the exact same search. Google only returned 4 real people in the results.
I find it interesting to see the differences between Google and Bing, especially when it comes to such a simple search!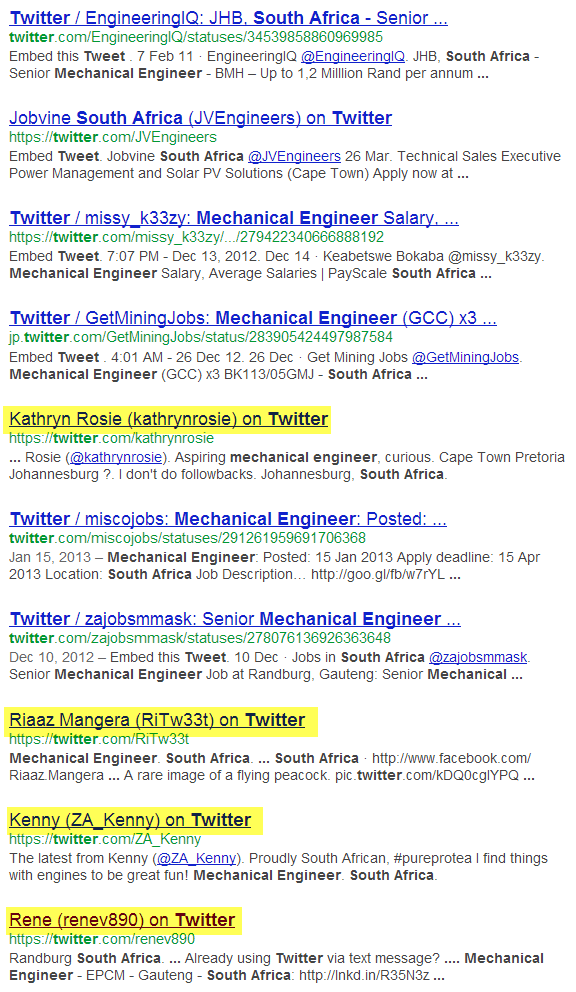 I've been trying to tell people for years that Bing is a bit "cleaner" than Google with regard to searching sites like LinkedIn and Twitter. The results above offer further evidence to support my claim.
Anyhow, I looked at the results and noticed a pattern in the false positives (job spewing/non-people Twitter accounts) – most mentioned "status" or "statuses," so I decided to exclude those terms from the URL's.
site:twitter.com tweets "south africa" "mechanical engineer" -intitle:jobs -inurl:(status|statuses)
Much better, yes?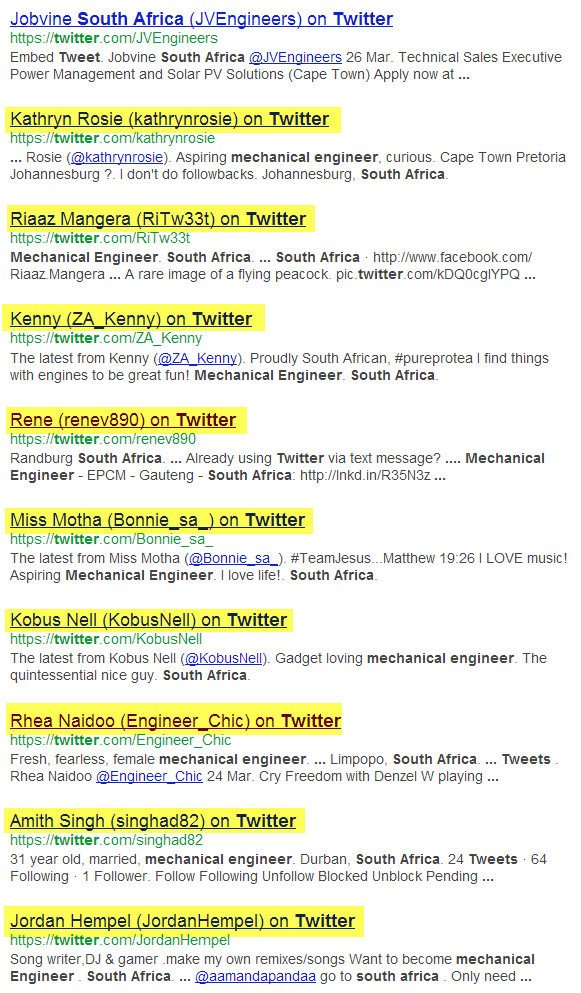 Moving on to the search for software engineers in Chicago, I went a little crazier and added a number of additional exclusions, as is often necessary with Google: site:twitter.com tweets "Chicago" "software engineer" -inurl:(search|favorites|status|statuses|jobs) -intitle:(job|jobs) -recruiter -HR -careers -job Only 1 sneaky job posting account was able to slip past this search: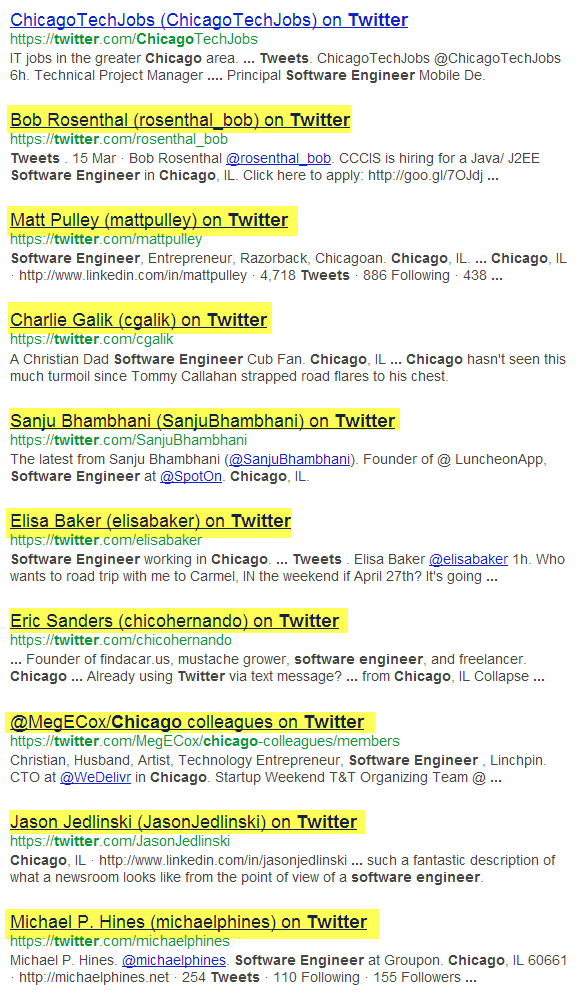 Final Thoughts
As you can see, Twitter search services like Followerwonk do a good job of making it easy to search for and find people on Twitter, but they don't index as many Twitter profiles as the major search engines such as Google or Bing.
As such, if you're only using Followerwonk or similar sites to find people on Twitter, you're only finding some people – and certainly not all of the people that are actually on Twitter.
Also, when it comes to any information retrieval exercise, a little bit of pattern recognition goes a long way.
Hopefully I've provided you with at least a couple of new ways to search Twitter via Google and Bing to find people with specific skills/titles in your target locations while reducing false positive results. Grab these bits of Boolean and add your location and title/skills:
Bing
site:twitter.com tweets -intitle:jobs -recruiter [location] [keywords]
Google
site:twitter.com tweets -inurl:(search|favorites|status|statuses|jobs) -intitle:(job|jobs) -recruiter -HR -careers -job [location] [keywords]
Of course, you should always be careful when searching social media/networking sites – especially Twitter. People can and do use non-standard terms to describe themselves and their locations. For example, here's a project manager in "Chitown" that you can't find by searching for "Chicago:"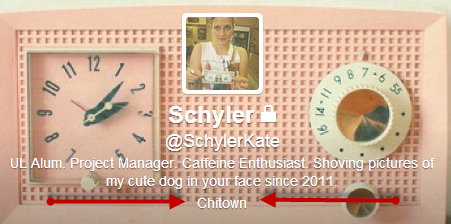 Also, we're lucky that this person took the time to explain what a "code sensei" is – if they didn't make mention of "software engineer," no one could find this person by searching for that title: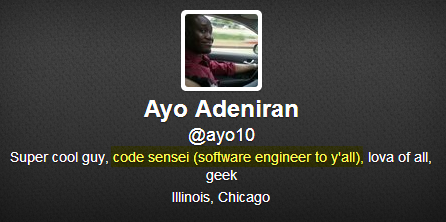 Imagine how many people describe themselves and their locations with non-standard terminology and you have a glimpse into the hidden talent pool waiting for you to explore on Twitter, Google Plus and other social networking sites.
Happy hunting!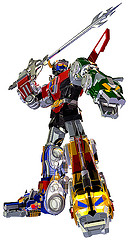 In case you haven't heard, LinkedIn is rolling out a new search interface globally over the next few weeks.
If you'd like to read the official statements and press-friendly content about LinkedIn's new search functionality, you can find read about the changes on LinkedIn's blog, TechCrunch, Search Engine Land, Mashable, and PCMag.com. If you're only going to read one – read TechCrunch's – it's the best of the bunch in my opinion.
However, if you'd like to know what a LinkedIn power user and sourcing/information retrieval geek thinks about LinkedIn's new search functionality, you've come to the right place.
I've had access to LinkedIn's new search interface and functionality for a week now, and I wanted to share with you my first impressions, discoveries, disappointments, concerns, and suggestions for LinkedIn.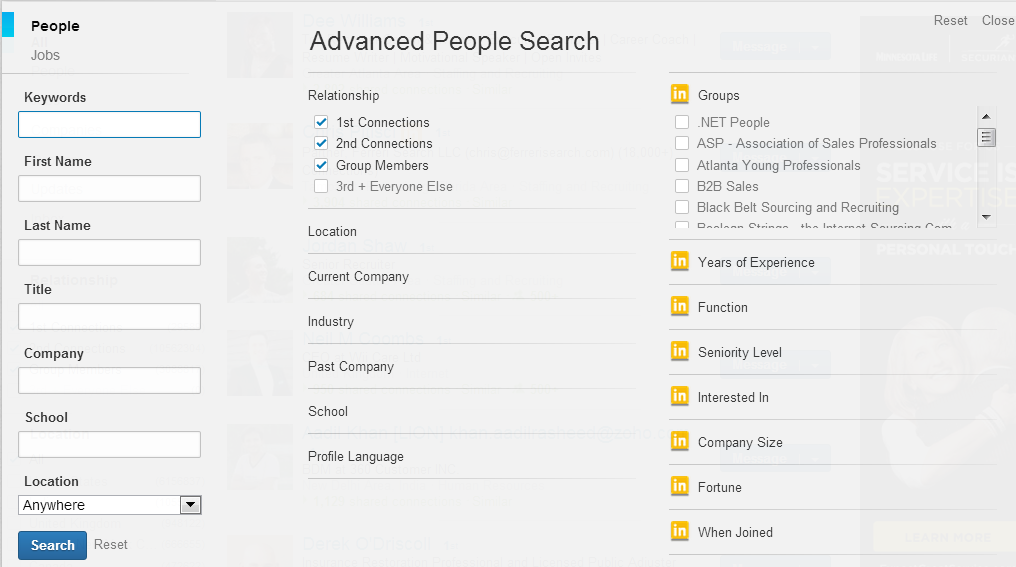 LinkedIn Search: New, but Improved?
LinkedIn's Smart Query Intent Algorithm
Before I had access to the new LinkedIn search, I was excited when I first read about the concept of a "smarter query intent algorithm." LinkedIn claims that the more you search for content on LinkedIn, the more the query intent algorithm "learns and understands your intent over time to provide the most relevant results."
Of course, I've only had access to LinkedIn's new search for about a week now, so I can't tell how "smart" is has become based on the queries I've been feeding it. However, the issue I have with any query intent algorithm that claims to be able to provide me with more relevant results is that only the user can determine if results are "relevant" or not.
According to Merriam Webster, relevance is defined as "the ability (as of an information retrieval system) to retrieve material that satisfies the needs of the user."
As such, by definition, only the user can truly determine or judge relevance. A search engine cannot ever truly "know" the needs of the user.
While I appreciate and applaud the intent behind an "intelligent query algorithm," which isn't dissimilar to what many have been trying to do for years when it comes to search, the best way to implement such a system is to incorporate a feedback loop for the user to tell the algorithm which results the user truly finds relevant, rather than relying on supervised or unsupervised machine learning or some other method based on which profiles are clicked vs. which ones are not, and/or perhaps time spent reviewing specific profiles.
I'd love to know exactly how LinkedIn's smarter query intent algorithm works (I'd love to make it smarter!), but something tells me that's not something they would disclose.
I'm not a fan of black box search algorithms – I like to know exactly why I get the results I do.
LinkedIn's Suggested Searches
I was also excited when I read about suggested searches, because my mind immediately raced to thoughts of LinkedIn being able to suggest better queries or perhaps searches other people had run for similar terms/people.
However, what LinkedIn is really referring to with regard to "suggested searches" is related to new unified search functionality in that if you type in a term or a title into the main search box on LinkedIn, you will see a list of options you can choose from, such as searching for related jobs, people, connections, groups, and skills.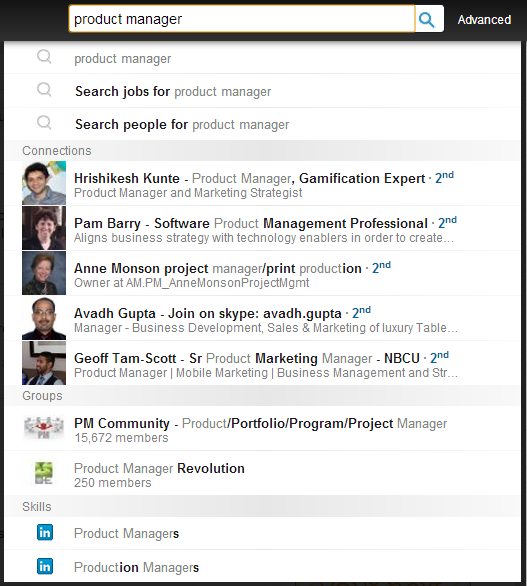 I'm not saying this isn't cool functionality, it's just that I have high expectations when someone makes a claim of "suggested searches."
Customized LinkedIn Results
According to LinkedIn Product Manager Johnathan Podemsky, "No two professionals are alike on LinkedIn. This means even if you search for the same thing as someone else, your results will be customized to you,"  "LinkedIn's search efforts are founded on the ability to take into account who you are, who you know, and what your network is doing to help you find what you're looking for."
This makes total sense based on the LinkedIn's underlying fundamental concepts, but from a recruiting perspective – what if the best candidates aren't within the network of the person conducting the search?
While Stephanie Mlot from PCMag claims LinkedIn's changes put "…LinkedIn on a more level playing field with Facebook, which introduced Graph Search earlier this year as a way for users to sift through the network's 1 trillion connections for more details about their friends," I don't agree. One major distinction is that a user can search for and find anyone using Graph Search – regardless of whether or not they are connected to them in any way.
Of course, LinkedIn does offer a solution for people who want the ability to search for anyone regardless of network connection – it's called LinkedIn Recruiter.
However, if you're searching LinkedIn for free, you'll notice you no longer have the ability to sort all of the results of a search, which leads me to what's missing from LinkedIn's new search interface and functionality.
LinkedIn Signal
While LinkedIn Signal isn't new – what IS new is that you no longer have to go to "News" on the top nav bar and click "Signal" – you can now simply click "Updates" on LinkedIn's new search interface to instantly be taken to a Signal search for the keywords you've already entered.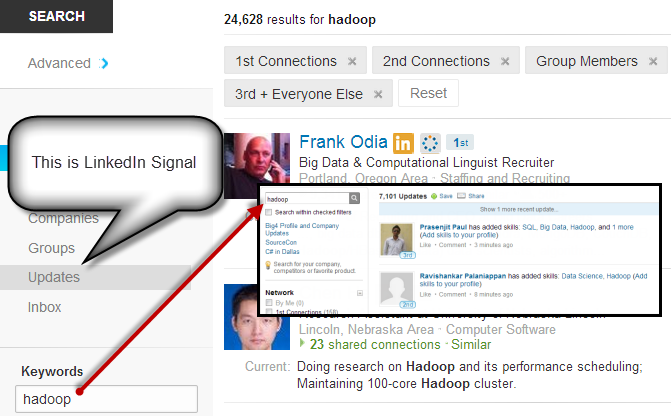 Signal is one of LinkedIn's most powerful and underutilized features. With the new and more prominent placement, I hope Signal will get the use and appreciation that it deserves.
What's Missing from LinkedIn's New Search
Curious to know what's NOT included in LinkedIn's new search interface and functionality?
A number of things.
Results Sorting
First and foremost, you can no longer sort your search results.
I always searched by keyword relevance when searching LinkedIn, because even with a large network, I am not so ignorant as to believe that the best people for any given position I may be sourcing and recruiting for are always going to be within my 1st or 2nd degree network, let alone my 3rd degree connections or within my LinkedIn network at all. If the best match to a search happens to be in my 3rd degree network, I'd like to see them come up on page 1 of the results.
Say goodbye to this if you're using a free LinkedIn account: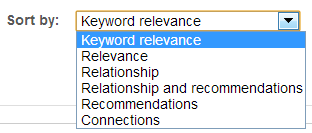 LinkedIn's sort by "relevance" option was a mix of network connection and keyword relevance. Based on my searches using LinkedIn's new search interface, it seems that search results are sorted based on some combination of keyword relevance and relationship, as 1st and 2nd degree connections are returned early in search results and 3rd degree and group only search results come much later in ranking.
While you can still search specific layers of your LinkedIn network, there is no way to search for Group-only connections that are not also connected to you in the 1st, 2nd, or 3rd degree.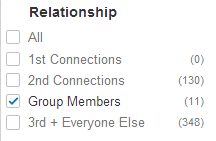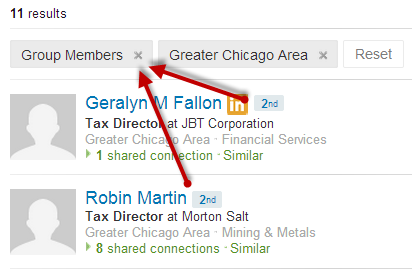 With a free account, the only way you can try and achieve anything close to searching solely by keyword relevance is an X-Ray search. Thankfully, you can still sort your results by keyword relevance within LinkedIn Recruiter.
The Ability to Run SUPER LONG Boolean Search Strings
I am sad to report that LinkedIn's once-epic ability to run Boolean search strings of over 3,000 characters has come to an end.
That means you can no longer perform some of the interesting diversity sourcing searches I've detailed in the past, such as searching for all of the HBCU's in a single search, or searching for the 354 most common female names in the U.S. over the past 4 decades to find 65% of all of the women on LinkedIn in a single search.
From my preliminary testing, it seems that you can get away with searches up to around 1,300 characters with spaces before you start to encounter LinkedIn just spinning and never executing your search. With a first name search, this is what 1,281 characters with spaces looks like.
Top 10 Facets
Also missing from the LinkedIn's new search interface is the ability to see the top 10  results in each facet.
I can't be the only person who found the ability to see the top 10 companies employing certain types of people in a given market, the top 10 markets for specific skills, or the top universities by skill to be valuable, can I?
Now free users are limited to the top 5.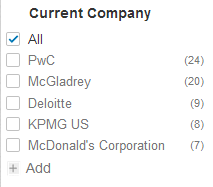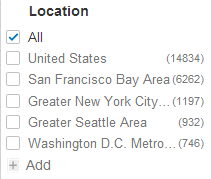 Thankfully, you can still view the top 10 results in each facet in LinkedIn Recruiter.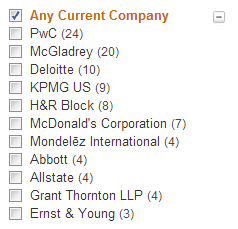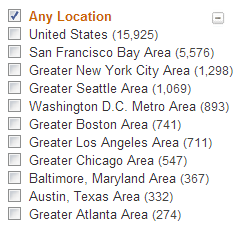 Advanced Search Operators
Alas, Voltron has laid LinkedIn's Advanced Search Operators to rest.
What? You didn't know LinkedIn had Advanced Search Operators?
They may have been LinkedIn's best kept secret for years, and you could do a number of interesting things with them, such as creating search agents.
Are you wondering why I referenced Voltron?
Take a look at the URL when you run a search in the main search box when using LinkedIn's new search functionality: Voltron Federated Search

I'm assuming Voltron is the code name for LinkedIn's new search and that "vsearch" also stands for Voltron Search.

Anyone care to (neither) confirm (n)or deny?
Mobile
Ingrid Lunden from TechCrunch called out the fact that mobile is missing from this LinkedIn search upgrade.
LinkedIn has claimed that extending new search functionality to their mobile apps is something that they're looking into, but for now, the mobile apps only allow users to search people but not within other categories.
Mobile search is a big deal for LinkedIn – did you now that 19 people searches are performed and 41 profiles are viewed every second via LinkedIn mobile apps?
What About 3rd Degree Connections?
While there was a bit of early buzz that users searching LinkedIn with a free account would not be able to search 3rd degree connections, you can in fact still search for them.
While some early testing showed that it appears LinkedIn's default was to only return results from your 1st and 2nd degree network, all of my recent searches appear to default to "All," which includes Group Members and "3rd + Everyone Else."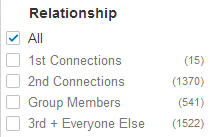 Search Anomalies
Thankfully, I haven't run across too many search anomalies yet, but I did find a few I think you (and the LinkedIn dev team) will find interesting.
I ran a basic search and took notice of the top 5 companies represented: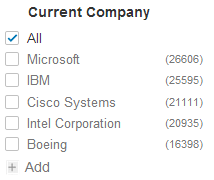 I then set about to see if I could use the -/NOT functionality to eliminate results from the top 5 companies in order to find the next top 5 (thus completing the top 10).
I started entering 1 company at a time in the current company field: -Microsoft, -IBM, -Cisco, etc.
This seemed to work quite well in removing those companies from the top 5, allowing me to explore the next 5 or more. But then I noticed that when I was excluding the company names in the current company field, the company names were being returned as positive hits and highlighted as keywords in the profiles. The same thing happens if I change it to -(ibm OR microsoft OR cisco).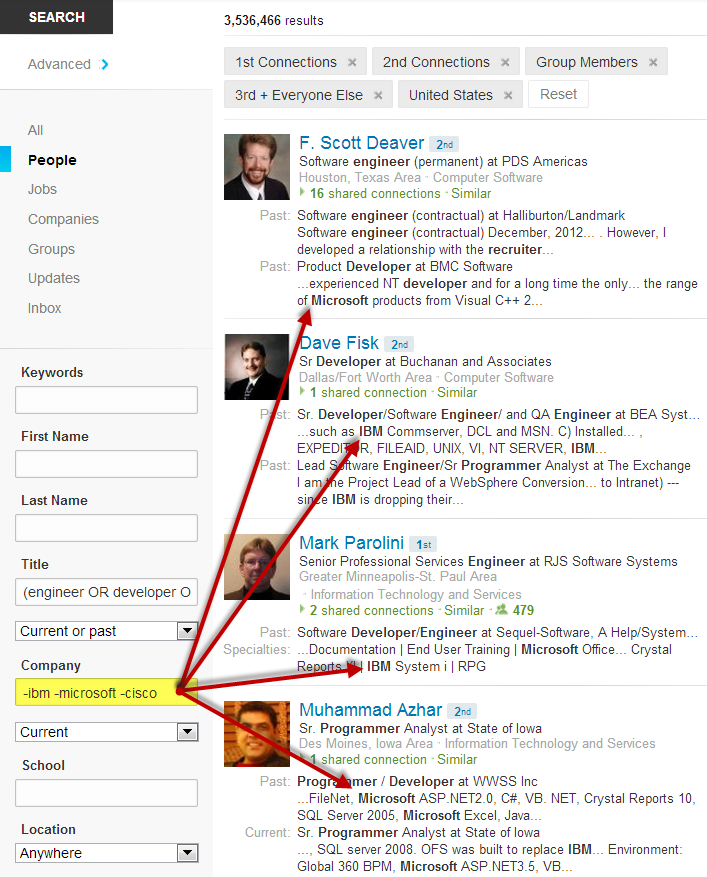 Hmm. That's not good.
The same thing happens when I try to exclude a term from the title field. As you can see below, I am excluding the term "engineer" from the title field, and while the term is excluded properly in most cases, there are a few random results where "engineer" is in the current title – as with Kevin below, the word "engineer" also shows up as a positive & highlighted keyword hit in summaries, headline phrases, etc. It doesn't matter if I use NOT, AND NOT either – I've tried all 3 ways and get the same results.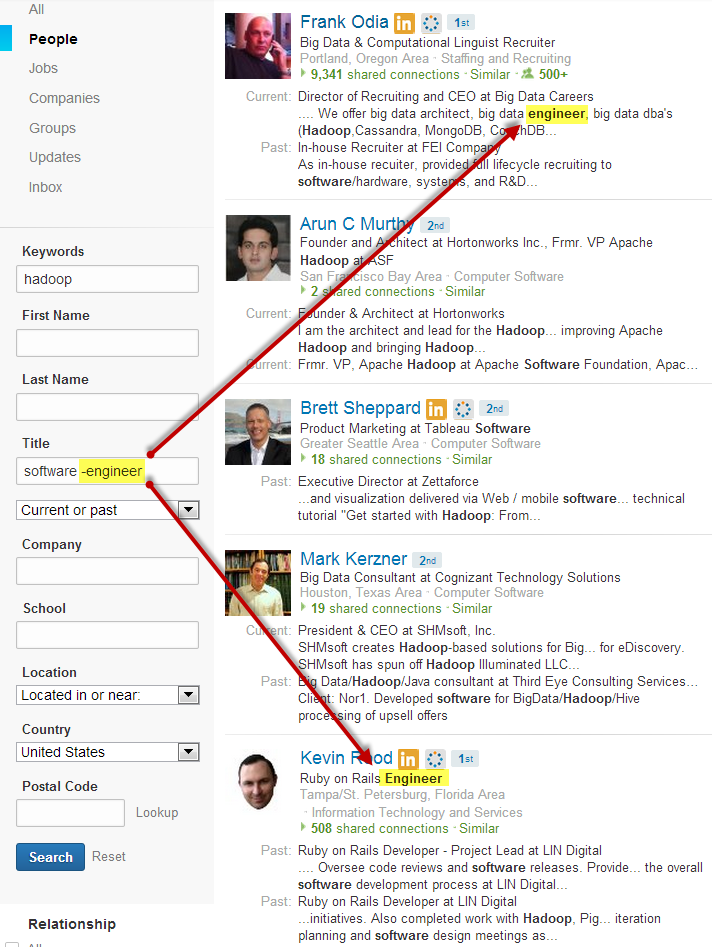 This one is pretty strange – I ran a first name search for "Abigail" and got results with "Gail" and "Abby" on the first page.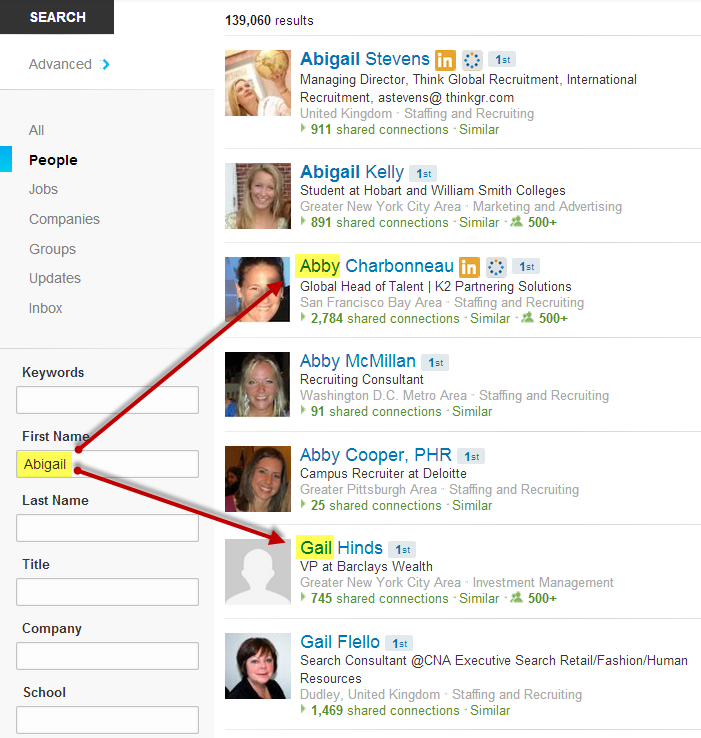 I don't know how much of a fluke this is, because I've tried other names as well as searched for companies and various I.T. keywords to see if LinkedIn is performing some kind of fuzzy matching but have yet to run into another instance where LinkedIn gives me terms other than the one I specifically searched for. Please let me know if you find any.
Also, it seems that the ability to search within groups from the main search interface is still being listed as a premium filter with the yellow "in" icon, yet I can search within groups with my free account. Maybe it's actually free functionality now?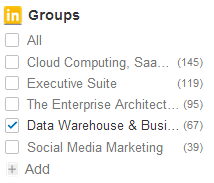 What I Would Like to See from LinkedIn Search
For quite some time I've been thinking about writing a post specifically about what I'd like to see from LinkedIn with regard to new search functionality, but I've never gotten around to it.
I'll take this opportunity to at least highlight a few things I would suggest to the LinkedIn team:
The ability to specifically search within the most recent work experience listed. One word: Massive. Can I get an "amen?"
Stemming/root word/wildcard search. It would certainly be nice to not always have to construct massive OR statements, e.g., (develop OR developing OR develops OR development OR developed OR developer).
Not only bring back the top 10 in each facet – but enable them to be expanded to the top 25. Expanded facets yield incredible market and competitive intel/insight with the click of a mouse.
Ability to sort by keyword relevance not tied to relationship. If you can't/won't bring this back to LinkedIn for free accounts, at the very least, never get rid of the ability to sort by keyword only relevance in premium versions.
Keyword boosting – enabling users with the ability to determine which keywords are the most relevant to them.
Proximity search – enabling users to search for terms within a specific distance of each other, to achieve semantic search.
If you weren't already aware, LinkedIn used Lucene for text retrieval, and Lucene is capable of wildcard search, variable term boosting, and variable proximity matching.
I wrote a post nearly 4 years ago titled LinkedIn Search: What it COULD and SHOULD Be – I suggest you take a look and also read the comments, because one of LinkedIn's principle software engineers working on LinkedIn's search engine at the time weighed in with some very insightful comments here and here.
What would YOU like to see added to LinkedIn's search functionality?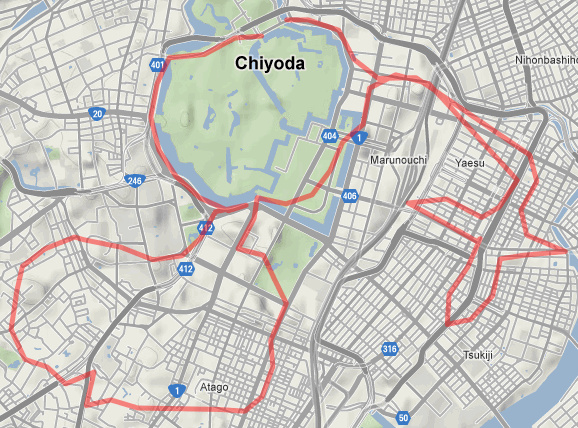 Do you want to know how to search for people on Google+ by title/skill, company, AND location?
If so, you've come to the right place – I'm going to show you 3 different ways to find people on Google+, and only one of them allows you to reliably search for and find people based on where they live:
Google+'s built-in search functionality
FindPeopleonPlus
Using Google to X-Ray search Google+ (the most effective way!)
Back in 2011 I wrote a post about how to search Google+ to find people in specific locations. At the time, Google+ wasn't a ghost town, but it wasn't exactly well populated.
Nearly 2 years later, that's no longer the case - Google+ now has over 500M profiles, 235M+ of them actively using Google+ features, and 135M+ people are active in the Google+ stream, solidly positioning Google+ in the upper tier of the "Big 4″ social recruiting sites (Facebook, LinkedIn, Google+, Twitter).
In fact, Google+ is now actually the #2 most actively used service online: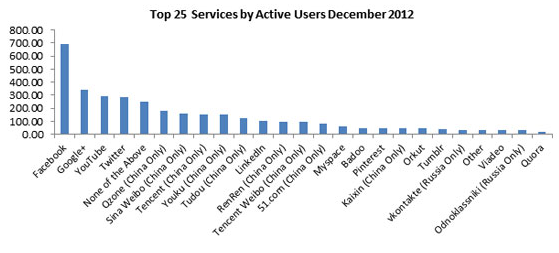 Google+ Native Search Functionality
While the massive change in users and activity has been great, one thing that unfortunately hasn't changed is that Google+ still doesn't have any built-in functionality to reliably search for people by specific location, which is critical to any sourcing and recruiting effort.
While Google+ has recently released a new "Find People" functionality, it doesn't allow you to find people by where they are located.
What you can do, however, is search for people who work at specific companies using the "Find coworkers" search functionality and entering in any company.
Searching Google+ via Find Coworkers

For example, searching for "coworkers" at Rio Tinto (world leader in mining and processing):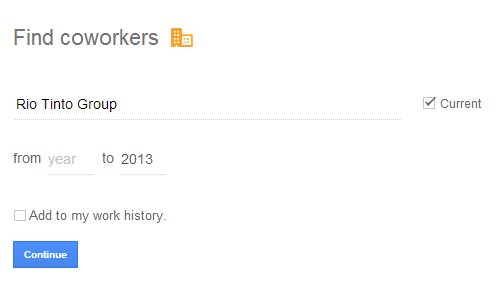 Here are some of the results – all currently employed at the target company: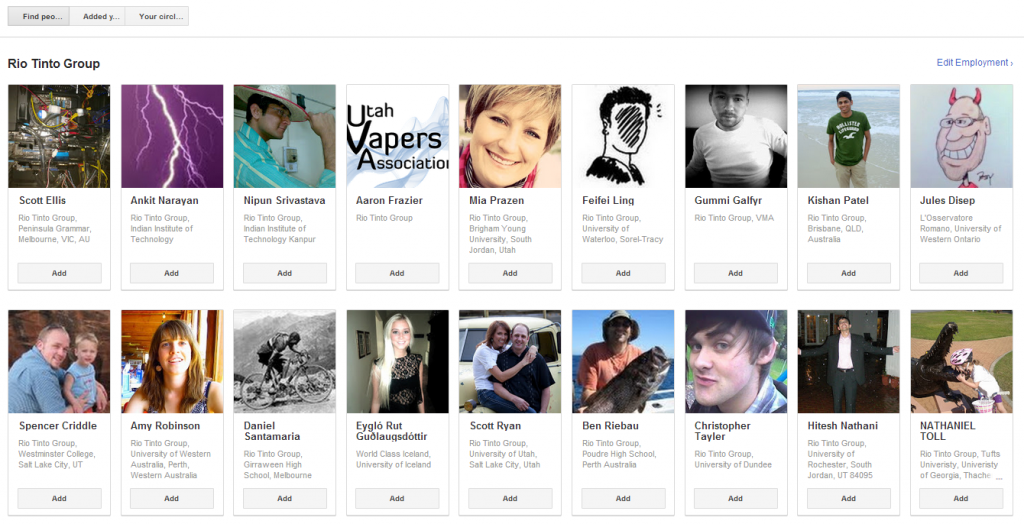 What you can't do with this search functionality is search by people who work at specific companies in specific locations. which is critical to most sourcing and recruiting efforts.
However, if you're new to Google+, you should be impressed by your ability to find anyone.
In this respect, Google+ is similar to Facebook's Graph Search and unlike LinkedIn, as you don't have to be connected to people or have them in Circles to find them and view their profiles, which is fantastic for sourcers and recruiters.
Searching Google+ via the Google+ Search Bar
Moving on to Google+'s search bar, you can try to find people in a specific location by simply typing in a city along with the rest of your query. For example, take a look at the results for a simple search such as "software engineer" "new york" "google"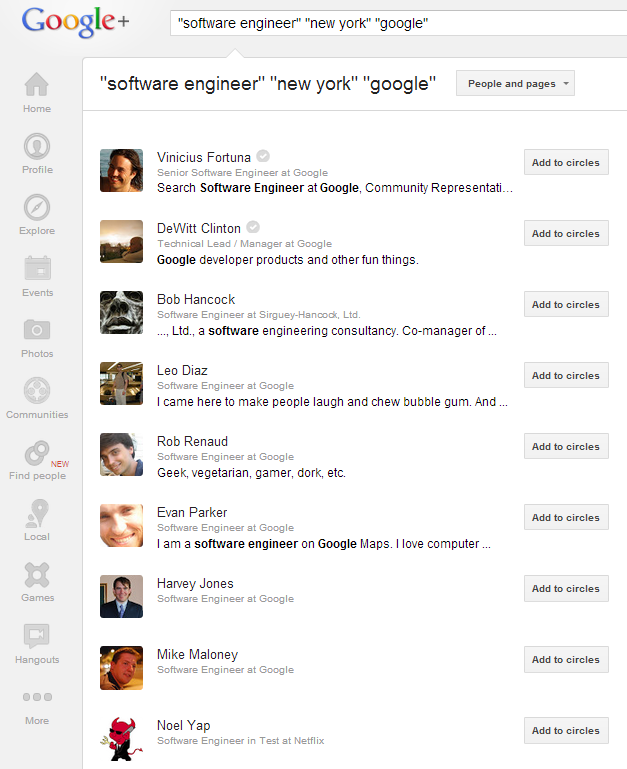 Pretty decent results, right?
Don't be fooled by appearances.
You can see from just that screenshot that not all of those people work at Google (although many do), and if you explore the results individually, you'll find that they all mention "New York" somewhere (as they should, based on my search criteria) – but they don't all live in New York.
For example, taking a closer look at one of the results: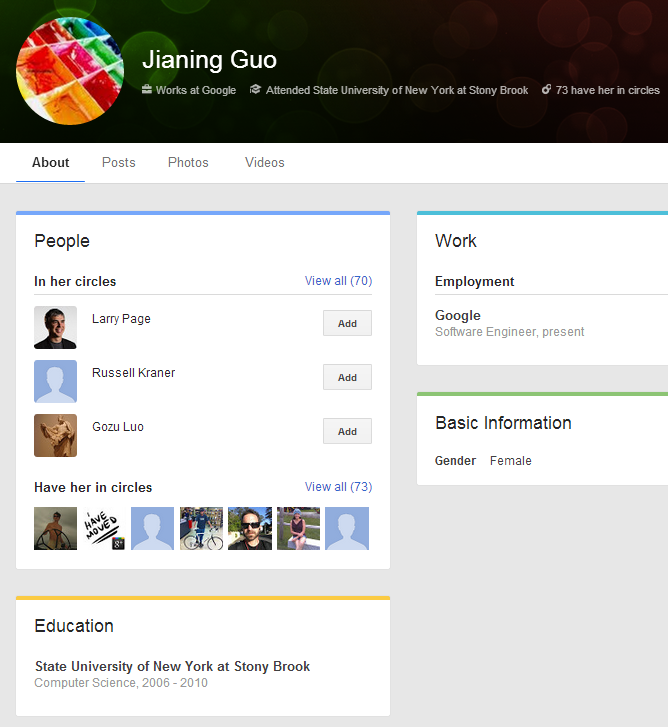 You can see she attended school in New York, but her location isn't revealed on her Google+ profile as it is for others.
Cross referencing her on LinkedIn shows she lives in California.

I'm not slamming Google+'s search bar – it does a decent job, but it doesn't offer sourcers and recruiters the search precision they need.
Just to show you that Google+ isn't only useful for sourcing and recruiting software engineers in the U.S., for my readers in Oz, here's a simple search for people at Rio Tinto in Perth: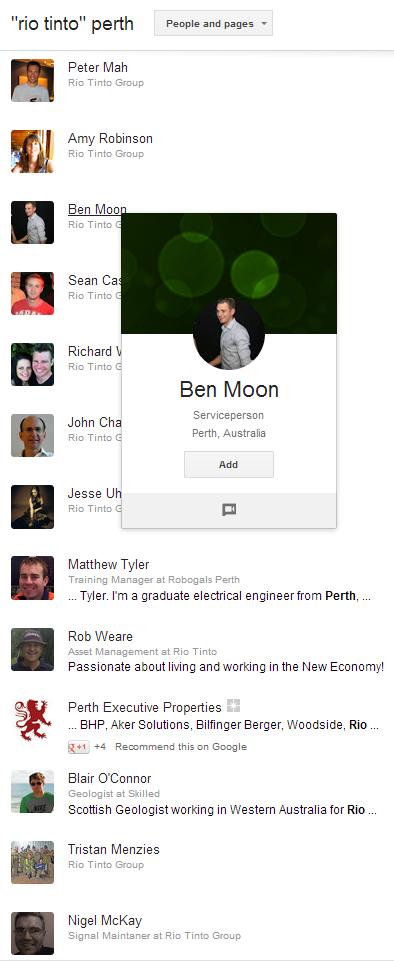 FindPeopleonPlus
Some of you may be aware of FindPeopleonPlus, which you can use to find people by employer, occupation, and location.
For example, here is a search for software engineers who work at Google and live in New York: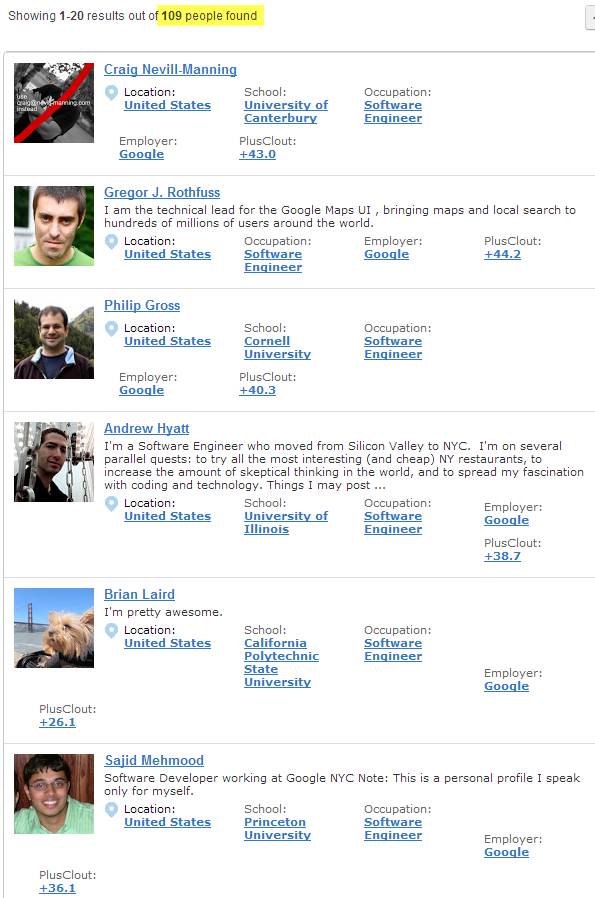 Looks great, right?
Unfortunately, according to their own website, FindPeopleonPlus has only indexed 45M users, which is now obviously a small portion of the total population of Google+ users.
The above search found 109 people, which isn't too shabby. However, I'll show you how to use Google to X-Ray search Google+ to find more people in a moment.
FindPeopleonPlus does have some great functionality – you can search for/sort people by gender (diversity sourcing!), education (specific university), employer, occupation, state, and city.
Interestingly, it appears they are busy building a "Career Platform" – I'm assuming this won't be free because what they've already built can easily be used by recruiters to find candidates.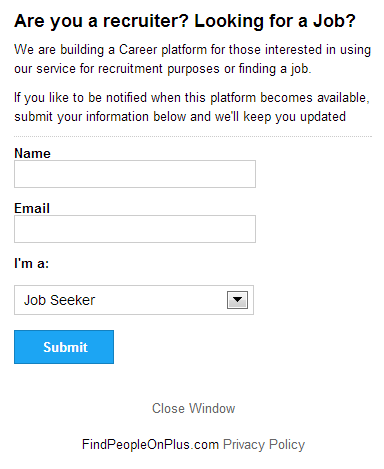 Hopefully they will speed up their performance – I noticed my searches lagged significantly. But maybe I'm just spoiled.
Oh, and I just had to share these two nuggets of gold I found when exploring FindPeopleonPlus for this post: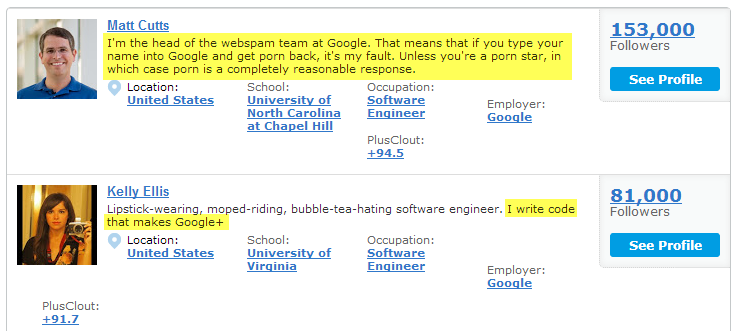 Matt's got a sense of humor. Maybe Kelly can add the ability to search Google+ for people by employer, occupation and location like FindPeopleonPlus can.
Am I the only one that is confused and disappointed by the fact that the Google team hasn't thought to offer a greater degree of search capability? Even Facebook's Graph Search offers the ability to search by location, current and past employer, current title, etc.
I thought Google = search?
How to Find People on Google+ by Location: X-Ray Search
To this day, using Google to search Google+ remains the best way to reliably find people on Google+ by location.
Over time, Google+ has made multiple changes to Google+ profiles, so while my original (circa 2011!) Google+ X-Ray search still works, there are a few small adjustments I've made based on profile changes that allow even greater control over search results (thanks Google+ team!).
Back in 2011, when it came to listing locations on Google+ profiles, they were displayed in the "Places Lived" section.
"Places Lived" doesn't exist anymore – it's now just "Places," and the word "lived" is no longer there to search for exactly as I did in the past.
However, location information from Google+ profiles is now often also displayed in the summary info at the top of a person's profile, and it can be listed as "Lived in ________" or "Lives in _________" – you can search for either or both.
X-Ray Searching Google+ for "Lived in"
Here is an example of a Google X-Ray search of Google+ to find software engineers who work at Google in New York, using "lived in _______:"
site:plus.google.com "lived * new york" "software engineer" "works * google"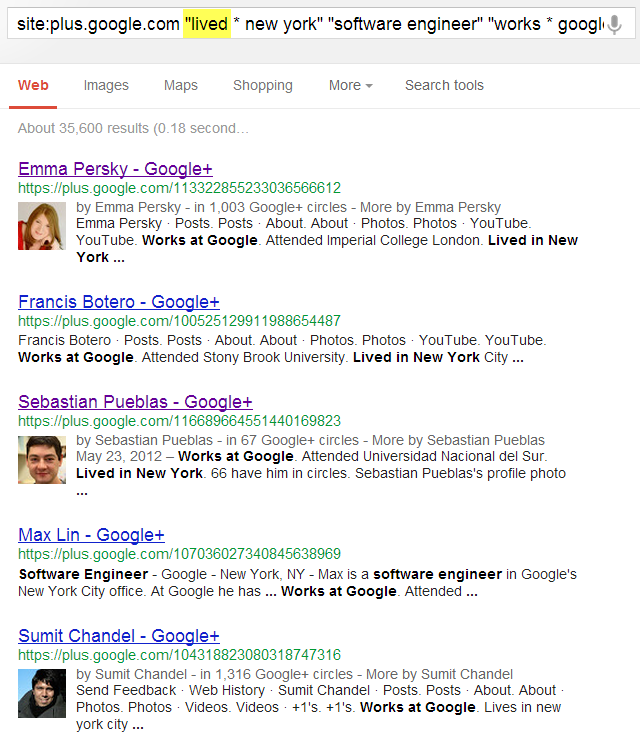 Here's where it's picking up the "Lived in," which pulls from their list of locations on their profile.

Don't be confused by or concerned with the past-tense "lived in." For these folks, the first location listed is typically where they currently live…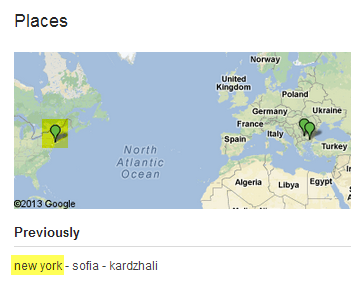 …they just haven't checked the "Current" box by the location when they edited their profile:

When checking some of the Google+ results to see if the the people did in fact live in the location I specified, I cross referenced them on LinkedIn.
Interestingly, when I cross referenced one of the results from my New York search on LinkedIn, their LinkedIn profile stated that they currently lived in Bulgaria instead of New York, which was initially disappointing, at least until I performed a Facebook Graph Search for her, where I was able to confirm she does in fact live in New York.

Hopefully I am not the only who finds this interesting, although not all that surprising when you think about it – Facebook can be more accurate than LinkedIn.
X-Ray Searching Google+ for "Lives in"
Here is the exact same search as above, which is a Google X-Ray search of Google+ to find software engineers who work at Google in New York – except in this case, I am using "lives in _______:"
site:plus.google.com "lives * new york" "software engineer" "works * google"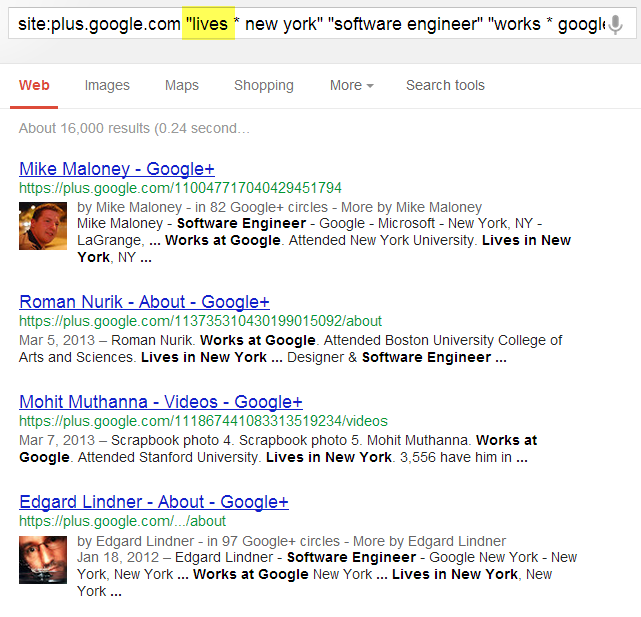 You'll notice some dupes in the results for hits on the same person from multiple places on their profile, such as the "About" and "Videos" sections.
If you wanted to clean those up, you could run something like this:
site:plus.google.com "lives * new york" "software engineer" "works * google" -inurl:(about|photos|videos) – you'll get 118 clean results from the original 135.
One thing you can do using Google to X-Ray search Google+ for profiles that you can't do on FindPeopleonPlus is Boolean search with no limitations.
For the Boolean bashers (I know you're out there!), basic Boolean logic allows the ability to search for multiple titles, skills, and or companies in a single search string. Although FindPeopleonPlus does support basic Boolean logic for keywords, they don't allow the use of Boolean logic to simultaneously search for any of a number of employers or occupations/titles.
With a search interface similar to FindPeopleonPlus's, you're limited to one company, title, etc. at a time per search. Yes – it still "works," but it feels like wearing mittens vs. fingerless gloves when you know how to get exactly what you want and you can't get exactly what you want in a single search like you can with Google.
For example, we can search for any of 3 titles at once using Google to X-Ray search Google+:
site:plus.google.com "lives * new york" (programmer | developer | "software engineer") "works * google" -inurl:(posts|about|photos|videos|plusones)
That Google search returns 137 results in New York.
With FindPeopleonPlus, you get 3 results in the entire world.
Going one step further with Google+ site: search, you can search for both "lived in" and "lives in" in the same string to get 152 results:
site:plus.google.com ("lives * new york" | "lived * new york") (programmer | developer | "software engineer") "works * google" -inurl:(posts|about|photos|videos|plusones)
Of course, you don't have to target companies in your search strings.
In fact, you can also search for people that don't even mention their employer in the "work" section (although they do mention it somewhere else):
site:plus.google.com ("lives * new york" | "lived * new york") (programmer | developer | "software engineer") -"works * " -inurl:(posts|about|photos|videos|plusones)
Like this person: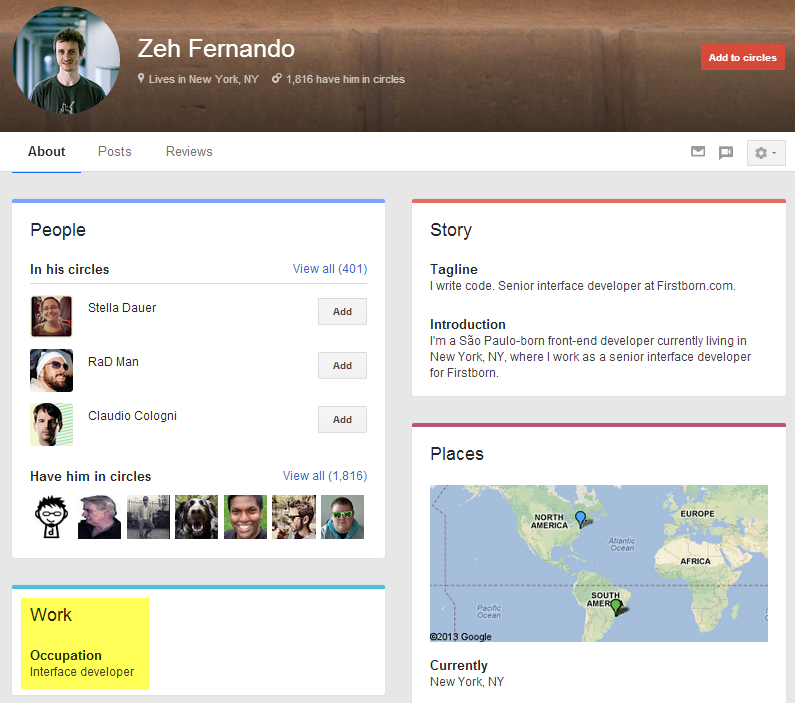 There are many other interesting things you can do with Google+ X-Ray searches – I just wanted to provide you with a few "starter" searches to get you going.
Google+ Got Your Attention Now?
There's no doubt that LinkedIn is "where it's at" with regard to deep and highly searchable human capital data, and I don't think LinkedIn is becoming "saturated" as many people seem to be suggesting recently – most sourcers/recruiters only find and review 20-30% of what's available to be found on LinkedIn, leaving at least 50M (if not 100M+!) profiles unfound/unviewed. No, I am not exaggerating for effect.
Even with sourcers and recruiters only scratching the surface of LinkedIn, Google+ cannot be ignored.
Google+ now has more profiles than LinkedIn and is the most active social network in the world second only to Facebook. Yes, I know – Google+ haters/doubters like to argue about what "active" really means…who cares?!?! Most Google+ naysayers haven't spent 5 minutes on Google+.
Get on Google+ and do some searches and I think you'll be impressed with what you can quickly and easily find. Explore Google+ a little bit (actually USE it for a few weeks) and I think you'll be surprised by the functionality and the many benefits and advantages if can afford sourcers and recruiters.
Check out the kind of information you're missing if you're not searching Google+: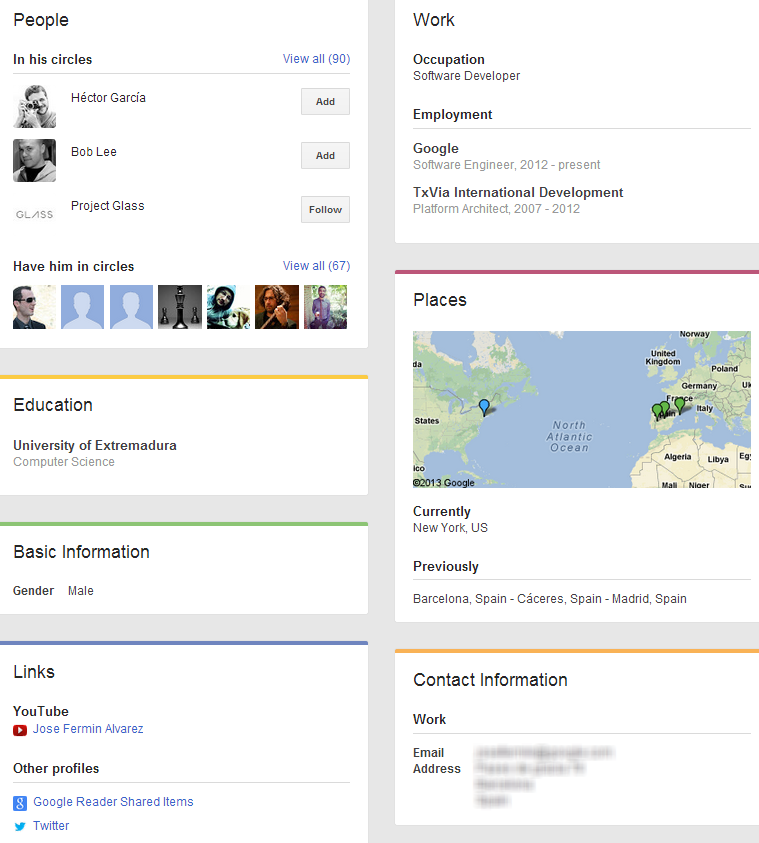 Yes, that's an email address I blurred out. It's there for anyone to find – it's not listed because I know them or have them in a Circle – because I don't.
Unlike LinkedIn, I've found that software engineers and other non-recruiting professionals do include email addresses and sometimes even phone numbers on their profiles that anyone can see – like the phone number of this UX Engineer at Microsoft:

Of course, there are many advantages of using Google+ in your sourcing and recruiting efforts that are beyond the scope of this post.
As for me – I don't care if you never use Google+ for sourcing and recruiting. It just means I have less competition.

There have been numerous articles written about fake LinkedIn profiles, and some are really easy to spot because their names aren't even names.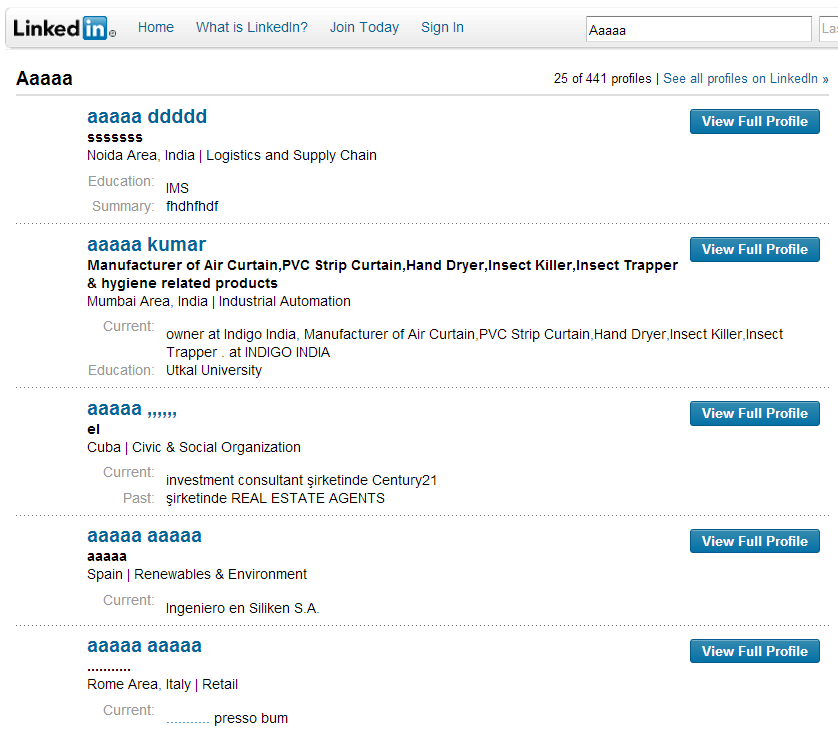 Then there are LinkedIn profiles with names that appear real but the profiles are obviously fake.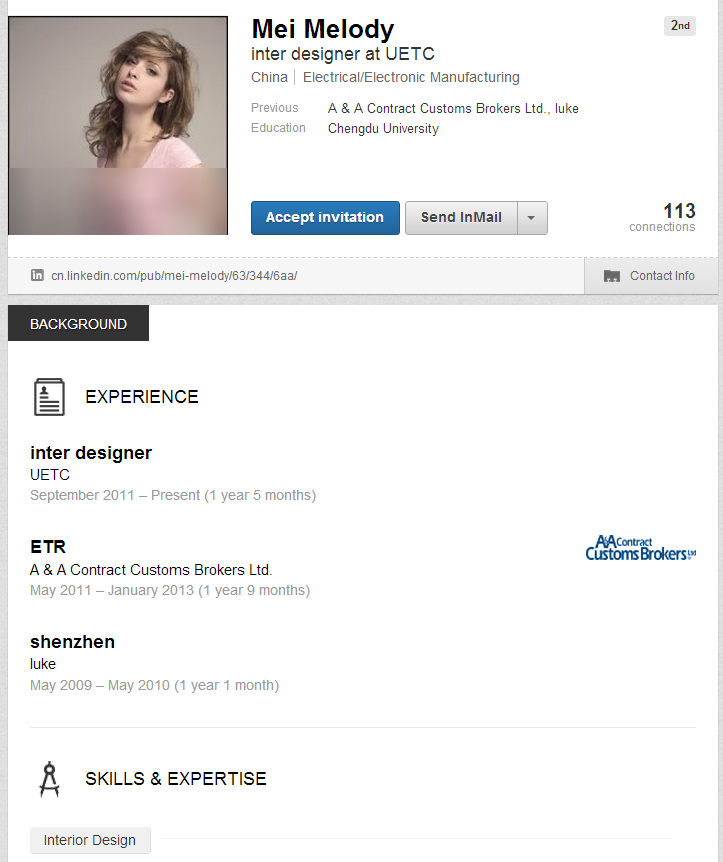 This person profile actually has some endorsements. I'm pretty sure this is a picture is of Sophie Turner, who plays Sansa Stark in Game of Thrones (I'm really looking forward to season 3!)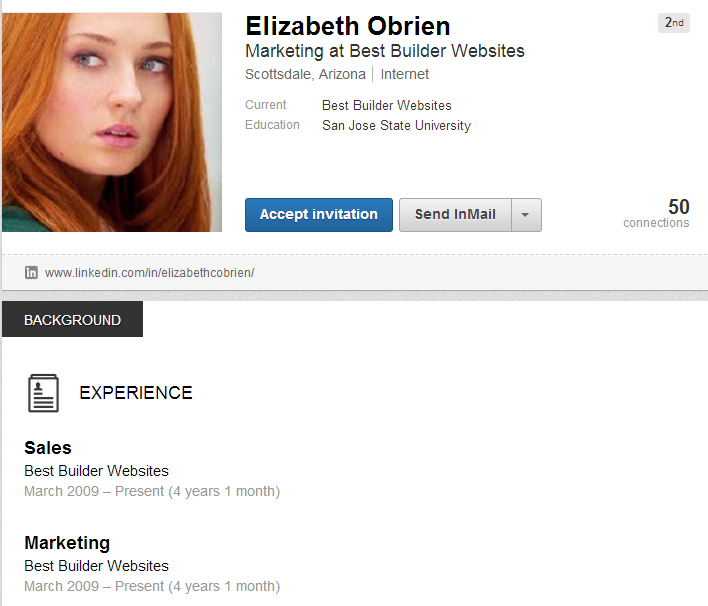 Next we have LinkedIn profiles that look like real people, at least when it comes to the profile details, but the profiles are likely created by recruiters and perhaps even hiring managers (yes – this happens…stay tuned for a future post on this subject), and the photo is obviously not the photo of the person who created the profile.
And finally, there are LinkedIn profiles that are likely to be real people – where the details of the profile accurately reflect the person behind the profile – but the profile picture isn't real.
I refer to these profiles as LinkedIn Catfish.
Catfish on LinkedIn
Have you seen the film Catfish or the MTV series based on the film?
The movie is a documentary about the evolution of Nev Schulman's online relationship with a girl on Facebook who ultimately ends up not being who she was pretending to be online. The television show follows the same format, finding people who are in online relationships with people they've never met, performing research on the people, and arranging an in-person meeting to determine if the people are really who they are portraying themselves to be on Facebook.
One of the techniques that Nev Schulman consistently uses on the television show to determine whether or not the people are lying about who they are is Google Image Search in conjunction with Facebook photos.
I've posted a few "real or fake" challenges on Twitter from time to time, and while some LinkedIn profiles are obviously fake, others can be quite difficult to determine. I believe some LinkedIn profiles are really examples of "Catfish," where the people are real but they are using other people's photos.
How do I know?
From time to time I use Google Images to check LinkedIn profile photos of the people that are sending me invitations to connect as well as some of the profiles that LinkedIn claims are "people I may know."
I thought I would share some of my findings with you, starting with some obviously fake LinkedIn profiles and progressing to some that I believe are in fact real people who just happen to be using someone else's image for their LinkedIn profile image.
Let's start with something I found the other day when I glanced down to the "People you may know" section on LinkedIn.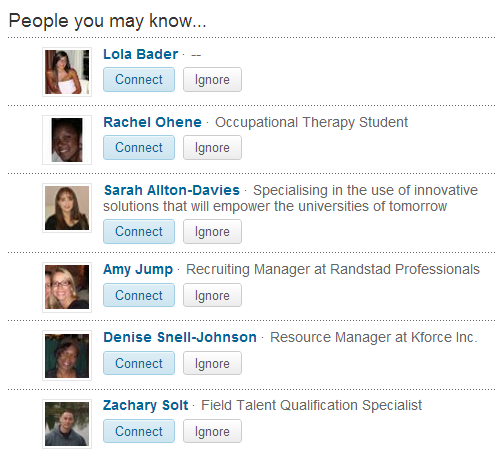 When I clicked on Lola's profile, I found it devoid of any content, which of course immediately makes it suspect.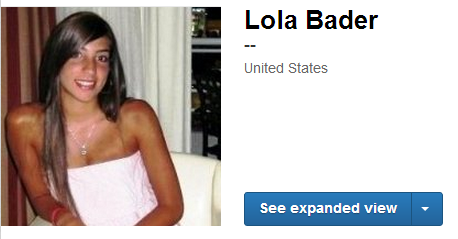 Where it gets interesting is when you perform a Google Image Search for that photo – multiple Facebook hits: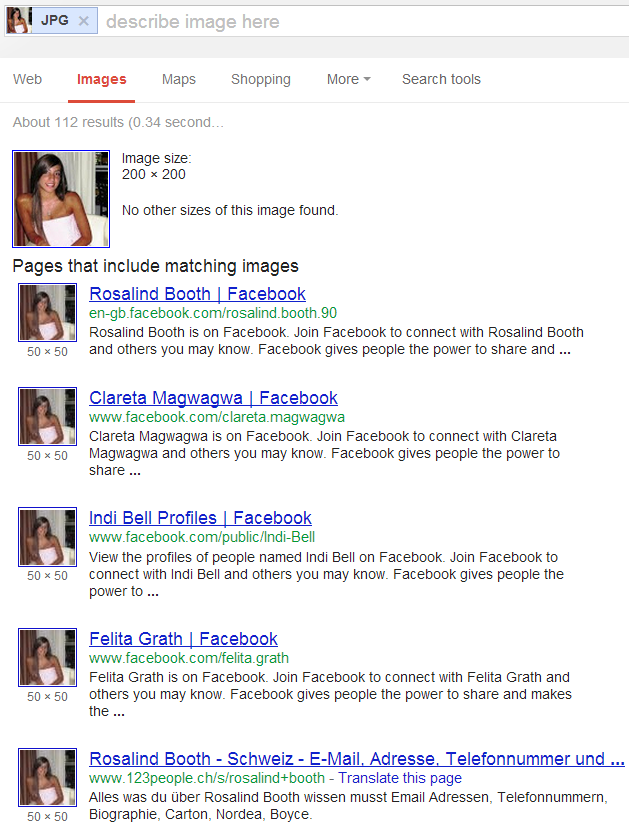 Now let's take a look at a few LinkedIn profiles of "developers" that I think are really fake profiles created by recruiters.
First is "Alison Cork."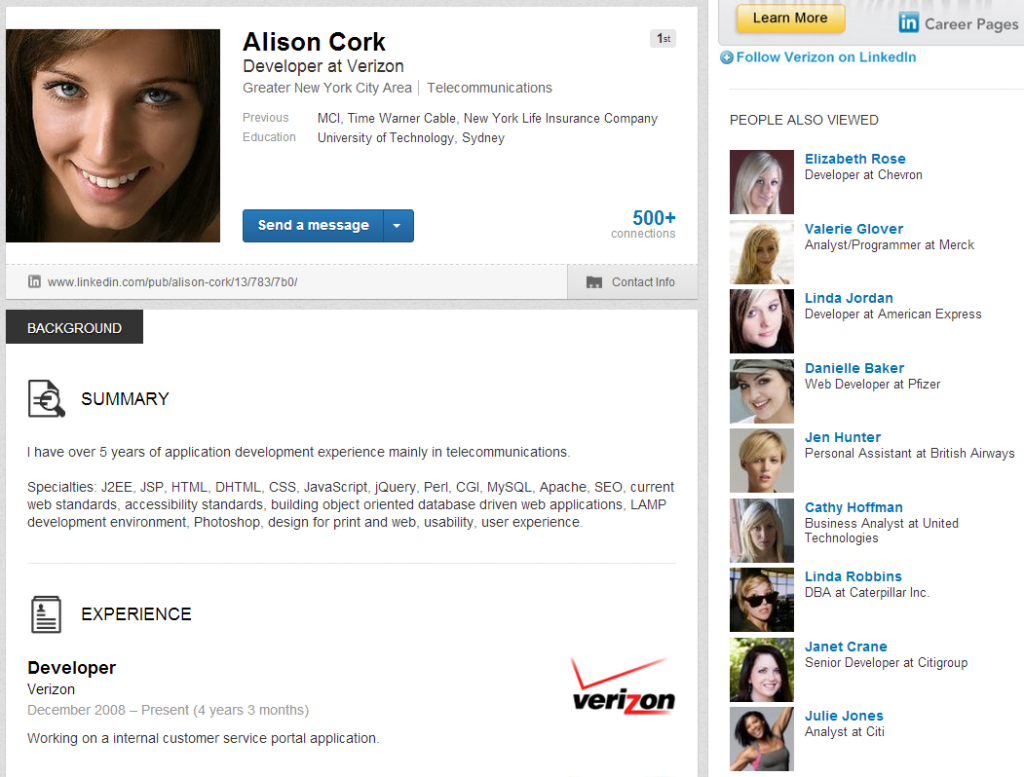 If you try searching for Alison Cork using the first name and last name fields in LinkedIn, this profile doesn't appear to exist anymore.
Taking a look at the "People also viewed" list on the right side of "Alison Cork's" no-longer-existing profile, I spotted Elizabeth Rose, a "developer at Chevron," and Danielle Baker, a "web developer at Pfizer."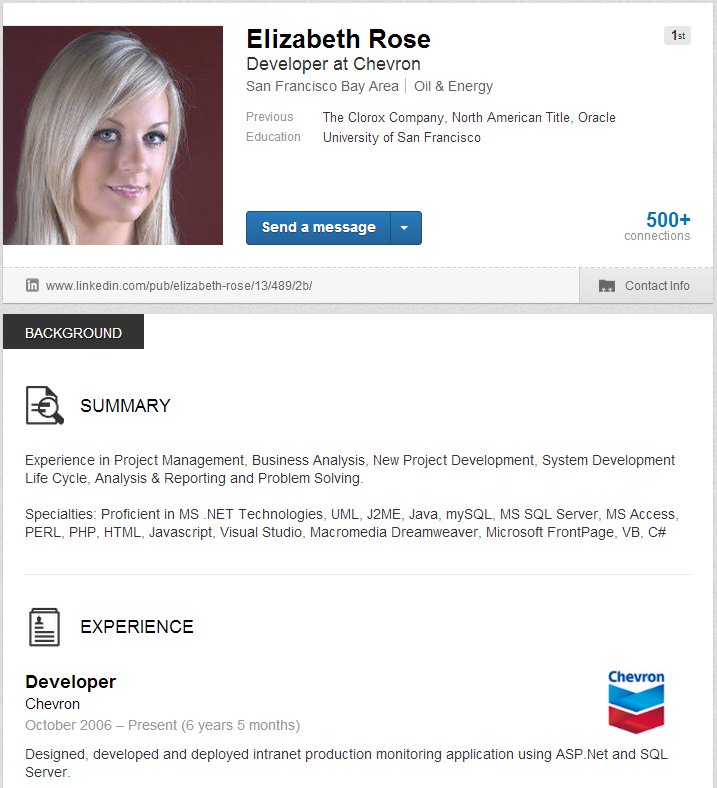 If you click the link to "Elizabeth's" profile, you'll see that at least the details all seem to align (date of graduation, data of first work experience, location of school and current location, etc.) – someone took at least a little effort to make this profile seem like a real developer. However, I believe this profile is really the creation of a recruiter looking to use the profile to connect with other developers.
Checking Google Images for the profile photo shows the possible origin: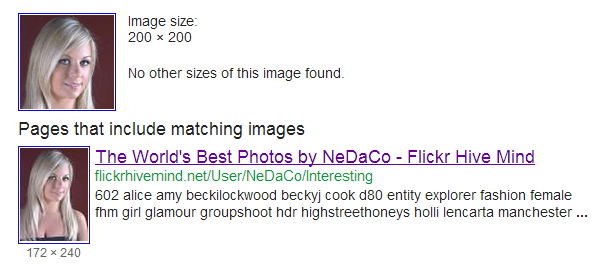 "Danielle" below is a similar example.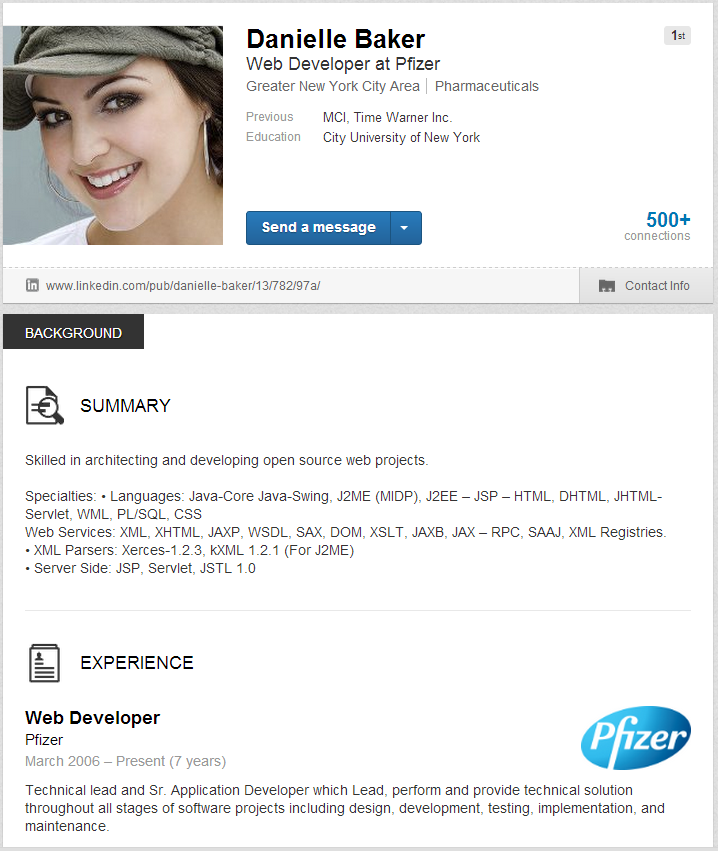 If you click the link for this profile, it's similar to "Elizabeth's" in terms of being relatively well filled out/detailed.
Performing a Google Images search for "Danielle," this is what you'll find: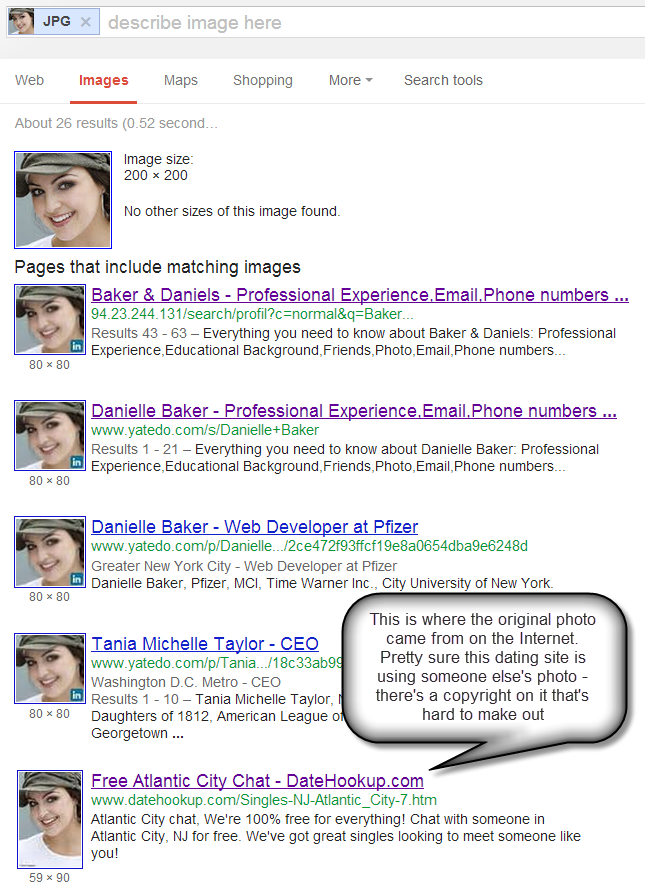 Now I'd like to move on to the category of people who *could" be the people with the experience listed on the profile, but they are using someone else's picture for their LinkedIn profile photo.
For example – this person came up on LinkedIn as someone I might know.

I blurred the details because this *could* in fact be a real person, and on top of that – they seem to work in sourcing/recruiting. The profile mentions they have worked in recruiting leadership roles at some very prestigious companies, and they have given one (definitely real) person at one of those companies a recommendation (but haven't received any).  If you're extremely curious and a tad bit technically savvy, you can probably find this profile – it is public.
When I performed a Google Image search for the profile picture, here's what is returned: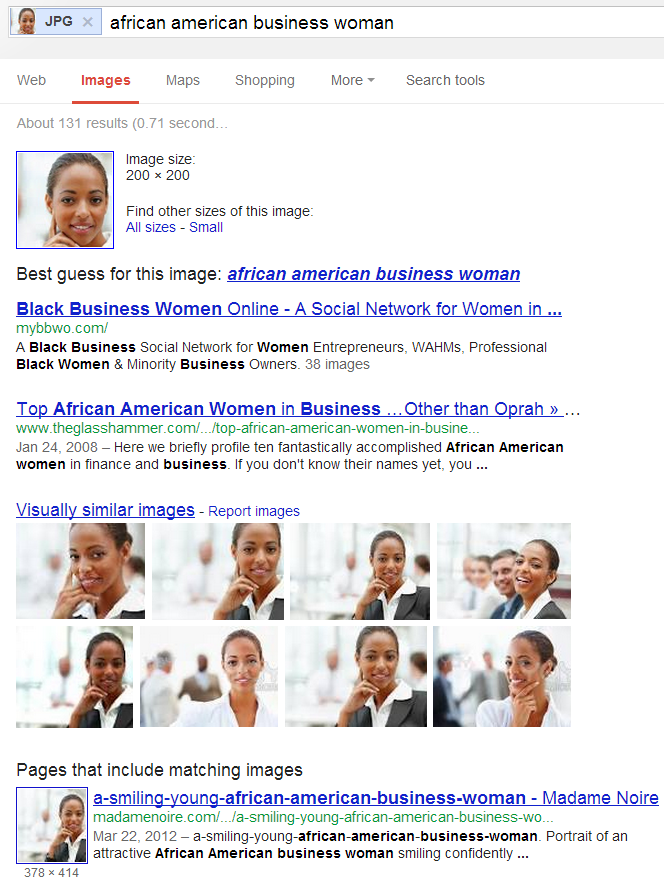 So what do you think – is this profile of a real person?
Why the term "Catfish?"
Apparently (at least according to Internet and other lore), the use of the term "catfish" comes from the story about the early days of shipping live cod, where the fish's inactivity in their tanks during shipment resulted in fish with a mushy texture and bland taste. Someone had the idea to ship the cod with some catfish in the tank, because catfish often conflict with cod in the wild, so during shipment, the catfish would harass the cod and keep them active, resulting in cod with the proper texture and taste, as if they were caught fresh. In the movie, one of the characters theorizes that the person Nev thought he was having a relationship with was like a "catfish" – serving to keep him active, always on his toes, and always thinking.
When you're on the Internet – even on professional networking sites such as LinkedIn, you always have to be on your toes. Some of the people you're finding and connecting with may not be who they appear to be, and they might not be real people.
Even so, you may want to connect with some of these folks anyway (as I do in some cases).
Why?
If you fully appreciate and understand the X-degrees of separation concept, there is value in connecting with the "wrong" people because they can actually be conduits to the "right" people. In fact, it could be argued that in many cases, the *only* way to add some of the "right" people you'd like to have in your network  is to connect with the people who are connected with them – even the ones that don't seem to make sense on the surface.
If you connect directly with a "catfish" profile has been created by a recruiter or hiring manager specifically to connect with software engineers, and they have been successful in connecting to many of them at the 1st degree, then those software engineers would be in your 2nd degree network on LinkedIn. With a free account, you'd be able to see their full names in any people search.
Also, as a 1st degree connection, you have the option to search their connections if they haven't shut that down (the 2 "developers" above haven't), and you also have access to their contact details – so if you're really curious, you could ask them directly about the reality of their profile.

I just stumbled across this YouTube video created by Viveka von Rosen that walks through LinkedIn's new user interface and functionality.
I don't have LinkedIn's new UI, and apparently neither does Viveka – she only caught the new look and feel when she was working with one of her client's profiles. I thought I would share this video with you because I found some of the changes that Viveka demonstrates quite interesting, and you likely will as well.
If you watch all the way to the end, you will notice that there doesn't appear to be any way to access LinkedIn Signal from any menu option, which is quite odd in my opinion, given how powerful and useful Signal is. However, I realize that most people don't use it, so I can understand why LinkedIn might bury it into obscurity, however unfortunate.
For those of you with the new LinkedIn UI, you can still get to Signal here: http://www.linkedin.com/signal/
Thank you for sharing your discovery Viveka!