I originally published this post on LinkedIn, but am reposting here to ensure my blog readers catch it.
When I attended LinkedIn's Talent Connect 2015 conference in Anaheim, CA and I was able to take some video of Eddie Vivas, Head of Talent Solutions Product for LinkedIn, formerly the Founder and Chief Product Officer at Bright.com (acquired by LinkedIn), talking about and briefly demonstrating LinkedIn Recruiter's new search interface and functionality.
Check it out – be sure to switch to 1080p and go full screen.
As Eddie says at 1:35 into the video, "You guys ready to see some cool shit?"
I've attended and spoken at every Talent Connect event, and I've been waiting 5 long years for LinkedIn to make some major changes to their search interface and functionality.
Whatever you think of LinkedIn, they have a ton of professional human capital data, and the value of data is directly proportional to the ability of users to quickly, easily and precisely retrieve actionable data.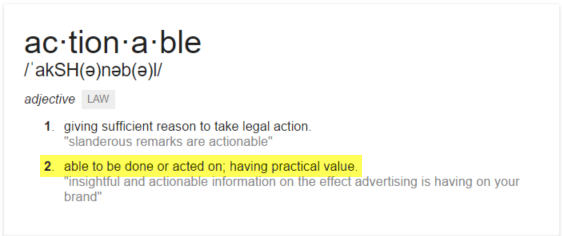 The more easily recruiters can quickly and precisely retrieve profiles of people who have a decent probability of being the right match and also likely to respond to outreach efforts, the more actionable (and thus valuable) LinkedIn's data becomes.
Although the video and a few other assets I share below don't show you everything that's coming to the new Recruiter search experience, I'm going to run through a few things that will definitely make LinkedIn's data more actionable than ever before for recruiters, and none of them involve Boolean search.
Dynamic Semantic Search Suggestions
LinkedIn claims Recruiter's new search "learns as you go," dynamically adjusting suggested synonymous and related search terms as you enter new terms.
Think of this as LinkedIn Skills on steroids and integrated seamlessly and practically into the search experience.
As you add search terms, Recruiter will provide you with a list of the top titles, skills, companies and schools associated with your target candidates and you can choose to incorporate the suggestions  into your search (or not).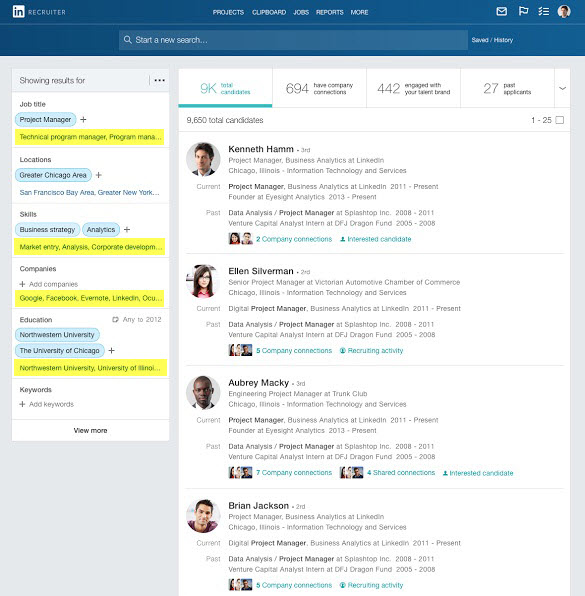 I'm presuming that as you add search terms they effectively create Boolean "OR" statements whereby results will match at least one of the terms.
Historically, I've referred to this as conceptual search or Level 2 Talent Mining. While very effective, the challenge for most people is that they don't know all of the various ways in which people with specific skills and experience might make mention of them, leading recruiters to craft searches that actually create Dark Matter.
Based on what I can see, this new Recruiter functionality should go a long way in reducing LinkedIn's Dark Matter, helping people build more inclusive searches by automatically suggesting additional potentially relevant search terms to return results of people who would likely not ever be found via traditional keyword search, given the wide variety of ways people can express the same skills and experience.
LinkedIn Profile Matching
You will also be able to find potential candidates using an employee's (and perhaps anyone's?) profile.
Essentially using a profile to automatically build a search – Recruiter's new functionality will:
Automatically build your search string using the job title, skills, company, and industry, listed on the employee's profile. It will show you the terms it used to build the search string, let you add or remove terms, and instantly update the list of members who meet your search criteria – helping you quickly identify the members who are a match for your open job.
I can't wait to get my hands on this to see how well it actually performs.
Search Spotlights
This is what I am most excited about – Recruiter's new search will offer users the ability to quickly and easily filter results by potential candidates who (LinkedIn claims) are 2-3X more likely to engage, based on relationships and interactions on LinkedIn, including:
Company connections
Past applicants
People engaged with your company on LinkedIn
People in your competitors' talent pool ("Who your competitors target")
Who's potentially ready for a move – people who have been in their current role for 1-5 years
Interested candidates – people who have indicated to LinkedIn that they are open to new opportunities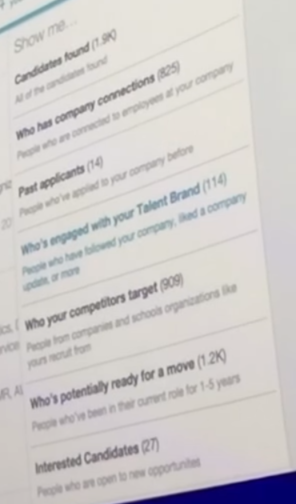 I find these last 2 to be especially interesting and particularly useful- I've been wondering how and when LinkedIn would allow people to show recruiters they are open to new opportunities.
Granted, 1-5 years is a HUGE window and may not be as predictive or precise as some would like, but it's a start. Also, I am not sure why LinkedIn wouldn't offer a spotlight showing you only people who are within 30-60 days of their work anniversary – company and/or title – as this is a time when many people think about their future and could be more open to making a change.
Eddie claims they are launching with 7 different spotlights, hinting that perhaps more spotlights are likely coming in the future.
But What About Boolean?
Don't worry – LinkedIn claims that "Advanced recruiters can continue to use their own Boolean search strings."
However, as I've always stated, effective search isn't about Boolean logic – it's about information retrieval, and I am excited to see LinkedIn provide users with additional, and what appear to be practically useful and effective, means of retrieving a higher quantity (through more inclusive search) of relevant results – people who have a higher probability of being the right match and more likely to respond to recruiters.
When is it Coming and What Do You Think?
Apparently LinkedIn has and/or will beta launch the new Recruiter search functionality to select customers in Q4 2015, and a general launch is planned for Q1 2016.
From a few folks who have been lucky enough to play around with the new search functionality this year, I've heard it's not "fully baked" yet, but I don't find that surprising.
What do you think about these new Recruiter search enhancements?