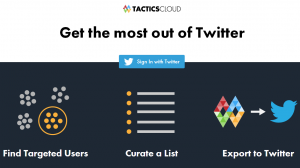 Do you leverage Twitter in your sourcing and recruiting efforts?
If NO – I strongly recommend you read my 14 Tips on How to Use Twitter for Social Recruiting and see the two comments from Matt Chiasson.
If YES – would you be interested in a better way to search for and find people in your target talent pool on Twitter?
Look no further!
I received a notification from the Google+ Social Recruiting community last week that Hung Lee believes he found something that "pretty much destroys FollowerWonk as a Twitter sourcing tool."
"Destroy" is a strong word, but I would say Tactics Cloud gives FollowerWonk a thorough beating and I will be using Tactics Cloud as my primary tool when searching for people on Twitter.
Twitter People Search: Tactics Cloud
While not exactly super new, Tactics Cloud, which used to be Tactics HR, is now out of beta.
What's the big deal?
Simple and effective search interface

Search results can be:

Saved as Twitter lists
Exported 

as private or public lists (huge!)

Downloaded as .csv files (free for now – premium for FollowerWonk)

Easy Twitter list search
Easy following of people within search results (pop up rather than a new window)
That got your attention?
Here's an example of a search for people who mention the specific phrase "software engineer" in their bio live in NY – 889 results: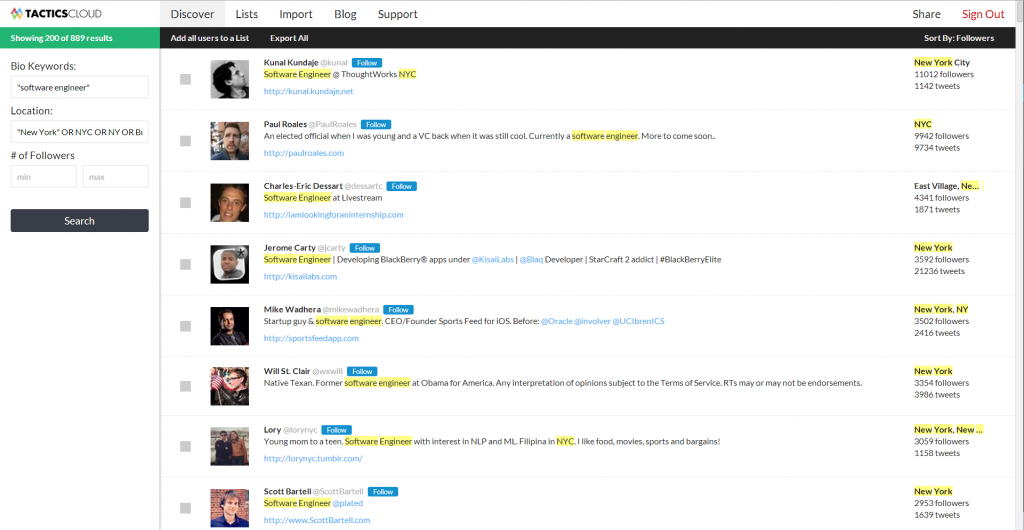 Of course, when sourcing for talent on Twitter, you have to think creatively and certainly "outside the box" because people can and will use a wide variety of and nonstandard terms to describe themselves and what they do (if they do at all!).  For more insight and specific examples, I suggest you read How to Effectively Source Talent via Social Media and Social Networks.
Here's one example:

Twitter *Can Be* More Insightful/Up to Date than LinkedIn
While LinkedIn profiles typically have significantly more human capital data than Twitter, there are times when Twitter can give you more info, insight and/or be more current than LinkedIn.
Here's a good example of the power of Twitter for sourcing, assuming your target talent pool is on Twitter. :)
While writing this piece, I ran several simple queries and stumbled across this result:

If you cross reference her on LinkedIn, you will see she is listed as living in the Philadelphia area. However, she hasn't updated her LinkedIn profile work experience since 2013. Her latest tweet was in February of this year, and her Twitter profile shows her as in NY. If you were searching LinkedIn for Hadoop people in the NYC area, she would not come up in your results.
Comparison to FollowerWonk
I ran the same search for people who mention the specific phrase "software engineer" in their bio live in NY in FollowerWonk and got 910 results.
While that is marginally more than the 889 returned by Tactics Cloud, I've noticed that FollowerWonk unfortunately breaks exact phrases, allowing results to seep in for people who do not specifically mention "software engineer" in their bio. While in some cases this can be a good thing, in others, it degrades the quality of the search results:

Beyond Twitter Bio Search
Searching Twitter bios is one of the most effective ways to identify people who have a high probability of being in your target talent pool. However, not everyone is going to give you clues as to what they do for a living in the 160 characters they have at their disposal in their bio.
Unfortunately, Tactics Cloud doesn't give you the ability to search tweets for keywords. However, while it would be great to search tweets from within Tactics Cloud, it would be hard to compete with Twitter's own search, which allows you to search by location proximity, which is much more effective than searching by location terms (NY, NYC, "New York," etc.).
For example, here's a quick and simple Twitter search for people mentioning "hadoop" within 50 miles of the 20001 zip code (Washington, DC area):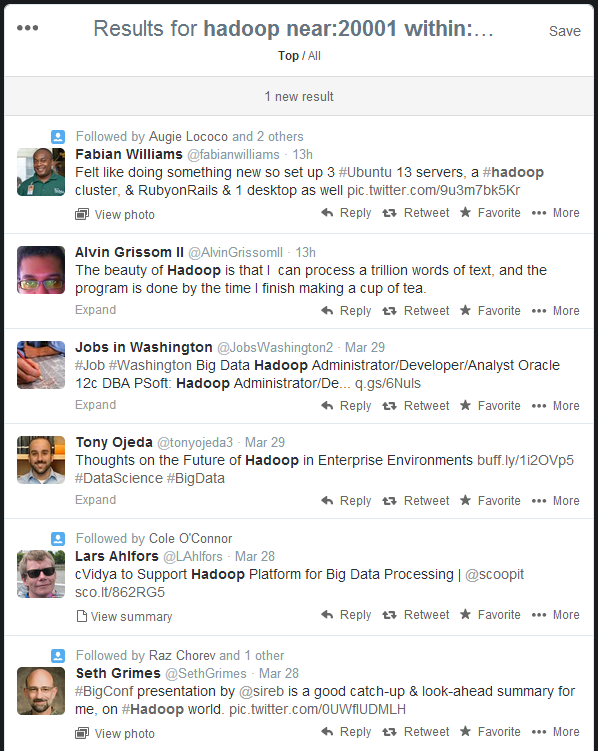 If you check out the first 2 results, while it's obvious from the content of their tweets that they work with Hadoop (at least to some extent), if you take a look at their Twitter bios – you will notice that neither gives you any definitive evidence that they would work with Hadoop: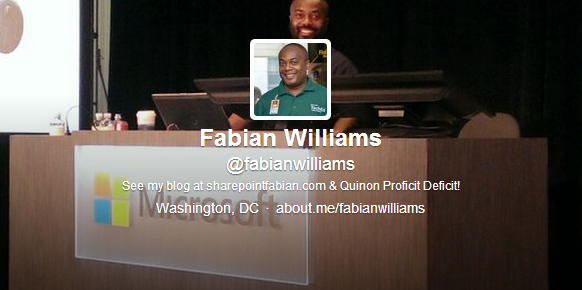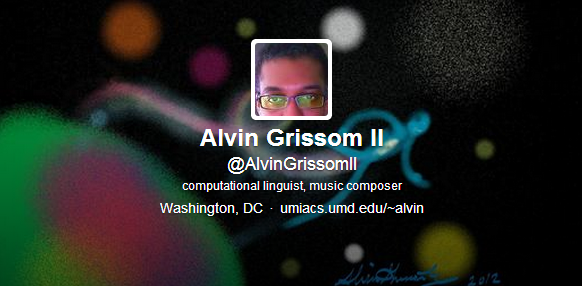 Okay, maybe "computational linguist" is a good clue for those in the know, but most people wouldn't be searching for that in a Twitter bio in the hopes of landing someone with Hadoop experience (although that would be a great example of "indirect search," as identified and defined by me). :)
I'd also like to call your attention to Seth Grimes' tweet about #BigConf (The Mid-Atlantic's Data Conference) and Hadoop – he makes no mention of Hadoop in his Twitter bio, nor in his LinkedIn profile.
Furthermore, if you explore the #BigConf site, you can find more local-to-DC folks interested in Big Data (and quite possibly Hadoop).
#nevergetsold
Exploring one of the folks who attended, you can see this nice note to recruiters: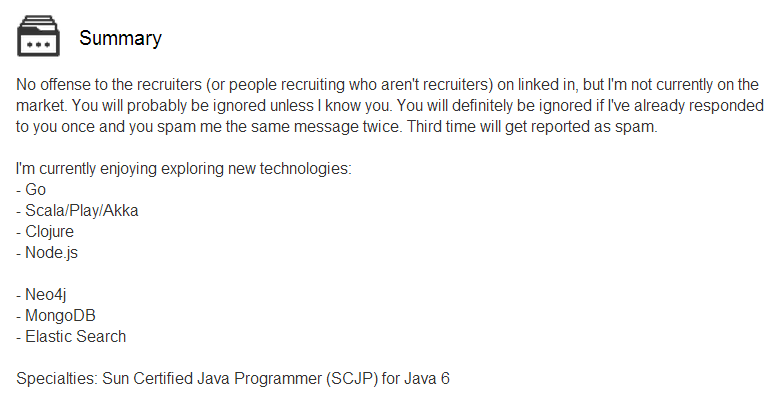 A great example of why you should always (100% of the time!) inspect your search results before trying to message anyone.
Give Tactics Cloud (and Twitter Sourcing/Recruiting) a Spin
So, if you haven't already, give Tactics Cloud a spin and let me know your thoughts.
And if you're still on the fence on whether or not Twitter can be a valuable tool in your sourcing/recruiting arsenal, I challenge you to dive in and seriously give it a go for 30 days as Matt Chiasson obviously did. Using Twitter for sourcing and recruiting is a no brainer provided your target talent pool has a decent presence on/utilization of Twitter.
Find, follow and engage.
Repeat as necessary.
:)