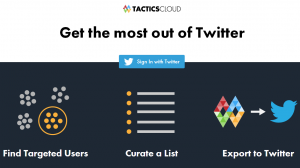 Do you leverage Twitter in your sourcing and recruiting efforts?
If NO – I strongly recommend you read my 14 Tips on How to Use Twitter for Social Recruiting and see the two comments from Matt Chiasson.
If YES – would you be interested in a better way to search for and find people in your target talent pool on Twitter?
Look no further!
I received a notification from the Google+ Social Recruiting community last week that Hung Lee believes he found something that "pretty much destroys FollowerWonk as a Twitter sourcing tool."
"Destroy" is a strong word, but I would say Tactics Cloud gives FollowerWonk a thorough beating and I will be using Tactics Cloud as my primary tool when searching for people on Twitter. Continue reading →