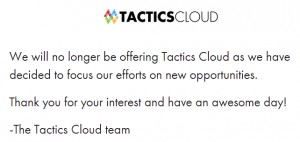 I hope my blog post wasn't somehow the kiss of death for Tactics Cloud, but in only a matter of weeks after writing about how awesome I thought their Twitter search solution was, they will no longer be offering Tactics Cloud as they have decided to focus our efforts on new opportunities."
Although Derek Zeller discovered that you could still access and search Twitter with Tactics Cloud via this link, the Tactics Cloud crew said they will be shutting that down shortly. At the time of this post, that link was still working, although I am sure that won't last long.
Enjoy it while you can, before your only real option for searching Twitter bios is Followerwonk and good ol' fashioned X-Ray searching.