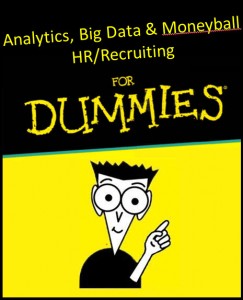 The interest in leveraging big data, analytics and Moneyball in HR and recruiting is gaining significant steam.
Ever since my first article on the subject back in 2011, I've set up Google Alerts and Hootsuite streams set up to catch any mention of big data, analytics and/or Moneyball in conjunction with HR, sourcing or recruiting,  and the volume of activity is bordering on surprisingly massive and overwhelming, and I'm not the only person to notice this.
Yes, it does seem like everyone is talking about big data in HR.

In 2012, "big data" was mentioned in 2.2M tweets by 980,000+ authors, at a peak rate of 3,070 times per hour!
However, as is often the case with relatively new and nebulous concepts, there is quite a bit of confusion surrounding big data and Moneyball and how they can be applied to HR and recruiting, as evidenced by the obviously incorrect usage of the terms in many cases. It's also nearly impossible to stay on top of all of the content being generated on the subject (although I am trying my best!).
This is precisely why I'm going to take the opportunity to clear up any confusion by concisely explaining the concepts of big data, analytics, and Moneyball as it relates to HR and recruiting, as well as illustrate some obviously incorrect references to these concepts in recent articles, including those from the Wall Street Journal, Forbes, The Economist, The New York Times, and more.
I'll tackle analytics first, big data second, and then Moneyball in HR/recruiting, leveraging Slideshare presentations and YouTube videos from experts for support. Continue reading →