I tweeted the other day about LinkedIn's Resume Builder and I got a number of surprising responses from people I would have assumed would already know that LinkedIn had a resume builder.
LinkedIn has been cranking out new features and tools, and I realize that it's too easy for me to assume that everyone else knows what I know, so I'm compiling all of the interesting offerings LinkedIn has released in 1 place for easy consumption.
While you may be familiar with some of them, I can almost guarantee you aren't familiar with ALL of them.
I'll start with LinkedIn Labs offerings and then cover Outlook, Jobs Insider, Internet Explorer, Firefox and Google toolbars, LinkedIn mobile solutions, the Lotus Notes widget, sharing bookmarklets, emails signatures, the Mac search widget, and LinkedIn Ads.
Resume Builder

I've been waiting for this for a LONG time, and I wasn't surprised to see LinkedIn create a resume builder that allows people to turn their LinkedIn profiles into Word and PDF resumes.
It's as easy as  picking a template, editing and arranging the information, and exporting and printing or sharing via email, LinkedIn, Facebook, or Twitter.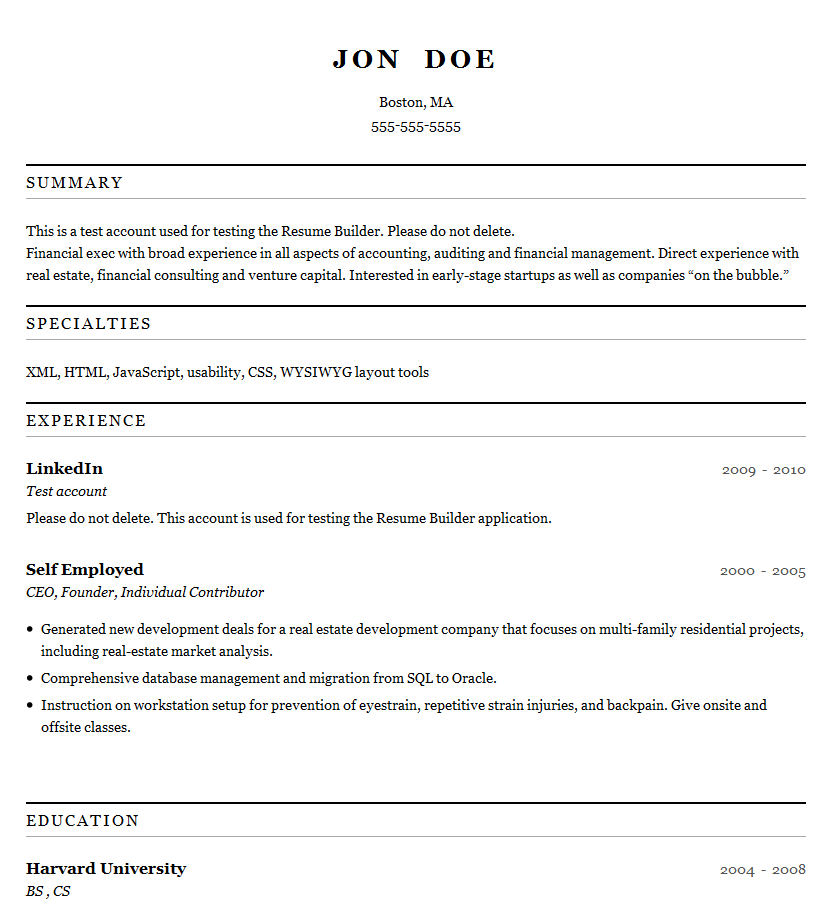 At the time of this post, there were over 19,000 Resume Builder users, but as more people become aware of this feature, I think the number will increase rapidly.
You can give it a try by clicking here. As long as you completely fill out your LinkedIn profile as you would a resume, you don't have to worry about saving your resume on your computer or on flash drives – your resume can live in the LinkedIn cloud.
LinkedIn – if you're reading this – I'd like to see an "apply with your LinkedIn profile" feature in the near future, but something tells me you're already working on it. :-)
InMaps

If you attended Talent Connect 2010, you had the chance to get your LinkedIn network graphed out on paper. That should have given folks a heads-up that something like InMaps was in development, and now anyone can visualize their professional network, "clustered in realtime based on their inter-relationships."
Unless, of course, you have a large network. But they're working on it. :-)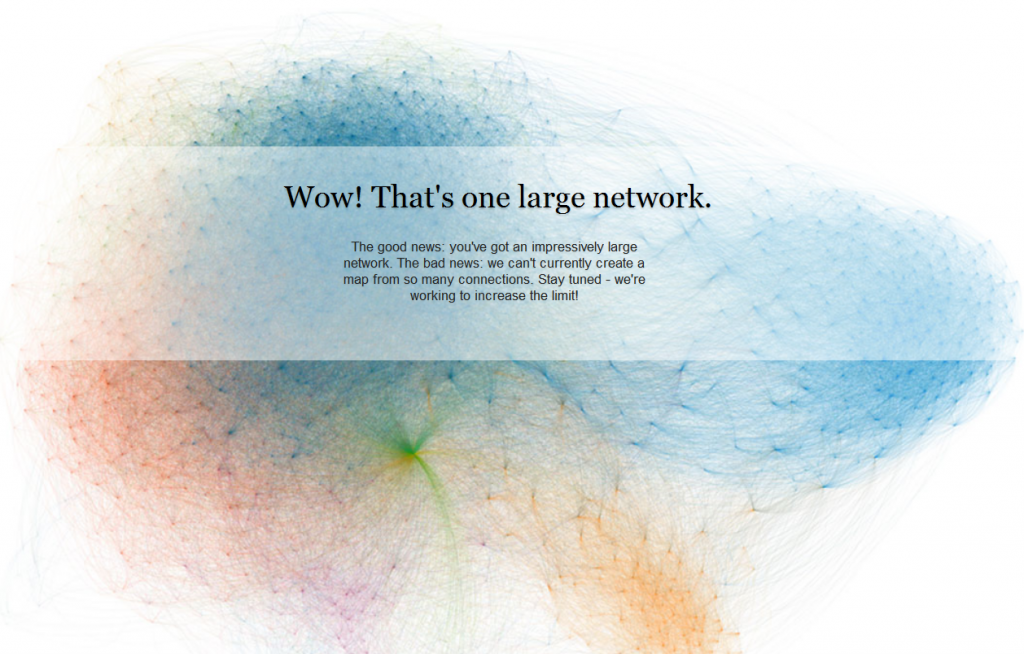 NewIn

LinkedIn now boasts over 90M members worldwide, and people join LinkedIn at a rate of 1 per second.
If you want to see what that looks like, all you have to do is have Google Earth installed and click here.
Here's a screenhot that doesn't do NewIn justice: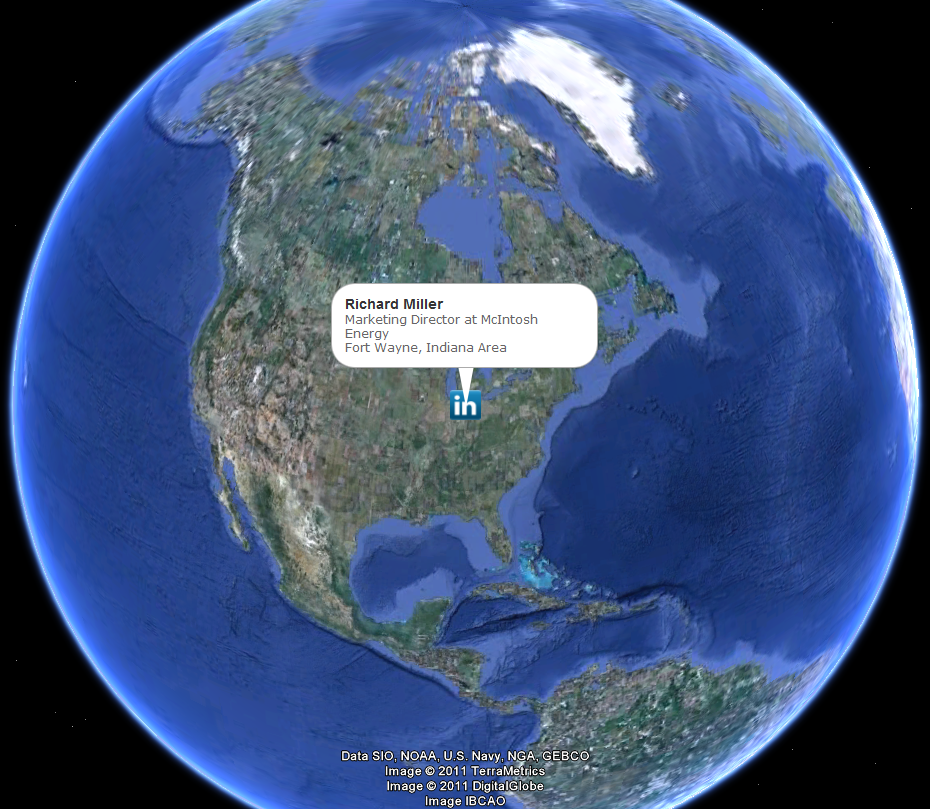 I've found NewIn to be great when delivering webinars or training sessions – it certainly provides some "wow factor" for anyone who hasn't seen it, because it's one thing to say that a new member joins LinkedIn every second, and another entirely to visualize it.
Swarm
Although LinkedIn's official description of Swarm is "an eerily beautiful visualization of popular company search queries on LinkedIn," I've seen popular title searches, most recent LinkedIn blog posts, most shared news, and recent jobs posted on LinkedIn.
Oh, and the terms are all clickable so you can explore them in LinkedIn.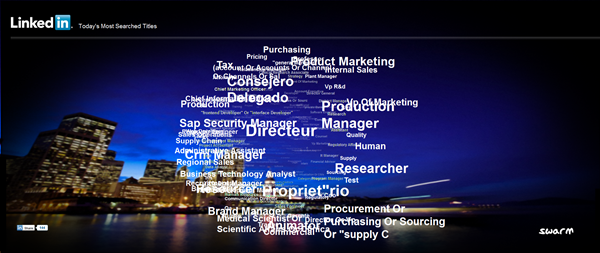 Infinity

LinkedIn Infinity is a visualization of your professional network that was built using the LinkedIn Javascript APIs.
Once you log in by clicking the "Sign in with LinkedIn" button, you can click and drag on the wall to navigate through your contacts, zoom in and out, and search by name, title or status update.
At least that's what I think you can do. When I sign into Infinity, I don't see my network – but that is likely due to my network size, as I also can't get InMaps to work either.
Signal

LinkedIn's Signal certainly isn't new, but it is one of the most powerful services they've released.
Signal allows you to filter and browse only relevant status updates from your LinkedIn and Twitter streams. You can target updates from colleagues, competitors, etc., and narrow or expand your view based on the following filters: Network, Industry, Company, Time published, Location, School or just most popular hash tags.
You can also search for keywords, topics or people across the stream of network updates, and tap into an auto updated real-time stream of filtered content. Additionally, you can save your real time searches for quick and easy access.
Imagine saving searches to allow you to check in every day and see a real-time stream of updates from every employee in your company. Or, perhaps even better, a competitor!
Signal also mines all the shared links on status updates and shows you the most popular links, many of which are the hottest news stories on that topic, updated to the minute, and you can see who's shared any of those Trending Links.
Here's an example of me checking in on who's talking about Hadoop. I can instantly which companies are talking about it as well as Trending Links.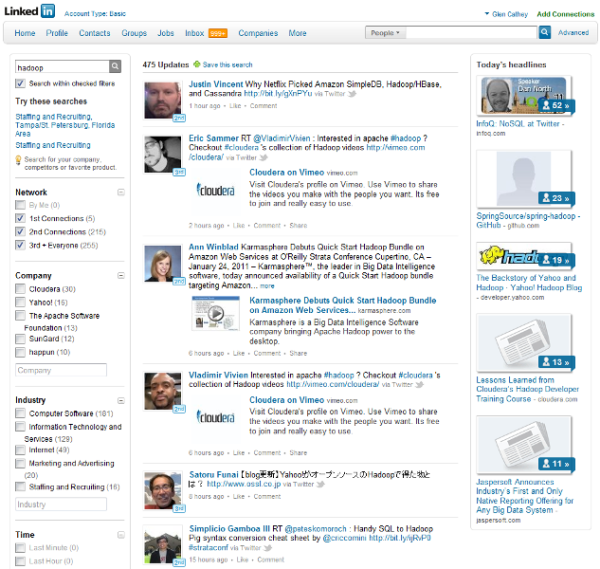 ChromeIn

If you use Google's Chrome browser (I do), you may be interested in being able to integrate LinkedIn directly into the browser, giving you the ability to share things on LinkedIn and give you easy access to your LinkedIn updates at anytime.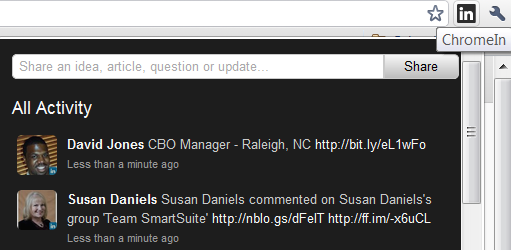 Instant Search

Quite self explanatory – LinkedIn Instant Search allows you to instantly search your LinkedIn network.
Check it out: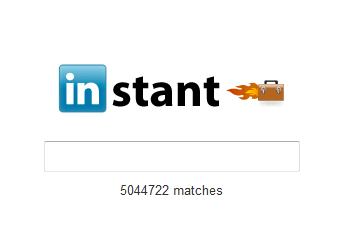 Outlook Toolbar

If your company uses Outlook, depending on how tight and controlled your I.T. team is, you might have some difficulty downloading and installing LinkedIn's Outlook toolbar, but I hope not, because it's a great tool!
Here's what you can do with LinkedIn's Outlook Toolbar:
Build your network selecting from people you email often
See suggestions of who to invite based on email frequency
Invite with one click to build your network faster
Update your Outlook contacts with LinkedIn profile information
Receive notifications when your contacts change their LinkedIn profiles
See when people you e-mail frequently are not in your network
See LinkedIn mini-profiles for everyone that emails you
Use the LinkedIn dashboard to stay up to date with your network
Access LinkedIn with one quick and easy click
JobsInsider
LinkedIn's JobsInsider is a fantastic tool for job seekers, and it comes with the LinkedIn browser toolbars (IE and Firefox).
Here's what the JobsInsider toolbar allows you to do:
Open any job posting at Monster, CareerBuilder, HotJobs, Craigslist, SimplyHired, Dice, or Vault
See your connections at any hiring company when viewing job postings
Request an introduction to the hiring manager for a posted position
See LinkedIn profiles of everyone sending you Web email
Internet Explorer and Firefox Browser Toolbars

In addition to giving you access to LinkedIn's JobsInsider, the IE and Firefox browser toolbars allow you to:
See LinkedIn profiles or everyone sending you Web email
Quick search LinkedIn from anywhere
Look up people on LinkedIn instantly from any website
Search for names, titles, companies, and job postings
Save searches for the future
Have quick and easy one-click access to LinkedIn
Save and return to LinkedIn profiles of interest
Google Toolbar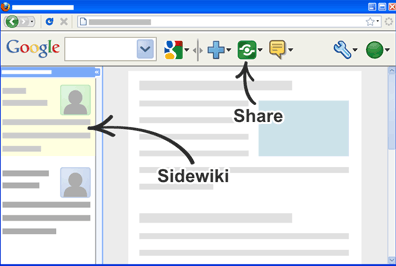 LinkedIn offers a Google toolbar that allows you to:
Optimize your Google Toolbar by installing the LinkedIn search button
Share any web page with your friends right from the Toolbar
Contribute and read helpful information on any web page with Google Sidewiki
Translate web pages instantly with automatic language detection.
LinkedIn Mobile
If you don't already use LinkedIn's mobile apps, LinkedIn supports the iPhone, BlackBerry, and Palm devices to find and connect with over 90M people, get updates, and share your status – all while on the go.
I use my LinkedIn iPhone app daily.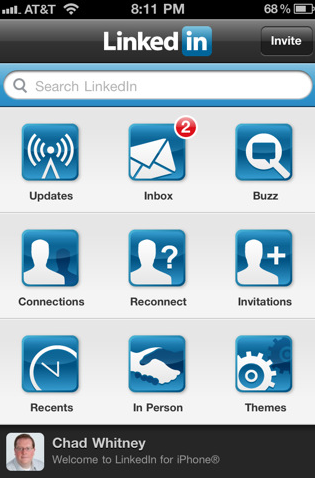 If you have a device other than what I listed above, you can go here.
LinkedIn Widget for Lotus Notes
What's Lotus Notes?
Sorry – I couldn't resist.
Actually, when I started in recruiting back in 1997, the company I worked for used Lotus Notes, and although it's not as prevalent as Microsoft's solutions, it is nice to see LinkedIn supporting companies that use Lotus Notes.
With the LinkedIn widget for Lotus Notes, you can:
Get your email and LinkedIn updates all in one place
Quickly learn more about people who send you email
Search for people you want to contact and work with
Share your status, see what your connections are working on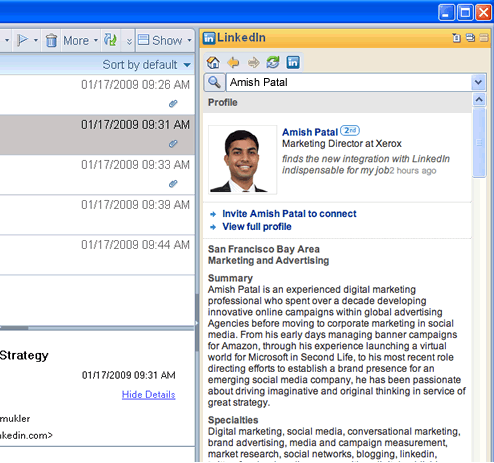 Sharing Bookmarklet

With LinkedIn's sharing bookmarklet, you can share webpages with your professional network and groups straight from your browser even when you're not on LinkedIn.
All you have to do is find interesting articles/content, click on "share on LinkedIn" from your browser toolbar, add a comment to put your own spin on it, and choose who you want to share it with.
LinkedIn Email Signatures
Although they've been around for quite some time, I still encounter people who ask me "how did you get that LinkedIn signature?"
You can create a customized LinkedIn email signature by going here and configuring the layout and the information – it's very easy and intuitive, and they're supported by Outlook, Outlook Express, and Thunderbird.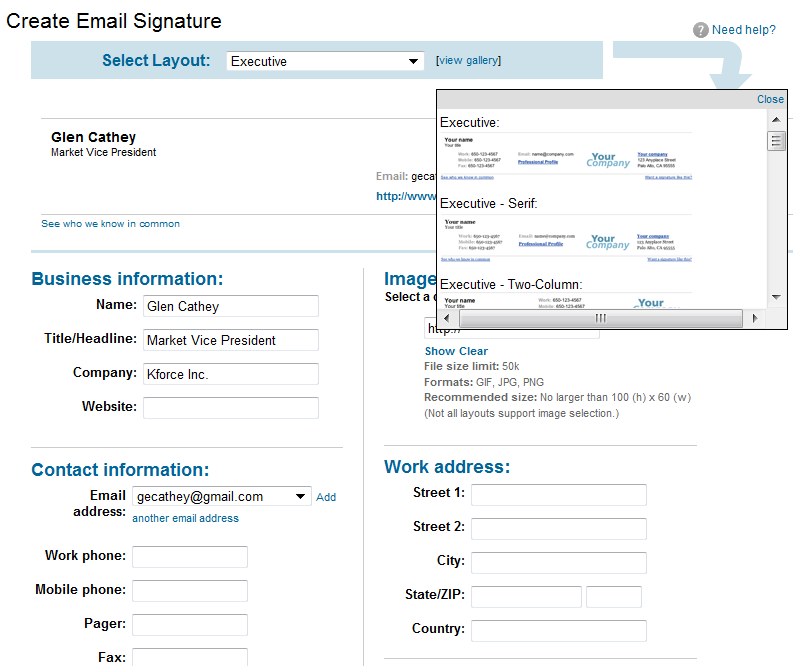 Of course, you can also promote your profile with customized buttons that you can include in your email signatures and elsewhere. I regularly get requests asking how to create them. They are a little difficult to find, because the link to them is hidden in a link on your public profile page of your LinkedIn settings.

When you follow the link, you can easily configure your LinkedIn buttons: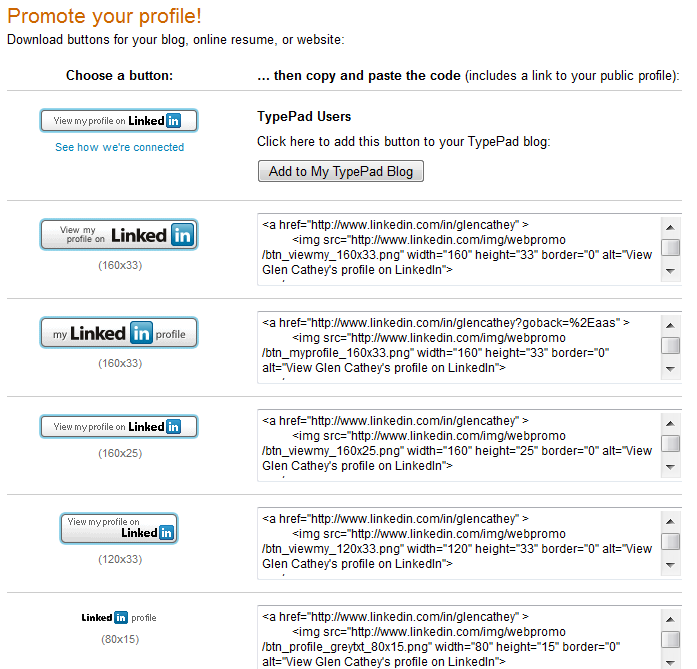 Mac Search Widget
For you Mac-lovers, LinkedIn's got some love for you too (at least a little).
LinkedIn offers a Mac search widget – you can find it on LinkedIn's productivity tools page here:
I don't have a Mac, so I can't show you what it looks like, but it allows you to search LinkedIn anytime from your Mac Dashboard (OS 10.4 (Tiger) required).
LinkedIn Ads

LinkedIn Ads are now officially out of beta, and LinkedIn's coming out swinging with a robust offering.
You can control how much you spend each day by selecting a bid and setting a daily budget, which represents the maximum amount you're willing to spend each day.
You can set your budget as low as $10, and you have pay per click (CPC) and pay per 1,000 impressions (CPM). Generally, the higher you bid in the Suggested Bid Range, the more likely you are to receive impressions and clicks. Because you're competing with other advertisers for impressions and clicks, there isn't a set cost for LinkedIn Ads.
In my opinion, the real power behind LinkedIn Ads is in your ability to precisely target your audience. LinkedIn allows you to target your ads by location, company, company size, title, group, gender, age, seniority, job function, and industry.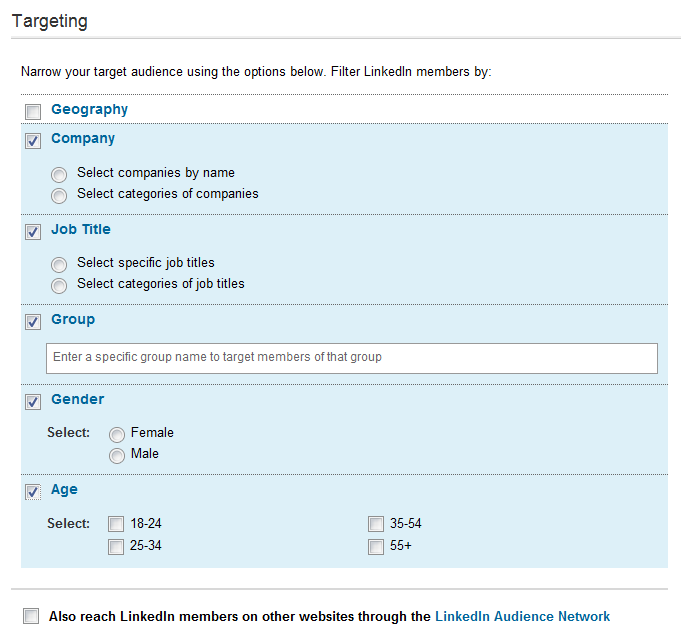 Your ads can be shown on profile pages, home pages, the inbox, search results, and in groups.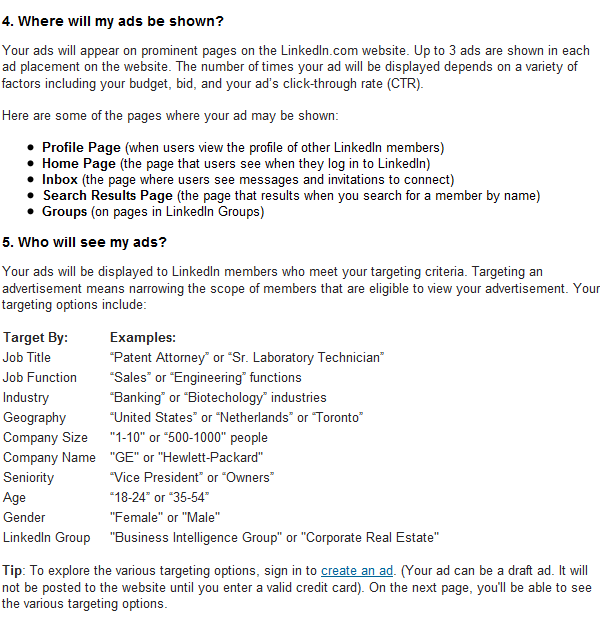 Did those hyper-configurable and precise targeting options get your attention?
Now that I've shown you 18 of LinkedIn's best offerings – go get to leveraging them for results!