Talent Connect 2011 in Las Vegas  was just as good as, if not better than, Talent Connect 2010 in San Francisco.
Nearly 2,000 people showed up, which is around 3 times as many attendees as last year's conference, and they represented over 700 companies from 17 countries.
One thing's for sure – LinkedIn knows how to put on a conference. The Talent Connect events have been the most well coordinated, polished and produced conferences I have ever attended.
I won't bore you with all of the details – but I will highlight LinkedIn's new Talent Pipeline offering, Web 3.0 (the shift from social to data), touch upon how to automatically build Boolean search strings (yes, that came up at the conference), and inform you about LinkedIn's Recruiter Expert certification.
LinkedIn Announced Talent Pipeline
LinkedIn unveiled Talent Pipeline at the Talent Connect event, and from all indicators, it was very well received.
Perhaps it didn't hurt that Talent Pipeline is FREE for those with the LinkedIn Recruiter corporate recruiting solution. Interestingly, it's also available as a stand-alone offering.
Because there has already been a  ton written about LinkedIn's Talent Pipeline, I am going to forego an overview and just let you know what I am most excited about:
You can import candidate records (resumes, spreadsheets, notes, anything), keeping them private for your organization's use only
Imported resumes can be synced with LinkedIn profiles as they are updated
With a single search, you can search across LinkedIn profiles as well as your candidate records/resumes
You can tag LinkedIn profiles, and these tags are only visible to your team
You can search within and across tags, notes, activities, reviews, projects, reminders, and of course all standard search fields
You can follow candidates in Talent Pipeline and set up alerts to be notified of any public changes to the profiles
You can add a status to people in LinkedIn's Talent Pipeline – not contacted, contacted, screened, declined, offer, applied, etc., and you can search by these statuses
The ability to import resumes and other candidate-related information into LinkedIn, sync them with LinkedIn profiles, search across them is HUGE!
I would imagine that at some point in the near future, LinkedIn will enable the ability to mass-import entire resume databases from ATS and CRM systems into your own company's portion of LinkedIn's cloud, which will be brilliant. Monster already offers a similar cloud-based resume consolidation solution in their SeeMore offering, and they couple it with their 6Sense semantic search.
The introduction of candidate tagging in LinkedIn's Talent Pipeline is a significant offering. As I've written before, tagging enables one of the highest forms of semantic search, because a tag is the result of a human being analyzing information and assigning meaning to the profile/resume.
A human's analysis is more relevant than any matching algorithm, and people can "read between the lines" of resumes and profiles, while software matching solutions can only work with the text that is actually present.
When a person reviews and analyzes a LinkedIn profile and/or resume and tags them (e.g., Linux Admin), they and anyone else on their team can find that potential candidate by searching for the tag, even if the person's profile makes no mention of the tag keywords in their profile or resume.
LinkedIn's Human Capital Data = Power!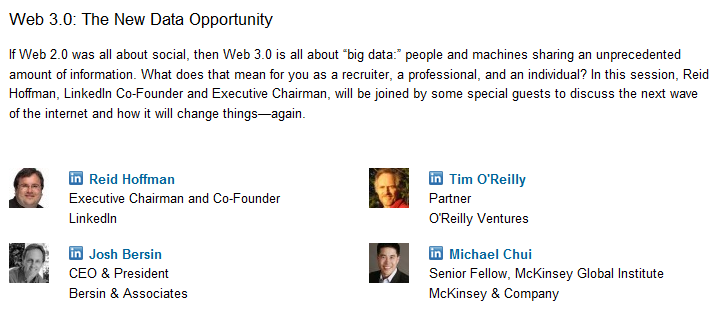 I could not have had a bigger grin on my face during Wednesday's session on "Web 3.0: The New Data Opportunity," with Reid Hoffman, Tim O'Reilly, Michael Chui and Josh Bersin.
Hearing them use the phrase "Moneyball Recruiting" several times with regard to leveraging human capital data let me know that I'm not crazy, I've been on to something, and I am not alone.
You see, nearly a month prior to LinkedIn Talent Connect, I wrote an article titled "Big Data, Data Science, and Moneyball Recruiting," and I actually referenced an article from the O'Reilly Radar website, as well as a McKinsey Global Institute report which Michael Chui contributed to.
Granted, neither the O'Reilly article nor the McKinsey report were focused on specifically leveraging human capital data – just data in general.
However, it's not a huge leap to apply the same concepts of innovating and competing with data to innovating and competing specifically with human capital data (LinkedIn profiles, resumes, Twitter& Facebook profiles and updates…), and having Tim O'Reilly and Michael Chui from McKinsey on stage with Reid Hoffman talking about Web 3.0 and the power of data shows that the leap has already been made, at least by a few people "in the know."
I took notice that a decent number of people left during this keynote panel, which led me to believe that quite a few people simply don't "get" the latent power of human capital data and how it can be leveraged to give a company a significant competitive advantage in the war for talent.
I fear many companies are going to be in for a rude awakening.
Automatically Building Boolean OR Searches for LinkedIn
During my sessions at Talent Connect, I demonstrated a nearly 2000 character Boolean OR company search string as a graphic example of fully leveraging all of the search space LinkedIn Recruiter gives you.
A few people approached me and asked if there was an easy way to build large Boolean OR search strings (100 to 200 search terms), and my response was, "Yes, I wrote an article on that."
And yes, it does feel great to be able to say that.
In the article How to Automatically Build Boolean OR Strings, I've provided links to 3 Boolean OR string builders so anyone can download them and put them to use, as well as videos on how to use them.
If you don't feel like reading the original article, here's one of the Boolean OR search string builders: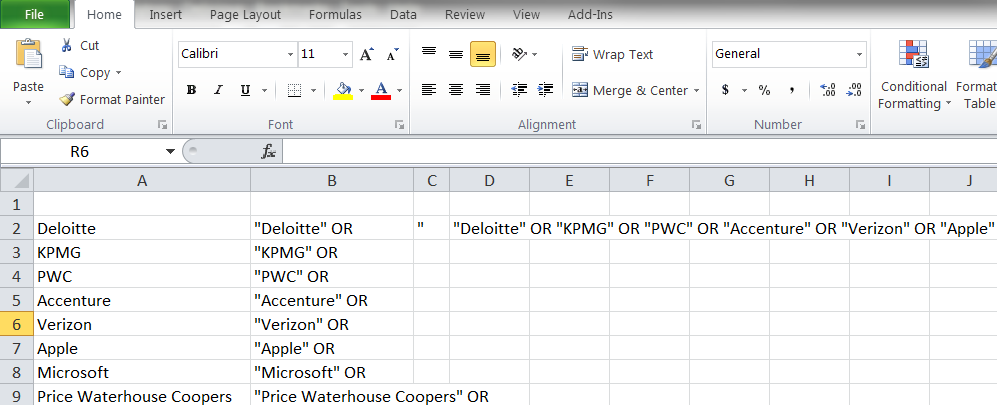 Once you download the file, will need to Enable Editing…

…and you will also need to Enable Content for the macros to work.

LinkedIn Recruiter Expert Certification
I stayed at Talent Connect all the way until the end, which allowed me to attend the Recruiter Expert Certification session, and I had the honor and pleasure of taking the LinkedIn Recruiter Expert Certification assessment while sitting next to sourcing/recruiting luminaries Eric Jaquith and Jim Stroud.
Yes, we all passed.
For the record, I finished first. :-)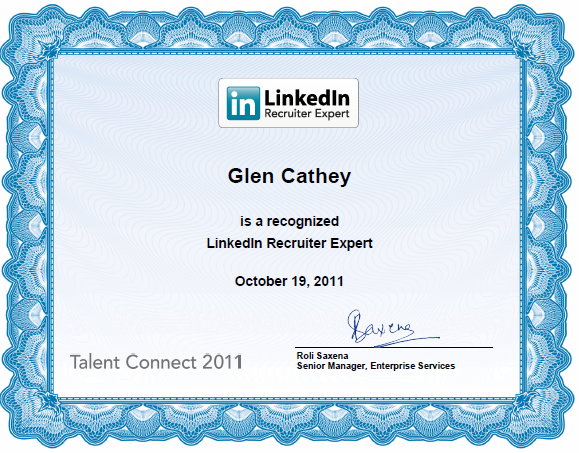 When I sent out a LinkedIn update and tweet about passing the certification, a few people responded asking what it was and how to get it.
The certification comes from passing a 30 question assessment that tests your knowledge of the capabilities of LinkedIn Recruiter, specifically with regard to effective professional branding and networking, advanced talent mining, LinkedIn Recruiter collaboration tools and techniques, and daily workflow integration.
Attending LinkedIn Talent Connect and sitting in one of the certification sessions and passing the assessment is one way, but there is another way. If you have a LinkedIn Recruiter seat, I would recommend reaching out to your LinkedIn representative for more information.
If you pass, you can join a small group of professionals who can proudly claim to be LinkedIn Recruiter Experts, as well as gain access to a special LinkedIn Group reserved only for those who are certified.
Final Thoughts
Being asked to come back and present at the second annual LinkedIn Talent Connect event was an honor, and attending the conference was a great experience.
Aside from learning about Talent Pipeline and the Web 3.0 keynote panel, other highlights for me would have to include Earvin "Magic" Johnson's keynote and learning how Jon Tait, Head of Global Attraction at BP, leveraged social media and LinkedIn to revitalize their employment brand was fantastic. Would you have been brave enough to step into his role and accept the challenge after the Deepwater Horizon oil spill?
There was so much going on Monday, Tuesday, and Wednesday on 3 floors of the MGM Grand – I felt as if I was at an all-you-can-eat buffet of recruiting knowledge, information, and best practices, with presenters from Disney, Red Hat, Deloitte, PwC, BP, Pepsico, Microsoft, FedEx, the IRS (seriously!), VMware, Pfizer, and of course, LinkedIn.
If you have or will have access to LinkedIn Recruiter by sometime next year, you won't want to miss Talent Connect 2012.
It will be hard to top this year's event in Vegas, but somehow I am certain they will manage.