Have you noticed anything different about LinkedIn recently – specifically with regard to viewing 3rd degree profiles, searching for headline phrases, searching by first and last name, and using Google and Bing to X-Ray search for public profiles?
I have, and either I am encountering some serious and hopefully temporary errors, or LinkedIn may finally making serious moves to make it very difficult to find public LinkedIn profiles for free.
Let me show you what I've discovered so far, and please share back any additional findings, or simply let me know that I am the only one affected.
Read the rest of this entry »
In some respects, Facebook's Graph Search has literally changed the game when it comes to diversity and inclusion with regard to sourcing.
If you don't already have access to Graph Search, you may not be aware just how easy it is to leverage diversity criteria such as gender, race and ethnicity.
How easy is it?
I'll show you how.
Gender Sourcing with Facebook Graph Search
Imagine being asked to find and identify as many female _______________ (accountants, project managers, software engineers, etc.) who currently work at a particular company or any company.
Think about it.
Without Graph Search, how would you go about accomplishing this goal?
It's no easy task. I know several people who've worked at some of the top software companies in the world who have had to do some crazy search gymnastics in the past  in order to even somewhat successfully identify a small portion of female software engineers at target companies in order to diversify their software development talent.
With Graph Search, it's now simply a matter of asking Facebook for all of the female software engineers or any role you're targeting at any company.
For example: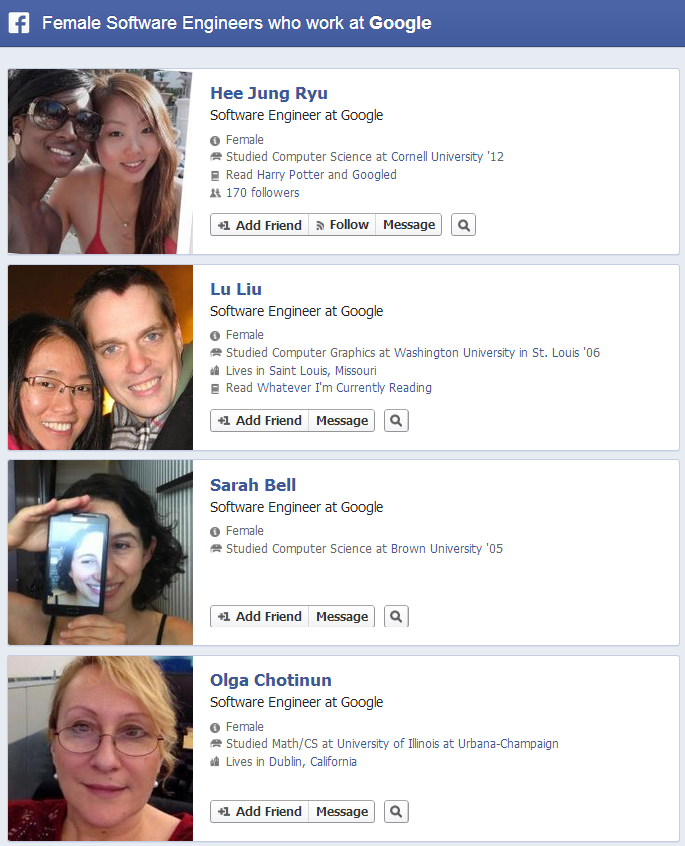 As you can see, sourcing for gender diversity is so easy that Facebook's Graph Search has essentially rendered it a non-issue, at least when it comes to searching for people by title and/or company.
I have to imagine that this has already been done by sourcers and recruiters at Facebook, Microsoft, LinkedIn, etc.
If not – hello!
Not that it wouldn't, but this approach also works just as well if you were looking for female engineers in Germany, or any position in any country.
Read the rest of this entry »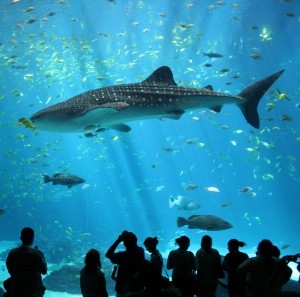 I recently presented at the largest-ever SourceCon event held at the mesmerizing Georgia Aquarium where you can network with industry peers while watching whale sharks, manta rays and Beluga whales swim by.
My session focused on building out a sourcing function with an emphasis on building a sourcing team from scratch with people who have no prior experience in sourcing and recruiting.
I recently hired and trained a team of 40+ sourcers so I was able to share my journey and lessons learned, as well as my theory that you can more effectively train people with no prior experience than you can people with a few years or more of sourcing and recruiting.
My theory is supported by my own experience (I've never attended or received any sourcing or recruiting training), as well as a couple of books I referenced in my presentation: The Talent Code and Talent is Overrated. It's quite interesting to realize that most environments are neither conducive to effective learning, nor effective in developing extremely advanced levels of sourcing and recruiting capability.
If you didn't have the chance to see me speak at SourceCon and you haven't already viewed this deck on SourceCon's website, please review my presentation below to learn more about the ideal conditions under which you can create the next generation of sourcing masters.
And yes, you'll get the chance to see a handful of the Boolean search strings I use to find people with no prior sourcing or recruiting experience (or any specific experience, for that matter!) who have a high probability of developing into world-class sourcers and recruiters.
If you live in the U.S. – have you noticed that Facebook now charges $1.00 for you to send a message to someone that you're not "connected to" on Facebook?
No?
Go ahead, give it a try.
You might encounter something like this: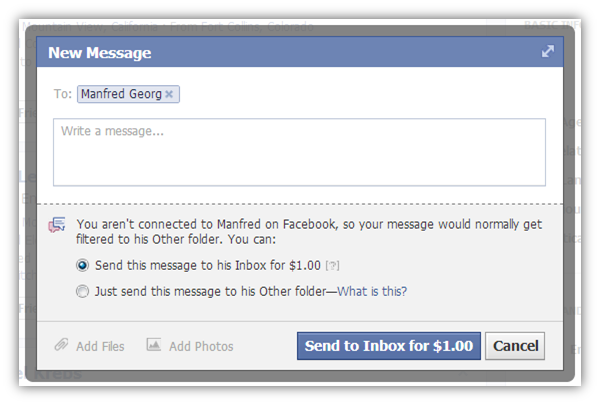 If you're in the U.S. and you don't get a message like the one above when you try to send a message to someone you're not connected to on Facebook – please let me know.
Read the rest of this entry »
In case you haven't read Dr. John Sullivan's recent article entitled, "The end of sourcing is near…the remaining recruiting challenge is selling", I highly recommend that you do so.
While I agree with some of the points that Dr. Sullivan raises, I disagree with others as I believe he has an oversimplified view of sourcing.
I argue that some basic and common sourcing functions and tactics will be coming to an end soon, and in fact, they have already ended in companies that are on the leading edge of sourcing.
However, as with many corporate functions, there will never be an end to sourcing itself – there will only be an evolution.
What follows is my sourcing manifesto.
Read further to explore:
Why sourcing exists in the first place
The underlying flaws of the "everyone is easy to find" argument
The limits of matching technology
Why big data requires people to make sense of it
My definition of sourcing
Strategic vs. tactical sourcing
The true value of sourcing
What can (and should!) be automated in sourcing
Sourcing 1.0 vs. 2.0
You should be advised that this is a lengthy article – if you're looking for a quick read, you won't find it here.
Read the rest of this entry »
Today, I'm bringing you not one, but two very cool and free social discovery tools to your attention.
While I am a bit late to the game in publishing  my take on the first one I am going to review (Bill Boorman, Marc Drees and a few others beat me to the punch – I need to clone myself!), my first exposure to Falcon's social discovery tool actually came from Chris Cruz on 1/7/13 when he  responded to my post on how to use Rapportive and Gmail to divine and confirm almost any email address.
First, I'll review Falcon's solution, including a 2 minute video hands-on demo and then I'll cover TalentBin's social discovery tool.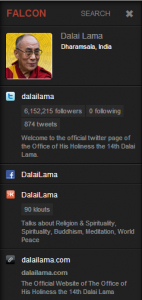 Gwendall Esnault has whipped up something very interesting in Falcon, which was actually developed after he created Hackerface.
Falcon allows you to find people's "social details" by hovering their names on certain sites. In other words – you can use one social profile to discover many of the other social profiles that the person might also have. For example, from someone's Twitter handle, you could quickly reveal their Facebook and Github profiles.
While the Falcon.io site mentions that the Chrome plugin/extension leverages Hacker News, Tweetdeck, Twitter, Github and Dribble, there isn't much documentation to be found on exactly what other sites Falcon leverages.
However, a little exploration and experimentation shows that the Falcon social discovery tool also supports (to a lesser or greater extent):
Google+
Foursquare
Klout,
Facebook
Slideshare
Instagram
StumbleUpon
YouTube
Vimeo
WordPress
It very likely works with other sites I have yet to discover. However, there is one key site that it doesn't seem to work with – LinkedIn.
In addition to working by hovering your mouse over certain social links, you can also enter and search for specific social profiles. I've entered and successfully searched for Facebook, Google+ and Quora profiles.
Here's a short video detailing how Falcon works and what you can do with it:
TalentBin's Social Profile Appender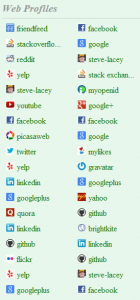 If you like what Falcon can do for you, then you might also like TalentBin's free social discovery tool.
If you're not familiar with TalentBin, their "talent search engine for the entire web" is what I would consider to be one of a few sourcing solutions available on the market today that harnesses the power of big data when it comes to sourcing and recruiting.
In addition to their premium solution, the wonderful folks at TalentBin whipped up a free Chrome extension/plugin that allows you to perform social discovery from any one of a number of sites.
As you can see from the image to the right – TalentBin cross references a HUGE number of sites. It also leverages an incredibly simple and easy 1 click functionality to serve up results – no mousing over links or entering URLs to search for results.
The only catch (and it's a BIG catch) is that you have to be a premium user to take action on the data, including the "contact vectors" that TalentBin conveniently serves up to you (which is a fantastic feature, btw).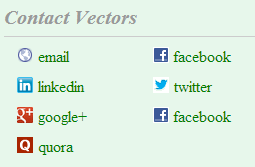 I know some people may be less excited about a freemium tool, but I think TalentBin's expansive social search and simple execution is impressive. I also think it provides insight into what's to come with regard to social aggregation empowering research, sourcing and recruiting. Plus, sometimes you do get what you pay for.
Here's a short video detailing how TalentBin's free social discovery tool works and what you can do with it:
Here's how to get TalentBin's social discovery tool. If you have any trouble downloading and installing it (I did), this link will help you get the job done. I'm also proving the steps here:
Download the extension file from the website and save it to your computer.
Click the wrench icon on the browser toolbar.
Select Tools > Extensions.
Locate the extension file on your computer and drag the file onto the Extensions page.
Click Install.
Final Thoughts
TalentBin's Chrome extension cross references a surprisingly large number of social sites that it can leverage cross for social discovery. This impressive functionality is no doubt a direct result of the work they've been performing on their premium solution. As such, while TalentBin's browser extension is free, you can't make much use of it without being a user of their premium product.
On the flip side, while the Falcon social discovery tool isn't as comprehensive as TalentBin's, it's 100% free to use and take action on – thanks Gwendall!
If Gwendall's open to suggestions, I would recommend adding support for LinkedIn profiles, as well as functionality similar to TalentBin' simple one-click execution over having to hover over links or search for URL's.
However, I'm certainly not complaining about Falcon's functionality – I'll gladly use Falcon as is!
For those who don't yet have access to Facebook's Graph Search – I put together a video detailing 5 live searches for:
product managers who work at Microsoft and live in Seattle
software engineers who work at Google and live in New York
(developer OR programmer OR engineer)
underwriters in Charlotte
accountants who live near Alpharetta
I must say that playing around with Graph Search's natural language query functionality and long list of search options is quite fun. You can easily search for diversity, current titles and employers, years of experience, and of course education.
However, as you can see in the video, my main concern about the limitations of Facebook's usefulness in sourcing and recruiting is the lack of professional information and the the shallow depth of what is there to be found.
Being able to search for and match people by title and company is useful for some recruiting needs and completely useless for others who need to find professionals with specific experience that cannot be reliably predicted by title alone.
Of course, the allure of the potential of using Facebook for recruiting is largely based on the fact that Facebook has over a billion users globally.
However, Facebook's challenge in any effort to become a major player in the recruiting solution space is that many people don't view Facebook as a place to put their professional information so they don't enter work information on their Facebook profile. Even if they did, they do have the opportunity to hide it from people they don't know, which is great for them, but bad news for sourcers and recruiters.
What I found especially interesting from my initial test drive of Graph Search is that the number of results for each search was a small fraction of what I know has to actually be available, at least in theory, given the number of Facebook users.  For example, Graph Search returned less than 100 people for a search for people who are accountants in the Alpharetta, GA area, while LinkedIn has nearly 6,000. That's a massive differential!
Do you think that the accountants on Facebook who live in the Alpharetta area just don't put their work experience on their profile, or that they hide the info from being retrieved by people other than their friends? I'd argue the former at this point. Keep in mind that this issue not only affects search, it also affects advertising. You can't use Facebook PPC ads to target people who don't give you critical information to target.
I'll be posting more videos soon – so stay tuned to see more practical Facebook Graph Search sourcing and recruiting examples.
Oh, and if you didn't have time to watch the video, no – Facebook's Graph Search doesn't currently support Boolean logic.
As with all new and bright shiny objects, people are quick and eager to make blind and wild predictions, and Facebook's Graph Search is an excellent example.
Facebook announced Graph Search on January 15th, and there are already 100′s of articles published on the possibilities, including how Graph Search will challenge Google in advertising, Match.com & eHarmony in online dating, Yelp and others in services, travel and entertainment, and yes, even LinkedIn and Monster in recruiting.
When Mark Zuckerberg himself says "One of my favorite [Graph Search] queries is recruiting. Let's say we're trying to find engineers at Google who are friends of engineers at Facebook," it's hard to not get excited about the possibilities of tapping into the data Facebook has on over 1,000,000,000 users globally, and over 167,000,000 users in the U.S. alone.
Don't worry – this isn't another Facebook-Graph-Search-is-an-awesome-disruptor article.
Rather than throwing fuel on the Graph Search fire, I am happy to throw a wet blanket instead.
Don't get me wrong – I'm excited to use Graph Search, and I know sourcers and recruiters will be able to make use of it. However, there are some major limitations to Facebook and Graph Search specifically that I want to recognize and bring to light that will clearly explain why it isn't a threat to LinkedIn.
Read the rest of this entry »
While there are many ways of growing your LinkedIn network, I'd like to share one with you that is remarkably easy and effective, strategic, and likely one that you haven't seen before.
Here's the short version:
Convert highly connected group-only connections to 1st degree connections.
Why is this so effective?
There are a few reasons:
Converting people who are beyond your 3 degree network on LinkedIn directly to 1st degree connections is pretty much one of the biggest jumps you can make. Converting 2nd degree connections to 1st degree connections doesn't provide as big of an infusion of new people into your LinkedIn network as would converting a 3rd degree connection directly to a 1st degree connection, and going totally beyond your 3 degrees of separation to group-only connections and moving them directly to 1st degree connections brings the largest infusion of new people into your LinkedIn network, because the 1st, 2nd, and 3rd degree connections of your group-only connections are ALL beyond your network before you connect with them. Follow me?
Specifically converting highly connected people people who are beyond your 3 degree network on LinkedIn to 1st degree connections yields you the largest net gain to your 1st, 2nd, and 3rd degree networks.
Sending invitations to connect to people you share a group with is one of the easiest and most effective methods of connecting with people you don't know directly. If you're one of those folks who thinks you shouldn't connect to people you don't know on LinkedIn, I've got an article coming on that subject shortly – so stay tuned.
Super connectors (people who are highly connected on LinkedIn) are more likely to accept invitations to connect from people they don't know personally.
Here's how find and convert highly connected group-only connections to 1st level connections:
Read the rest of this entry »
Sourcers and recruiters are always looking for different, easier and more effective ways of divining the email addresses of people they are looking to engage.
While there are many ways of researching, guessing, and verifying valid email addresses, did you know you can find almost anyone's email address using Gmail?
I didn't, until I stumbled across a very interesting post in the blog section of Distilled.net, the website of a PPC/SEO consultancy, and they demonstrate quite clearly how to find almost anyone's email address using Gmail and Rapportive.
The technique is so simple and effective that I wanted to share it with the global sourcing and recruiting community.
Here is the original post, and below you can view the YouTube video that demonstrates how to use Gmail, Rapportive, and a Google Doc email permutator to reveal and confirm email addresses.
I highly recommend that you view the video in full screen mode and change the quality to 720p.
Of course, in order for you to leverage this method of email divination, you will need a Gmail account and the Rapportive plugin for Gmail. It would also certainly help to use an email permutator to quickly generate all of the most common email address formats, and the Google Doc spreadsheet created by Rob Ousbey from Distilled.net is the best I've seen so far.
If you're not already using Rapportive, you should be. In addition to rewarding you with verifying correctly guessed email addresses, Rapportive imbues Gmail with some social CRM functionality, allowing you to see recent social activity, follow people on popular social networks (LinkedIn, Twitter, Facebook, etc.), and even leave notes about specific people to use in future interactions.
As an added bonus, here is yet another blog post written by a non-sourcer/recruiter on how to find anyone's email address, which details the Gmail/Rapportive technique, as well as MailTester.com, Jigsaw/Data.com, and a few other methods, including calling and asking.
Imagine that!