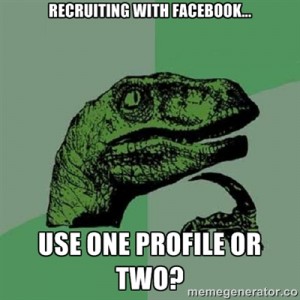 Do you use Facebook to source and recruit potential candidates?
If yes, do you have one or two profiles?
If no, why not? (two words: Graph Search!)
One of the most common social recruiting questions I get is whether or not sourcers and recruiters using Facebook to search for and engage potential candidates should have 1 or 2 profiles (one "personal" profile and one "professional").
I always answer that my recommendation is for recruiters to use only 1 Facebook profile (read further to learn why), but I can certainly understand why some people would want to use 2.
To see if I was alone in my position, I was curious what the folks in my network would say regarding the use of 1 or 2 Facebook profiles for recruiting, so I decided to ask them (on Facebook – where else?!?). Continue reading →