What's wrong with job boards?
Nothing, in my opinion.
However, from the ridiculous overabundance of articles, comments, and recruiting conference content that trashes job boards as if they are the worst source of hire, I am obviously in the clear minority.
I continue to see and hear well respected thought leaders in the staffing industry make claims that the value of the job boards is waning and that the quality of candidates on the job boards is low, and it hasn't slowed down.
Because there is such a strong belief that job boards somehow only offer low quality candidates, I am taking the time to offer a different point of view, as well as leverage statistics to prove that the job boards have the same percentage of "A" players as LinkedIn or any other source of hire.
News Flash: Job Boards Still Very Much Alive
Weren't the job boards supposed to die, like, 5 years ago?
Funny how that didn't happen.
It so didn't happen that they are responsible for more hires than any other source other than referrals.
The most recent CareerXRoads Source of Hire Report showed that job boards are still pretty effective, weighing in at the #2 spot.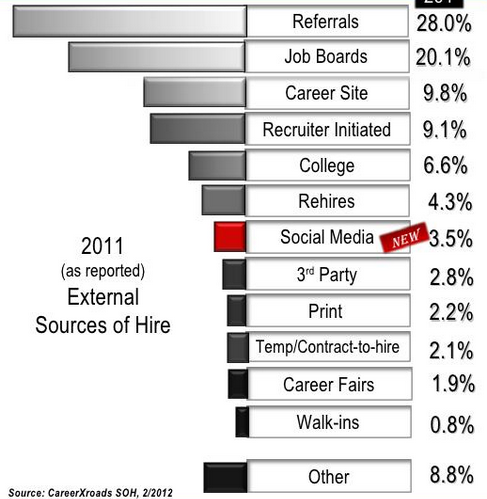 The facts do not support the belief that job boards are an "ineffective" source of hire.
As you can see, job boards also solidly crush social media as a source of hire, which I am sure most people find a tough pill to swallow, especially given that "social recruiting" is supposed to be a magical solution to all hiring troubles.
Um, wasn't social media supposed to kill the job boards?
I am sure that it's supposed to happen any day now, but something tells me that even in the next few years, while the talk of social media killing job boards will continue, the source of hire statistics and surveys will continue to tell a different story. Continue reading →