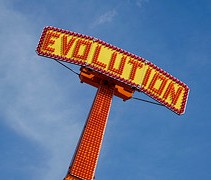 With the rise in companies effectively leveraging SEM (Search Engine Marketing)/SEO (Search Engine Optimization), vertical job search engines such as Indeed and SimplyHired, and social media campaigns, it seems as if many feel that the ROI of posting jobs on the major job boards has steadily declined.  Perhaps this is where the strong anti-job board sentiment comes from within the recruiting and staffing industry.
However, there is another side to the job board coin – the resume databases. Personally, when I think of the job boards, I think of their resume databases – not job posting. Job posting is job posting – whether it's on a corporate website, paid job board, a free board, LinkedIn, Twitter, or Indeed.  While it can definitely work, it's a passive and reactive technique that has a low ROI in most cases with many respondents who do not meet the basic qualificiations of the position posted.
As the positive buzz surrounding social media and social networking sites continues to build and the negative buzz surrounding the major job boards seems to rise, I knew it was only a matter of time before one of the major job boards stepped out of the proverbial box and took an evolutionary step forward.
Enter Careerbuilder's Applicant Explorer
Back in January, I received an email from Careerbuilder that talked about an interesting new feature called "Applicant Explorer," and it said that a user with manager rights on your CareerBuilder.com account must log in initially to activate your Applicant Explorer functionality.
Curious, I logged in and activated the functionality to check it out.  What I found is that Careerbuilder has done something quite interesting by introducing Applicant Explorer to people who search for resumes on Careerbuilder's website, which has over 28 million resumes.
As Careerbuilder explains it, when you run a search against their resume database and begin to review results, not only can you review resumes, but you can also see a snapshot of information available on the Web for that person. The information is gathered from a variety of sources:
Social networking sites
Professional and personal blogs
Personal and corporate Web sites
Press releases
Discussion and forum postings
Articles and news stories published online
Careerbuilder's claim is that having quick and easy access to this cross-referenced, publicly available data for the candidates you are reviewing saves you time, as there is no need to open other browsers or tabs and perform this research manually from outside of their application. Essentially, you can get a comprehensive collection of a candidate's Web footprint from within CareerBuilder.com's Resume Database. 
According to Greg Brass, Director, Profile Search at CareerBuilder, "AE differs from any of the "people search engines" in the fact that we search and match based on a candidate's entire resume and not just a name. In this way, we can more accurately match the candidate to other web references, ranging from blog postings that better display a mastery of a technical skill set, to a true cross-section of a graphic designer's entire portfolio (as that graphic designer may only list one or two work examples on a resume)."
So Does It Deliver?
Well, let's find out together!  I ran about 25 searches for candidates who posted their resume about 90 days to 1 year ago (no current job seekers were used in screenshots) and used Applicant Explorer on a random sample of the results. 
When you select/open a resume that you would like to review, on the left sidebar you'll see this:
Once you click "Start Applicant Explorer," you will get web search results that are divided into "matched results" and "expanded results." Matched results include professional and social networking sites. Expanded results include forums, personal or company blogs, and work done for previous companies. 
Matched Results
Here is an example of what you can see under "Matched Results:"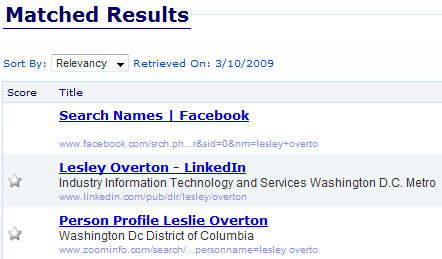 You can see that it obviously attempts to pull matches from Facebook, LinkedIn, and ZoomInfo in this case. Notice, however, the url under the LinkedIn "hit" – it's a directory result.  Not perfect – but not bad.  Interestingly, under the "Expanded Results" for this person, I did find the direct LinkedIn profile hit:

I've also seen Applicant Explorer attempt to source from MySpace: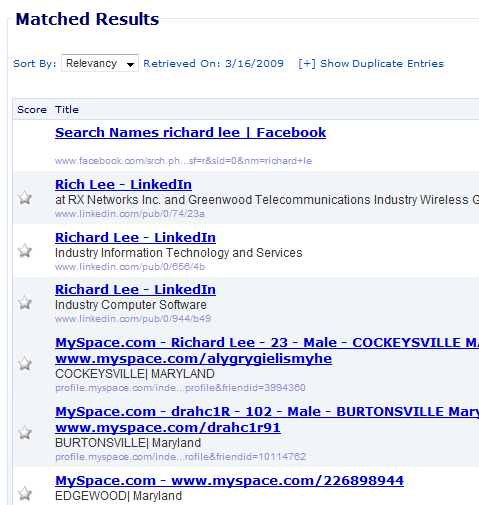 Obviously, with less unique/more common names, users will run into the same disambiguation problems they would if they were trying to search Facebook, LinkedIn, or MySpace directly. Will the "real" Richard Lee please stand up?
Expanded Results
Here is an example of what you can see under "Expanded Results:"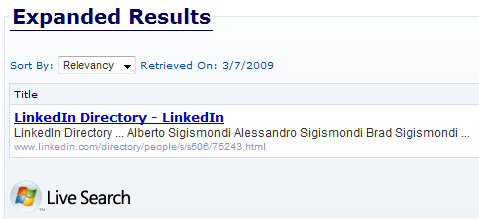 You can see that Careerbuilder's Applicant Explorer uses Live Search to populate "Expanded Results."
Another one of my searches produced what I thought was very interesting. If you look at the screenshot below, you can see that the "snapshot" version of Applicant Explorer's Expanded Results pulled hits from the Internet of people other than the candidate I was reviewing, but who had the same email domain. That should raise some eyebrows among the more hardcore researchers. I say cool.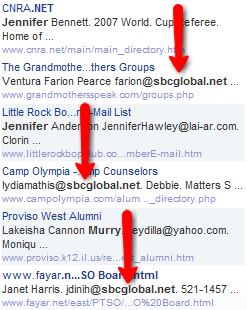 What's also interesting is that Applicant Explorer also frequently hits on Yahoo! profiles: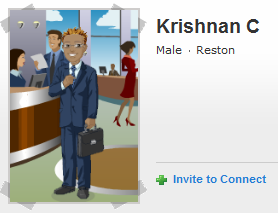 Check This Out
I found that for one of my searches, Applicant Explorer returned some results from the Internet that actually listed one of the candidates I found in Careerbuilder's resume databse as one of the interviewers for a Linux Engineer position posted online. I conducted some cross-referencing research and found that it was a dead on match (the person in question did work at BAE). As you can see below, there are 3 other names listed as people who will be interviewing candidates for the opening. It should not take a "rocket scientist" to figure out what kinds of people would be qualified to interview Linux Engineers. Nice job Applicant Explorer!
Lack of Overlap
Anecdotally, one thing I noticed is that I tried to use Applicant Explorer to dig up Web results for many people with resumes on Careerbuilder – and it came up with nothing. Then I did my own Internet research and confirmed that in most of these cases – Applicant Explorer was "right" in that the people did not appear to have any social media/networking profiles and/or much information about them on the Internet. Certainly not scientific data, or a large enough sample to be significant, but I was personally surprised to come across so many resumes for people that I could not find on Facebook, LinkedIn, or Twitter. In fact, I often found myself having to work hard just to find people who did have a decent amount of Internet and social media hits.  
The Downside
There were many times when I found Applicant Explorer to return a large amount of ambiguous, as well as false positive results. In some cases, Web results were obviously for the wrong people, and in some cases, were hits on the same name as the candidate, but from another state. However, it must be said that the same is true of any Internet research.  Try typing a name into Facebook and see how many results you get – and try to figure out which one is the person you're actually looking for. There are some intrinsic limitations to Internet research, and Applicant Explorer, which uses Live Search, isn't immune. 
Conclusion
Okay – so is it a big deal that a major job board now empowers you with the ability to perform one-click Internet cross-referencing research to look for potential matches on social networks, blogs, press releases, etc., for the candidates you are reviewing?
I think so. The major job boards have made very few, if any material changes to their service offerings over the past decade. Being able to get Internet and social media search results for candidates whose resumes you are reviewing without having to open another browser and maunally perform the research yourself IS convenient, and it does save some time. Plus, Careerbuilder offers it at no additional cost.
Are all the kinks worked out?  I'm sure they are not.  But that isn't the point of this post. I am not conducting a formal review of Applicant Explorer – I'm simply letting my readers know about an interesting new feature of a major job board and insight into how it works and what it looks like.
I applaud Careerbuilder for being the first of the major job boards to take an evolutionary step "out of the job board box" and to offer something that leverages social media to help sourcers and recruiters build a more complete picture of the candidates they are reviewing.
Careerbuilder (or any other job board that I am aware of) isn't trying to compete with social media and social networking applications. At least not that I know of.
HOWEVER, imagine if the big job boards DID implement social networking functionality to their applications – where active and passive job seekers could network with each other. BAM! You'd have at least three instant 20M+ social networks. Anyone from the major job boards reading this? I hope so! It's time to evolve!