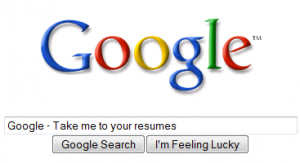 Want to learn how to find resumes on the Internet using Google?  You've come to the right place!
Whether you are new to searching the Internet for resumes or you are a veteran Interent sourcer, I've included some tips, tricks, and observations for the novice and expert alike.
Targeting Resumes
When using Google to search specifically for resumes, it's a good idea to begin by searching for the word "resume" in the title and/or the url of web pages.
For example: (intitle:resume OR inurl:resume)
Here is a sample result to illustrate how this works – we can see the word "Resume" in the blue TITLE line, as well as in the green URL line. The first line of any search result is the title of the webpage, and the url is the specific web page's address.

Targeting the word "resume" in the title and/or url is very handy, because for many people, it's simply common sense/instinct to either title the web page containing their resume with the word "resume," and/or save their resume using the word "resume" in the name of the file.
Eliminating False Positive Results