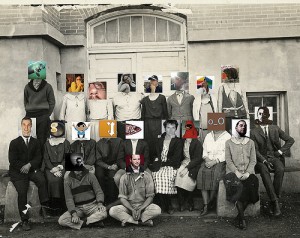 Twitter is cool, but Twitter is shallow. A shallow source of human capital data, that is.
As a micro-blogging application, each "Tweet" is capped at a max of 140 characters (hence "micro"), and people fill out their short "bios" to a lesser or greater extent. Don't go to Twitter expecting to leverage it as a resume database, or even as you would LinkedIn. I don't recommend Twitter to the sourcer or recruiter who is looking to be able to run complex Boolean search strings, sift through tons of data and have a high degree of control over critical candidate qualification variables. 
Although Twitter wasn't designed for sourcers and recruiters to find people with specific skills and experience, there are a couple of ways to attempt to pull this off.  For this post, I will focus specifically on searching Twitter through Twitter's search interface as well as x-raying Twitter using the site: command. I won't be covering any of the various 3rd party Twitter search apps (such as Twellow and others) in this post.
#1 Twitter's Advanced Search Interface
While you can't construct full Boolean queries, you can get close by utililizing Twitter's advanced search interface to combine an AND statement, an exact phrase, a single OR statement, and a NOT statement to find tweets that mention specific words or phrases, from or about specific people, and even from people in specific places (from 1 to 1000 miles from a zip code).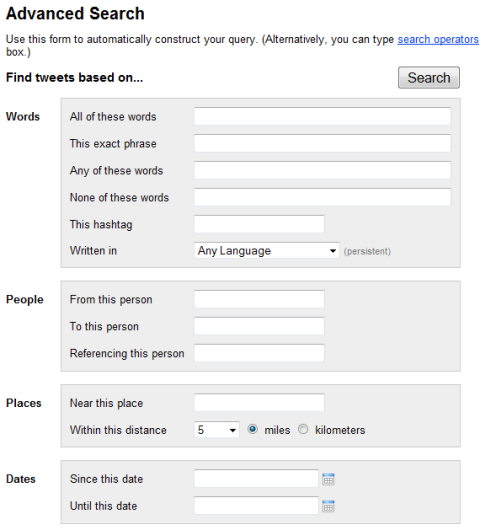 You can go one step further and type a combination of these search operators directly into Twitter's search window: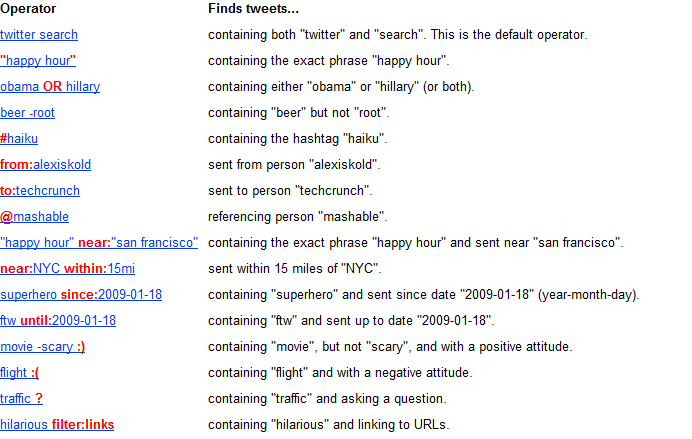 Here's an example search: graphic designer near:DC within:20mi -jobs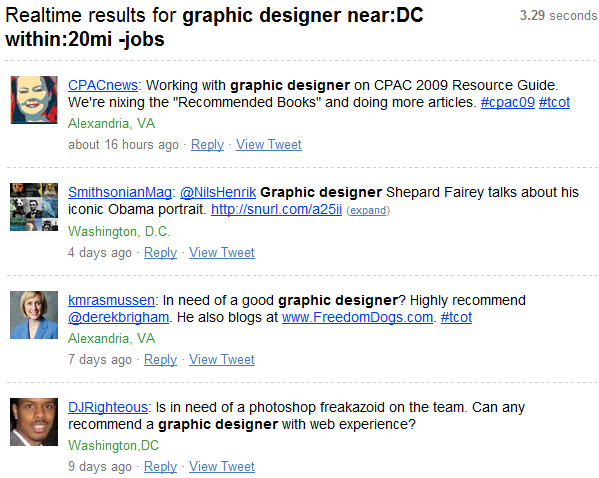 Using Twitter's search interfaces, whether you fill out the form or "hand code" your own, you're limited to searching Tweets only, and not the "bio" section of Twitterers. Searching Tweets, in my experience, has been more "miss" that "hit" – it's very easy to get mostly false positive results (results that mention your keywords, but aren't relevant to what you're searching for). Also, many people simply don't Tweet about their work, never giving you a clue as to what they do for a living. Other people have signed up for Twitter and have created a profile/bio, but barely use it, so there simply aren't many Tweets to search.
Fortunately, there is a way to search Tweets as well as the bio section of Twitter profiles.
#2 X-Raying Twitter via the Site: Command  
Using the site: command, you can use a search engine such as Google to create queries that will return results of both Tweets AND bios. As I mentioned earlier – not everyone fills out the bio section of their Twitter profile with meaningful, let alone employment-related information…but thankfully many do. So even if some people tweet about nothing related to what they do for a living, sometimes they DO mention a title, skill, or give you a clue as to what they do at work.
For example – let's say we're looking for someone with experience in graphic design in the Atlanta area. You could enter this into Google:
site:twitter.com graphic (artist | ~design) -job -jobs "atlanta"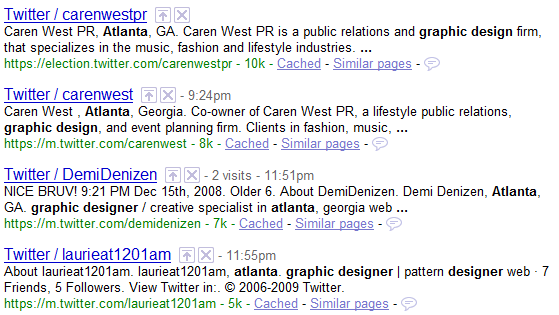 When you look at the screenshot above, all of the keyword hits are actually coming from the bio section of the Twitter profiles. One thing that you MUST be aware of when attempting to click on the individual results is that if you click the title (blue headline) to view a result, depending on the browser you're using, there may be an issue with the security certificate of the results from any result with a URL from https://m.twitter.com which may prevent you from seeing the result.  You can configure some browsers to resolve this, but the simplest way to handle this issue is to click the "cached" option and you'll be able to view the result – while it'll look a little ugly, you have the benefit of having highlighted keyword matches.
Tweets vs. Bios
As you click through the vast majority of the more relevant results, you'll notice that most of them don't have any of the search terms highlighted in the tweets themselves – they're mentioned in the bio section:

This serves to prove that being able to search the bio section of Twitter profiles offers a HUGE advantage over searching tweets alone.
Twitter Location Search
There is a downside to using the site: command to x-ray into Twitter: you don't have the ability to precisely control the location of Twitterers as you can when you use Twitter's search interface. It is CRITICAL that you think and be creative with location verbiage when searching for people using the site: command, as I've seen people mention a city (e.g., San Francisco), abbreviations (e.g., SF), geographic descriptions (e.g., Bay Area), and states (e.g., California).
Final Thoughts
While many sourcers and recruiters use Twitter solely for marketing/branding purposes and mentioning job openings and Twitter doesn't have deep human capital date – you CAN effectively search Twitter to find targeted people. Using Twitter's search interfaces and operators enables you to search for Tweets with an especially high degree of control over location. Leveraging the site: command to x-ray Twitter, you can use a search engine to search for both Tweets AND content located in the bio section of Twitterer profiles, at the expense of granular location control. However, as we've seen, some of the best information for sourcing is actually contained in the bio section of Twitter profiles, making the x-ray technique highly useful and effective.