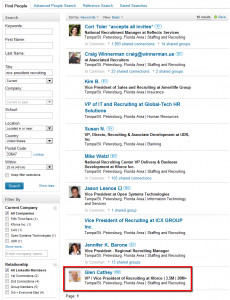 I recently wrote about what happens when you search for yourself on LinkedIn.
Now I'd like to address what happens when people don't search for you by name, but rather try to find people like you using "regular" keywords and titles.
When it comes to Internet search, the goal for most people and companies is to be on the first page of search results for your keywords, and ideally #1 if at all possible.
When you search LinkedIn with the titles you have on your profile and keywords you've mentioned in your metro area, do you show up in the first 10 results?
Have you ever wondered if there was anything you could do to positively affect your ranking in search results when someone searches LinkedIn looking for people like you? Have you seen heavily keyword-loaded LinkedIn profiles and wondered if it really does any good?
You could get lost in all of the YouTube videos and blog posts on the subject of LinkedIn profile optimization, but most of it is pure speculation.
Before I go into some detail as to what I think is going on with LinkedIn search ranking and what you might be able to do to positively affect your ranking, I'd like to show you a little experiment I've run and ask you to do something similar and see what happens.
You have searched or have had someone else search LinkedIn by the titles and keywords you used on your profile to see where you rank, haven't you? Continue reading →