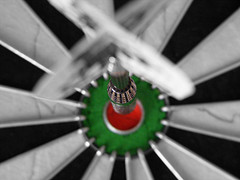 In the past, I've explained the Boolean Black Belt concept and exposed what I feel is the real "secret" behind learning how to master the art and science of leveraging information systems for talent identification and acquisition.
Now I would like to show you precisely WHY Boolean search is such a big deal in recruiting.
There are 2 main factors:
Candidate variable control
Speed of qualified candidate identification.
The goal of this article is to shed significant light on the science behind talent mining, how it can lead to higher productivity levels (more and better results with less effort), why I am so passionate sourcing, and why everyone in the HR, recruiting, and staffing industry should be as well.
Control is Power
Talent identification is arguably the most critical step in recruiting life cycle – you can't engage, recruit, acquire, hire and develop someone you haven't found and identified in the first place.
My experience has shown me that properly leveraging deep sources of talent/candidate data (ATS/CRM's, resume databases, LinkedIn, etc.) can enable recruiters to more quickly identify a high volume of well matched and qualified candidates than any other method of candidate identification and acquisition (e.g., cold calling, referral recruiting, job posting).
The true power of Boolean search lies in the intrinsically high degree of control over critical candidate variables that using Boolean strings to search deep data sources such as resume databases, the Internet, and social media affords sourcers and recruiters.
Applying that that high degree of control to large populations of candidates – tens of thousands (small internal ATS, niche resume database) to tens of millions (large ATS/CRM, Monster resume database, LinkedIn, etc.) enables adept sourcers to perform feats of talent identification and acquisition most would think impossible.