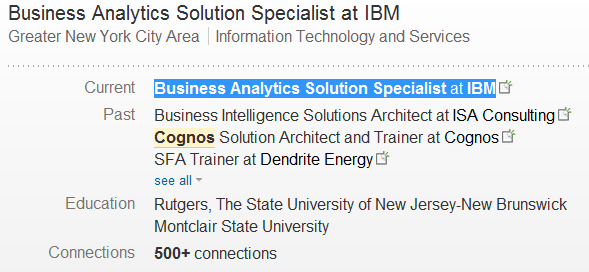 Last week, I had someone ask me what was going on with LinkedIn.
She told me she was having difficulty selecting text from a LinkedIn profile in order to copy and paste it into a search engine to find the public profile.
I jumped onto her computer to check out what she was talking about, and I found out that she was definitely not suffering from user error – she was not able to copy text from any LinkedIn profile.
As this was the first time I have ever encountered something like this, I went back to my computer and tried selecting profile text and had no troubles, so I was not exactly sure what was going on.
A part of me wondered if LinkedIn was beginning to roll out a change. Even though I didn't have the same problem copying profile text, I know from past functionality changes that LinkedIn has made that they typically don't roll them out to all users at once.
To be honest, I didn't really think about it much after that day.
Until I got an email later in the same week from someone in my network about the exact same thing.
Only this person had already contacted LinkedIn support and asked why he wasn't able to copy text from LinkedIn profiles anymore.
Here is LinkedIn's response:

This person has a premium Business account, so this change isn't limited to only free accounts.
What Does This Mean?
Honestly, I am not 100% sure other than that LinkedIn is taking steps to lock down their data, which is certainly within their rights.
I went back to the first person who contacted me about this change and performed a few tests with her – I was still able to go to Bing and Google and X-Ray/site: search for the text on anyone's profile that I could not select and copy text from using her account, so public LinkedIn profiles that are crawled and indexed by search engines aren't affected.
I also found that I could copy and paste text from the search results pages of a LinkedIn searches, as well as from the PDF versions of profiles.
The only place where I could not select and copy text was from the actual profile in LinkedIn.
Presumably, this could be because they do not want people to easily scrape full profiles into an ATS or other system.
While I can appreciate LinkedIn taking steps to protect their data, they still have the challenge of what to do about public profile data which anyone can leverage, and many companies do through the use of scraping software.
I and many people have been waiting to see what, if anything, LinkedIn can and will do to exert control over public profile data.
Can't Copy LinkedIn Profile Text?
Are you no longer able to select text from LinkedIn profiles?
I'd like to know, because I still have no problems selecting text from LinkedIn profiles, and as such, I haven't been able to do any extensive testing.
Also – if you use or make software that leverages LinkedIn profile text and your ability to scrape text has been affected, please let me know.
Special thanks go out to those of you who alert me as soon as you find or notice anything of interest with LinkedIn and other sites – you know who you are. ;-)
Update! How to be Able to Select and Copy LinkedIn Profile Text
If you have been affected, a few helpful readers (thank you!) have suggested to disable JavaScript in your browser which will enable you to be able to once again copy and paste text from LinkedIn profiles, without having to open the PDF to do so.
If you use Firefox, there is an add-on called NoScript which will allow you to selectively allow or block JavaScript.
If you use Chrome, you can go to Options -> Under the Hood -> Content Settings-> JavaScript – Manage Exceptions and add www.linkedin.com as an exception. That way, you don't need to block JavaScript across all sites – just LinkedIn.

Chrome will then notify you when its blocking JavaScript from LinkedIn.