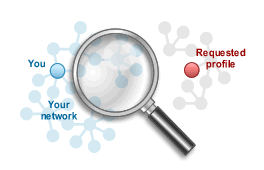 A couple of weeks ago I stumbled across something on LinkedIn that I am surprised I never noticed before – I'm not even certain if/when LinkedIn made the change.
Finally sitting down to write about it, I highly doubted that I could be the only person to have discovered this interesting little find, so I did some quick research and found that Gary Cozin and Cathy Ou recently noticed it as well.
What am I talking about?
I'm talking about the fact that LinkedIn has alternate location names for certain postal codes.
While some locations only have one location phrase, I've found many have two and some have as many as nine! If you use Internet search engines to "X-Ray" LinkedIn for public profiles and you only use one location phrase, you may be unknowingly excluding people you actually want to find!
Alternate Location Names on LinkedIn
I personally discovered that LinkedIn has multiple location phrases when I went to edit my profile a couple of weeks back.
I wasn't changing my location, but this caught my eye: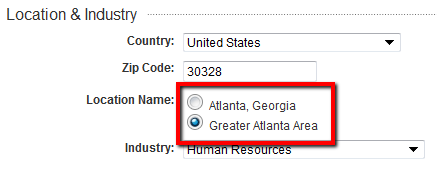 Apparently, "Greater Atlanta Area" is the default.
Having noticed "Atlanta, Georgia" for the first time, I immediately when to Google and Bing to see how many people did not use the default "Greater Atlanta Area" location name.
I tried this search: site:linkedin.com "location * atlanta georgia" -"greater atlanta area" (inurl:pub | inurl:in) -dir
As you can see, after a few false positive results, plenty of people use the alternate location phrase/name. But don't be fooled by Google's estimated 100,000+ results – if you click through all of the pages you will end up on page 50 with slightly shy of 500 results.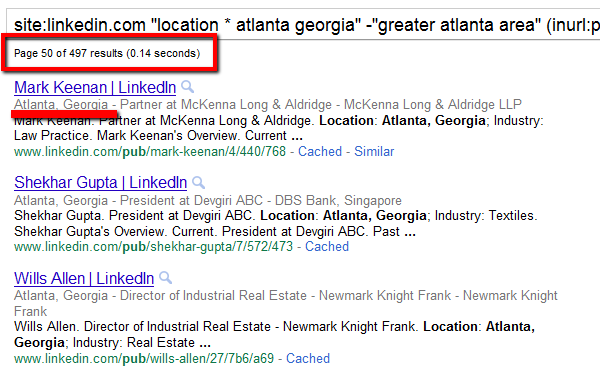 Switching to Bing, I tried something similar: site:linkedin.com location near:8 "atlanta georgia" -"greater atlanta area" -dir
Bing claims nearly 3,000 people use the alternate LinkedIn location phrase/name, but if you click through to the last page of results, you should get slightly over 500. Interestingly, I noticed some false positive results crept in that should have been excluded by the search – but looking further into that is another post entirely.
So What's the BIG Deal?
Although my test searches didn't discover a ton of people using the alternate location name in Atlanta, if you don't include the alternate location phrase(s) in your LinkedIn X-Ray searches of your target locations, you will unknowingly relegate people who do not use the default location phrase into the realm of LinkedIn's Dark Matter – profiles that exist but your searches prevent you from discovering them.
For example, here are about 24 people in the Atlanta area who mention Java or J2EE on their LinkedIn profiles that cannot be retrieved with an X-Ray search that only targets "Greater Atlanta Area."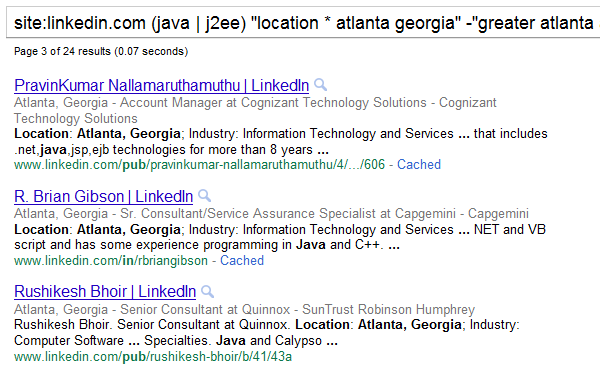 What you should notice is that the public profiles of people who use the alternate location name show only the specific non-default location name that was searched for…
…however, if you click on "View Full Profile," you will see something different – both the user-selected, non-default location name as well as the default location name:
On the full profile, you can mouse over either location listed and use them as a faceted search. On a public profile listing, you cannot click on the location name to conduct a search.
How Many LinkedIn Location Name Variants Are There?
While it appears that there is a pattern of 2 location phrase/name options for major U.S. cities (I checked New York City and a few others – you'll have to check yours), I did stumble across the fact that some areas within certain countries have many more location names to choose from.
For example, check out this list for Postal Code AL2 1AB in the U.K.!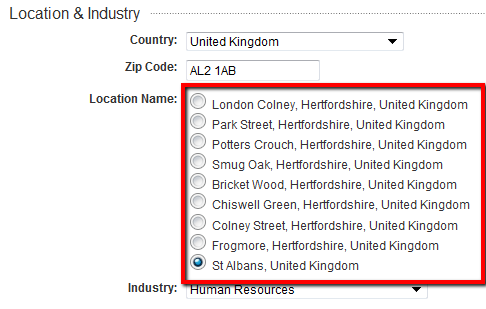 That probably isn't the only postal code/area in the world that has more than a few location names, so if you rely heavily on X-Ray searching LinkedIn for sourcing talent, I highly recommend you scope out all of the location names for all of the cities/areas you source from.
On the opposite end of the spectrum, some of you don't have to worry about multiple LinkedIn location names at all – some locations and even countries don't have any postal codes and/or LinkedIn doesn't recognize them, so there is only one location name (unless I am missing something):
Update Your LinkedIn X-Ray Searches
I'm not sure when LinkedIn enabled the ability for users to choose amongst multiple location names per postal code – do you know?
Regardless, I'm excited to share this on a global scale – if use Internet search engines to "X-Ray" public profiles on LinkedIn, be sure to search for all of the location names that users in your target geography have to choose from. If you don't, you are likely to unknowingly prevent some available results from being returned.
Of course, if you have a LinkedIn Recruiter account, you don't really have to worry about finding people via X-Ray searches… :-)
Happy hunting!