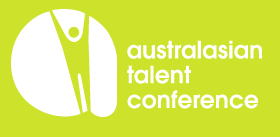 I'm very excited to be attending and honored to speak at the Australasian Talent Conference SourceEvent in Melbourne  this August!
When I had a Skype call with Martin Warren, Kevin Wheeler and Trevor Vas and they asked if I'd be interested in coming to the first dedicated sourcing for recruiters' event in Australia, it was an easy answer.
The sourcing and recruiting community is truly global, and after my excellent experience at #TruLondon, I jumped at the opportunity to brainstorm with the top sourcers and recruiters in Australasia!
I've been busy writing quite a bit on the current state of sourcing and what I see as the future of talent discovery and identification, and I look forward to discussing these ideas at the SourceEvent.
Here's a bit of a preview:
Beyond Boolean
I had no idea when I I created my Boolean Black Belt blog nearly 3 years ago that I would at some point feel constrained by "Boolean," but I find myself more so every day.
Sourcing candidates is much more than Boolean search strings – they are but one aspect of sourcing.
In my opinion, sourcing is rooted in Information Retrieval.
Information retrieval (IR), which is "the science of searching for documents, for information within documents, and for metadata about documents, as well as that of searching relational databases and the World Wide Web."
Boolean logic just happens to be the simplest way to construct a query, and a query is simply a formal statement of an information need. For a sourcer or recruiter, their information need is typically to find information that will lead them to discover and identify people with specific skills, experience, capabilities, education, etc.
While using Boolean operators is arguably the easiest way to construct a query, IR queries do not have to be limited solely to Boolean logic, as can be seen in the various non-Boolean query modifiers of Internet search engines (here are some of Google's and Bing's), LinkedIn's advanced search operators, faceted search (e.g., LinkedIn's filters), etc.
Boolean is only the beginning…
Beyond Tools, Tips and Tricks
I think I know why the sourcing function and role hasn't advanced to where I think it should be in terms of its perceived strategic value as well as compensation for the level of work performed.
I believe it's because when it comes to sourcing, a great deal of what's written about and spoken to is about websites, tools, tricks, and hacks.
While everyone wants to hear about the next "answer" to their sourcing "problem," I think it's time to recognize that sourcing is much more than tips and tricks.
There is no single search string, no single website, nor any particular tool or hack for finding the best talent. When it comes to human capital information retrieval, the sourcing process is more important than the search strings, search engines, websites, tools and  themselves.
I believe it is well past time to focus more on the sourcing process itself, which is ideally investigative and iterative.
Perhaps sourcing, whether as a separate role or as a function of the recruiting role, may get more respect, attention, and investment when proven and well documented cyclical software development and business process improvement methodologies are adapted and applied to the talent sourcing process.
The 5 Levels of Talent Mining
While Boolean operators are the "glue" that holds queries together, the real magic of information retrieval lies in the search terms and phrases themselves, as well as in how the information retrieved is acted upon.
To that end, I believe there are at least 5 levels of mining human capital data, and they are:
Keyword/Title Search
Conceptual Search
Implicit Search
Natural Language Search
Indirect Search
The Future of Sourcing and Talent Identification
If you're curious about semantic search and artificial intelligence matching applications that leverage natural language processing and how they can be applied to sourcing, I hope you'll be in attendance at the Australasian Talent Conference SourceEvent in Melbourne because I have plenty to say on the subject!
While matching technologies have made some advancements recently, you won't be replaced by a sourcing application any time soon. In fact, the talent discovery and identification solutions of the future will require people with specialized skills and experience to use them effectively, to customize them for specific business units and ever-evolving hiring needs, and to "teach" and steer matching applications to continually improve them and make them better.
Will you be one of those people?
The DNA of a Sourcer
Would you like to know what I think constitutes the "DNA" of a world-class sourcer?
Are you looking to hire  and/or train sourcers or recruiters who are responsible for sourcing?
As someone who is entirely self-taught, I will share with you what I think are the critical traits of people who have the capability of becoming world-class sourcers – and they can't be taught!
You're in for a Treat!
The ATC was first introduced in 2007 and since then has offered up a variety of events in both Australia and Singapore. Each year the attendance has grown they comb the world for new ideas, including things that are working well in talent management, and for emerging technologies that promise to improve our ability to hire and develop great talent.
If you attend the ATC SourceEvent in Melbourne, you will have access to:
Leading information on recruitment trends from around the world
World leading recruitment and talent management technology solutions
World leading and innovative recruitment methodologies and processes
World class networking opportunities with fellow professionals
Real life challenges to solve that employment professionals like you are facing today.
You will also be treated to some of the top minds in the talent identification and acquisition space, including Kevin Wheeler, Jim Stroud, Julian Doherty, Andrea Mitchell, Martin Warren, Michael Specht, Nicholas Duggal, Ross Clennett, and Trevor Vas!
To top that off, the legendary Bill Boorman will be the MC for the event. Could you ask for more?
I hope to see you there!