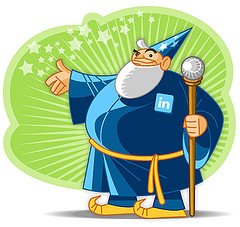 Eariler this month Harry Urschel brought a post of his to my attention where he showed job seekers that you don't have to have a huge LinkedIn network to use LinkedIn effectively to find a job. I wholeheartedly concur. Not only do you not have to have a large network of connections on LinkedIn, there are MANY ways to leverage LinkedIn to find a job.
Recruiters use LinkedIn to search for, find, and contact potential candidates on a daily basis – in fact, there are over 1,000,000 sourcers, recruiters, and human resources professionals on Linkedin in the United States alone! While I typically write posts for sourcers and recruiters to show them how they can more effectively leverage social networking sites like LinkedIn to find candidates, in this post, I am going to show job seekers how they can use the exact same techniques and strategies to find jobs, perform company research, and how to find and contact recruiters and hiring managers – even if you only have 5 connections!
First we'll start with the basics. I'm going to save the best for last.
Job Search
Many people are unaware of all of the great features on LinkedIn for job seekers.

Once you click on "Jobs" you can use the basic search interface, or click on the "advanced" job search: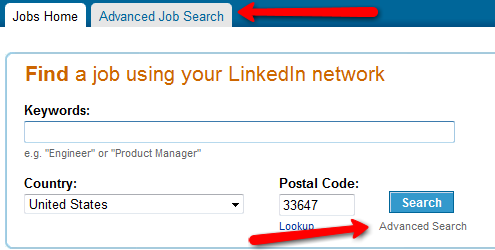 Once you get to the "Advanced Job Search" you have many self explanatory and standard job search options.  You can target specific companies, titles, industry, job function, location, etc. One thing to notice is the "Powered by SimplyHired" – I'll get to that in a moment, it's important.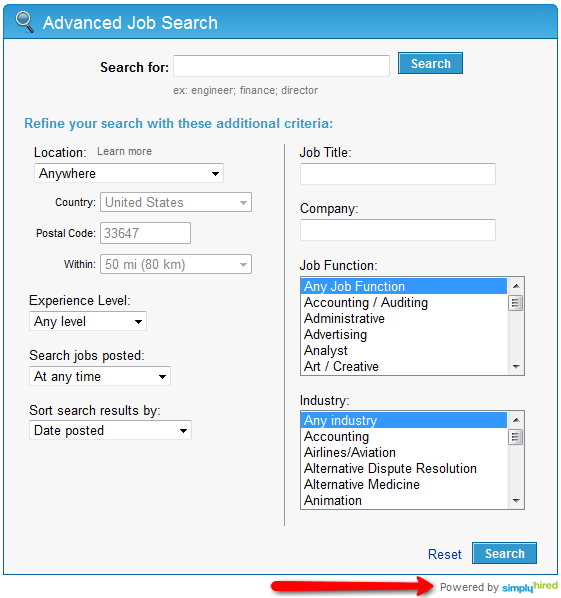 Let's say you're looking for a job as an accountant in NYC. When you enter your search criteria and hit "search" you will be taken to LinkedIn's jobs. When I say "LinkedIn's jobs," I mean the jobs that people/companies have paid to post on LinkedIn. I bring this up because there are other job postings you can find through LinkedIn that are free to post as well as jobs that are posted to the Internet – not LinkedIn. First, let's look at what you can do with LinkedIn's jobs:
When you're looking at LinkedIn's jobs, you can see the people who posted the job if they happen to be in your network. If there isn't a name under the "Posted By" column, then you are not connected to the person who posted the job.
If you click on the name of the person who posted the job, you'll see that you may have a number of options. You can see who in your network "knows" (or at least is connected to) the person who posted the job, you can request a referral from someone in your network who is connected to the job poster, you can check your connections within the company that's posted the job, and you can also request an introduction by people in your network who currently work at the company that posted the job. All great features and options!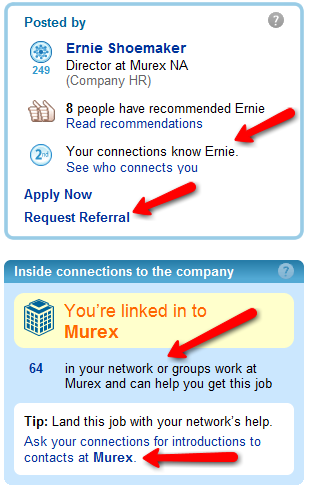 Non-LinkedIn Jobs
Remember when I told you to make note of the "Powered by SimplyHired" icon? Here's where it comes into play – there are FAR more jobs posted on the Internet than jobs just posted on LinkedIn, and you can find a good chunk of them by clicking on "The Web" tab: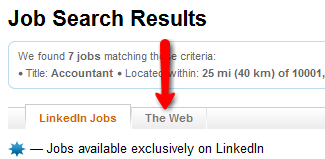 When you click on "The Web" – you'll be taken to all of the jobs that match your search criteria that are on SimplyHired, which is a  vertical search engine for jobs similar to Indeed. This will expose you to MANY more jobs. In the case of my search for jobs with the title of "accountant" within 25 miles of 10001 in NY, I went from 7 jobs posted on LinkedIn to 1,110 on the web through SimplyHired!
One very cool feature of reviewing these results is that you can leverage LinkedIn's "Jobs insider" – which allows you to check your LinkedIn network to see if you are connected to anyone within the company who posted the job.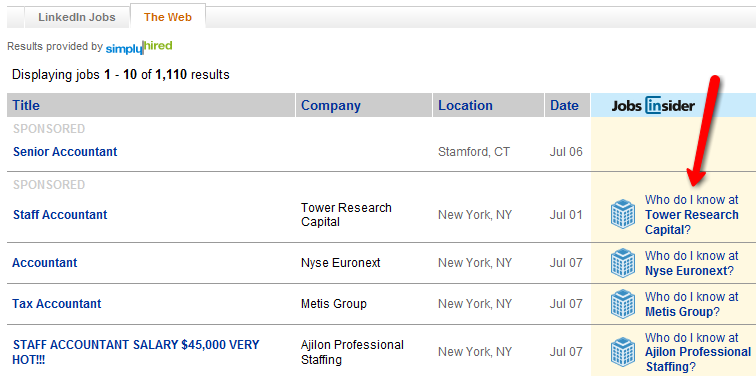 It is important to know that when you click the "Who do I know at Company X" – you won't just get people you're connected to – you will get results of EVERYONE with a LinkedIn profile that lists that target company as their current employer. If they are not in your network, you won't see a name listed, just a title. I will show you later how to use Google to "unlock" results of people who are not in your network. Stay tuned.
I clicked on "Who do I know at Tower Research Capital" and I got 59 results.  I then decided to see who I could find that's currently working at Tower Research that has a current title mentioning HR, Human Resources, Recruiter, Recruiting, or Accounting Manager.
Here is the exact search I entered into the title field, and I selected "current:"
("human resources" OR HR OR recruiter OR recruiting OR "accounting manager")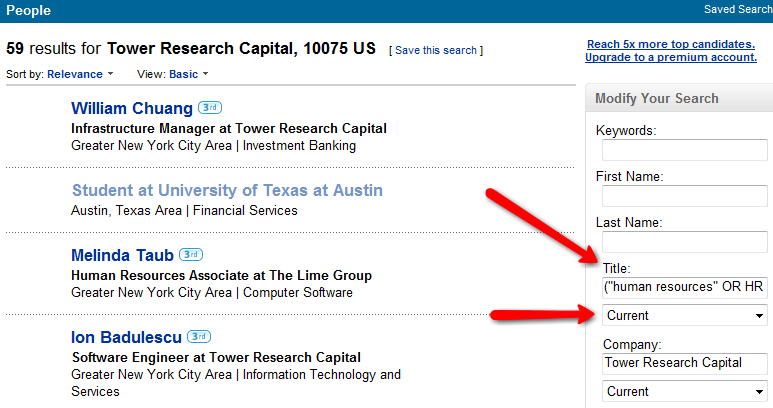 Then I hit "search" and got 4 results: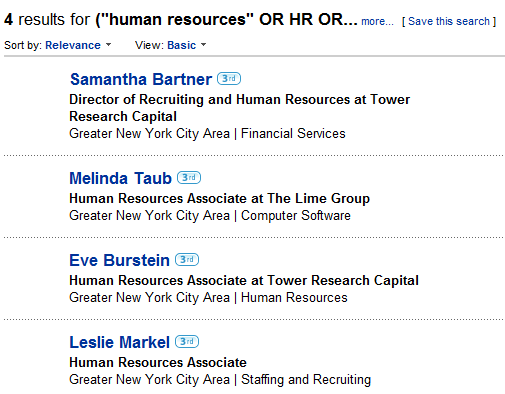 I landed the Director of Recruiting and Human Resources, as well as 2 Human Resources associates. It appears that result #2 is a false positive (she works at The Lime Group – she probably forgot to put an end-date for her employment at Tower Research).
Using LinkedIn Groups to Establish Contact
Let's say you want to try to reach out to Samantha Bartner. You can view her profile to see if she is a member of any groups. Why? Because if she is a member of a LinkedIn group, and you join the group, you can send her a message even if she is not in your network.
Let's check: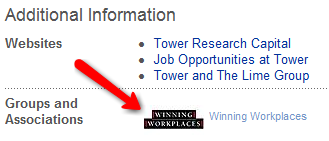 Clicking on the group takes you to the group, and we can see that the group is open to everyone. Simply click "Join Group." Some groups can take some time to join because a group moderator manually reviews all of the request to join, and this can take a while. In these cases, you can try sending a message to the group manager to let them know of your request to join.

After you've joined the group (or any group) – you can then send messages directly to anyone else in the group that's opted to receive messages from group members (which is most people). Click on the "More" tab and you will be able to select "Members"

From the list of members, you will notice that you can click "Send message" to send the person a message even if they are not in your network:

Speaking of LinkedIn Groups
Remember when I mentioned that there are other places to search for jobs? LinkedIn recently added a "jobs" feature within groups, and it is FREE for group members to post jobs there. That means you can search for groups that might have jobs posted within them that you're looking for.
There are a couple of places where you can search for groups – I'm using LinkedIn's search bar to search for groups mentioning "accounting."

There are 1,109, and some have 10's of 1000's of members.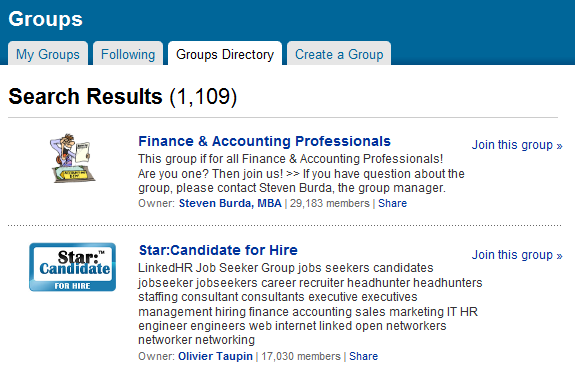 Taking it one step further, I decided to look for groups that mention "accounting" and "new york" – there are 8.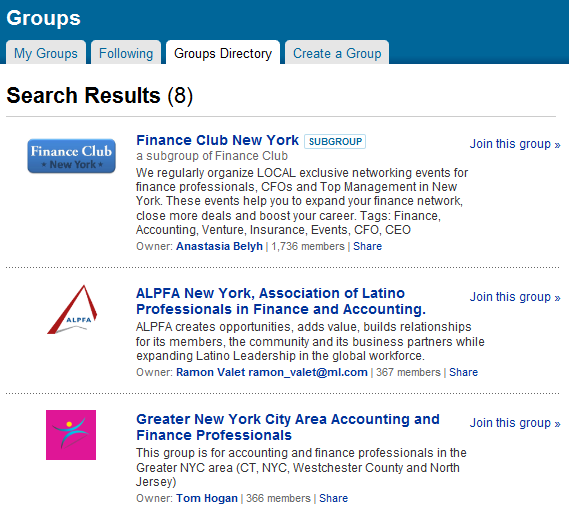 Once you join a group, you can check to see if the group has enabled the "jobs" feature. If they have, you can see and click it here to look for jobs and respond: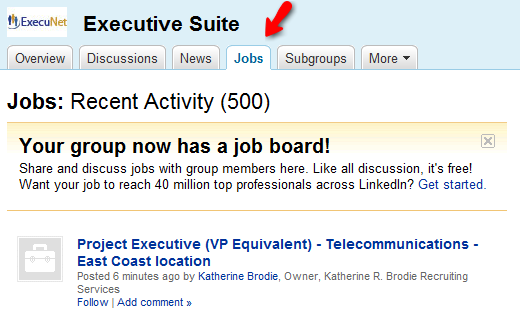 You can join up to 50 groups – use them wisely!
What If You Have A Small LinkedIn Network?
Have a small LinkedIn network? When you search for people you don't see many people's names – just private profiles? No problem! I'm going to let you in on a little "secret" that many sourcers and recruiters know – how to X-Ray search LinkedIn.
The vast majority of LinkedIn profiles are "public," meaning that they are published on the web. In fact, I believe that when anyone creates a LinkedIn profile, the default/recommended setting is "Full View," which automatically makes the profile available for Internet search engines to index them and make them available for searching. Only if someone takes the time to go into their "Account & Settings" and change their "Public Profile" to "None/off" would they not show up in web (Google, etc.) searches.
If a LinkedIn profile is published to the web, it can be found by using Internet search engines. This means that anyone can leverage a search engine such as Google and use the site: command to X-Ray search LinkedIn for all public profiles – whether they are in that person's network or not.
This is especially helpful for those who have relatively small networks and for those who do not pay for premium access to Linkedin. When X-Raying LinkedIn, LinkedIn doesn't "know" who you are, so it cannot limit your search results to only those people in your network.  Also, with a free account, users are limited to viewing the first 100 results of any search when using LinkedIn's search interface. Using a site like Google to X-Ray into LinkedIn, you can view up to 1000 results.
How to X-Ray LinkedIn
The reason it's called an "X-Ray" search is because the site: command, supported by some search engines like Google, allows you to search 1 site instead of the entire Internet – so in a sense you are "X-Raying" (looking specifically) into LinkedIn through the Internet.
It's as simple as copying and pasting this search into Google, and adding your location phrase, keywords, titles, and company (if you like).
Start with this – the core "X-Ray" search in Google:
site:linkedin.com (inurl:pub OR inurl:in) -intitle:directory
Then add your location phrase in quotation marks – it's what's under the title and current company on local profiles:

site:linkedin.com (inurl:pub OR inurl:in) -intitle:directory "greater new york city area"
Then add your keywords, titles, and/or company.  Remember that search we were trying to perform above where we wanted to find people with one of a few recruiting/HR titles who works at Tower Research? Let's add the company (in quotations – any phrase more than 1 word needs to be in quotations) and title phrase.
Add this to Google and search:
site:linkedin.com (inurl:pub OR inurl:in) -intitle:directory "greater new york city area" "tower research capital" ("human resources" OR HR OR recruiter OR recruiting OR "accounting manager)
This is what you'll get: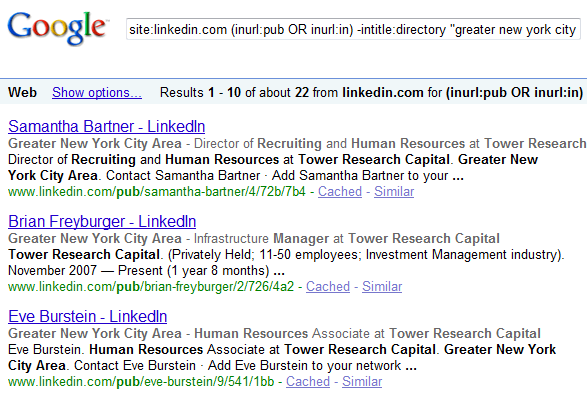 Notice Samantha and Eve? They came up in my search on LinkedIn previously, but I happen to have a relatively large LinkedIn network. If you have a smaller network, when you search inside of LinkedIn using their interface, or searching through jobs to find people, Samantha and Eve's profiles may come up – but you may not able to view their names because they may not be in your network.
However, if you use the above X-Ray search format to target a company and specific titles in a specific location (as we just did), you will be able to see ANY public profile and potentiall identify recruiters, HR professionals, and perhaps even hiring managers at companies you are targeting as potential employers.
If you'd like to see a brief video on how to effectively X-Ray search Linkedin, which details how to target local people, and how to search by industry, click the image below: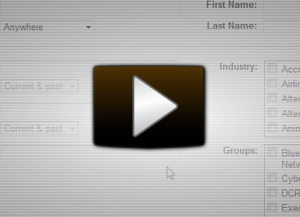 X-Ray String to Search for Current Title
You can take the X-Ray search one step further and try to target people with specific current titles. For example, this search string employs Google's wildcard (asterisk) operator to target the phrase on LinkedIn profiles where current title is listed – you can insert your target title where I have TITLE:
site:linkedin.com (inurl:pub OR inurl:in) -intitle:directory "current * TITLE"
Click on the image below to view a brief video on how to effectively X-Ray search LinkedIn targeting people based on current title: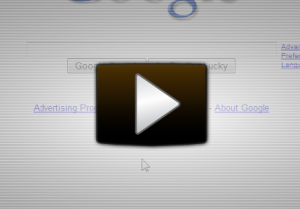 Unlocking "Private" Profiles
When searching from within LinkedIn, you may encounter a result of someone that is not in your LinkedIn nework – there will be no name listed:

And when you click on a result like this, instead of showing you a name, it says "Private."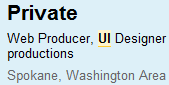 When you encounter this, do not despair – you can unlock many "private" results such as these using the X-Ray technique. This is because many "private" results are not truly private – you just can't see the profile and the person's name because they are not in your LinkedIn network. However, unless the person went out of their way to change their account settings to not publish their profile to the web, Internet search engines have indexed the profile and it can be both searched for and found. And when you use a search engine to X-Ray search into LinkedIn, LinkedIn has no idea who you are, so it cannot prevent you from seeing people who are not in your network.
Click on the image below for a short video that walks through 2 examples of unlocking private profiles using the X-Ray search technique: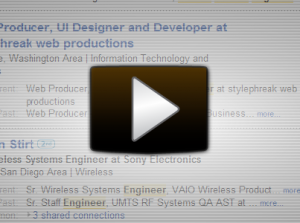 Company Research
I am surprised by how many people are unaware of LinkedIn's robust company research functionality. With over 40M worldwide LinkedIn profiles and 21M in the United States alone, LinkedIn is able to "capture" quite a bit of employee data.
If you're looking to research local companies that might be potential employers, LinkedIn is a great place to look. For example, let's say you live in the NYC area and you're interested in searching for companies to target for employment. Click on LinkedIn's "Companies:"

Here, you can search for specific companies or keywords, or even by industry. If you want to see the entire list of industries, in the lower right hand corner you can find the link to do exactly that.
Let's browse for Pharmaceuticals:
Be sure to delete the word that LinkedIn automatically enters in the keyword field – if you leave it in it will actually artificially reduce the results. Also, now's the time to enter your location criteria to find local companies: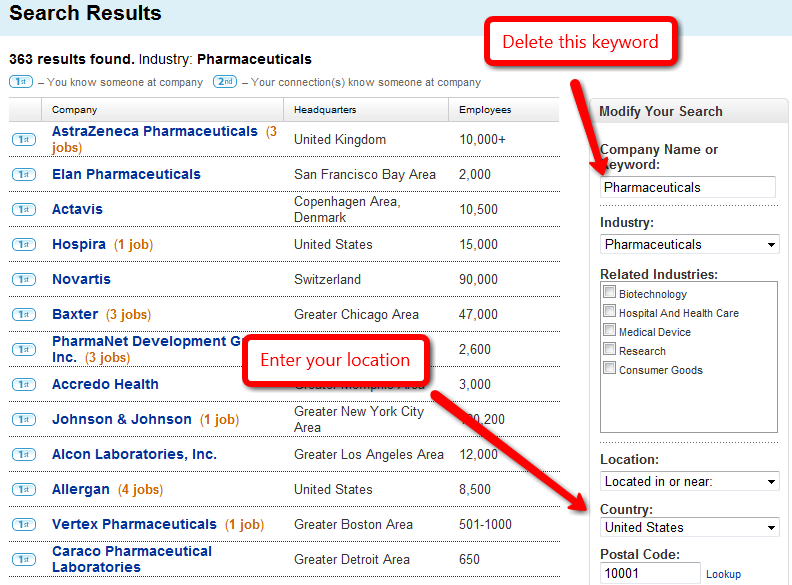 Now we've found that there are 345 pharmaceutical companies that have a presence in the greater NYC area. Even if you see that the headquarters are somewhere other than NYC (as per Sepracor below), there ARE Sepracor employees that live in the NYC area, and there is likely a Sepracor location in the area. You can also see that LinkedIn will tell you if any of the companies matching your search criteria have jobs – sweet!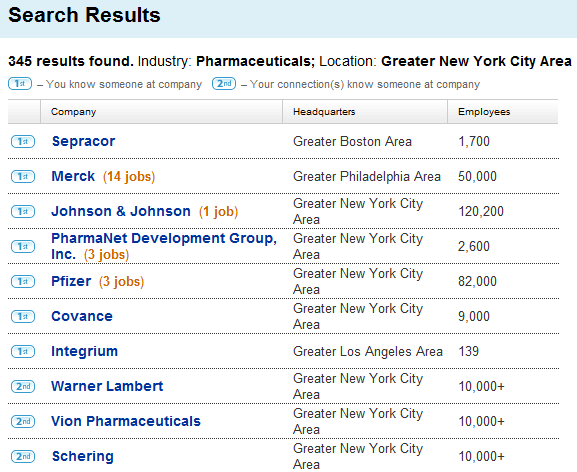 If we click on Johnson & Johnson, we can see some current employees, former employees…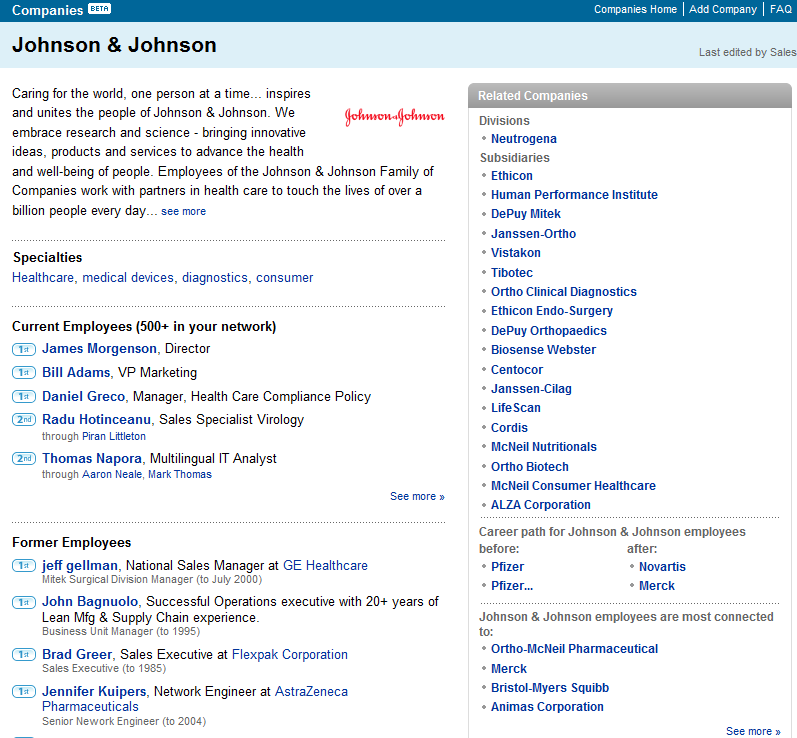 …as well as new hires, recent promotions and changes, and popular profiles – all of which may be people that could be useful for you to research and connect with in your job search. Additionally, here is where you click on the location (Greater New York City Area) to find ALL profiles of current J&J employees on LinkedIn.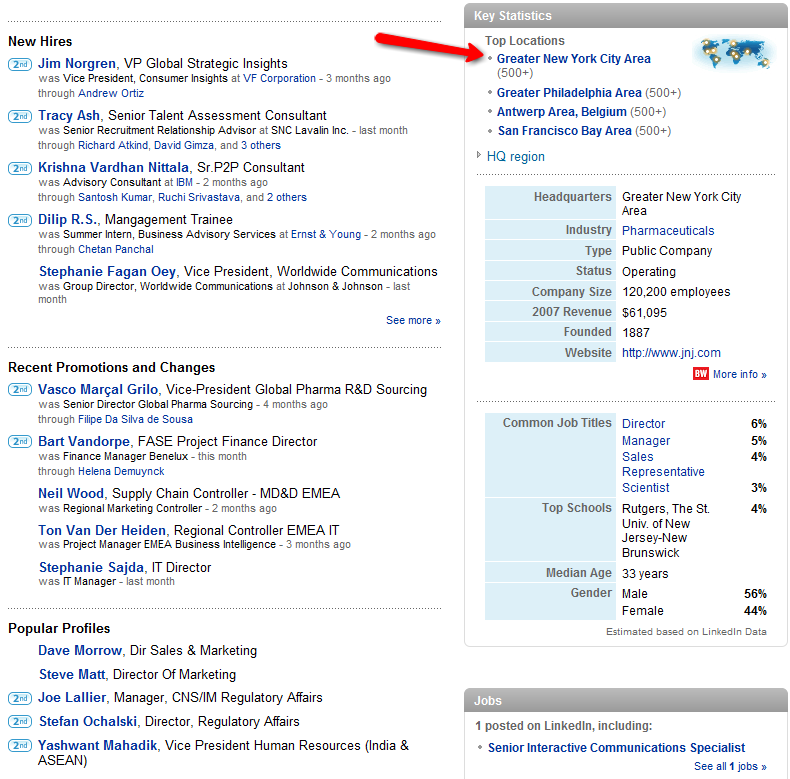 Once you click on the appropriate location (NYC area in this case), you're taken to ALL of the LinkedIn profiles of people in that metro area who list J&J as their current employer. Here is where you can enter keywords, titles, and even narrow the zip radius to find people who may be helpful to your job search if you are interested in employment with Johnson & Johnson.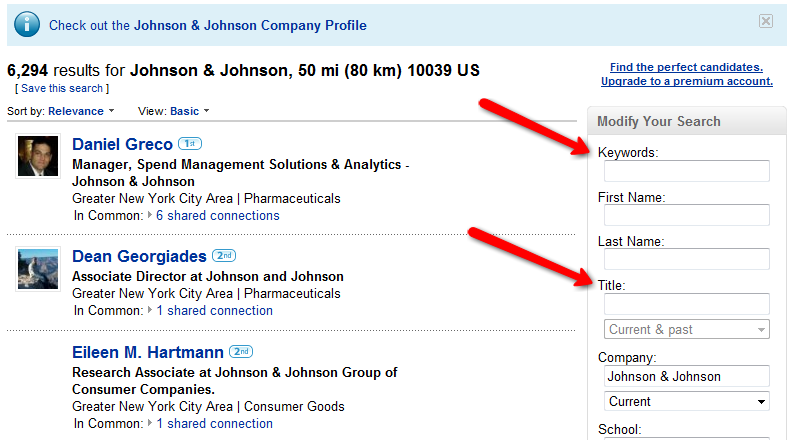 For example, there are 277 people that have a title of recruiter, recruiting, HR, or human resources at J&J in the NY metro area.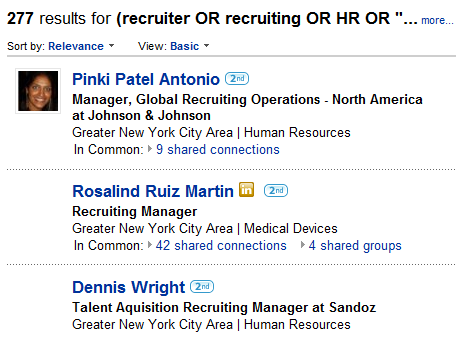 Harness the Power of LinkedIn
If you're ever in a position to seek employment, now you're empowered to use LinkedIn effectively to find job postings on LinkedIn, the web, and in groups, as well as how to search for and find recruiters, HR professionals, and decision makers both using LinkedIn's search interface as well as using the X-Ray search technique to find people who are not in your LinkedIn network. On top of all of that, you now know how to leverage LinkedIn's robust company research features to find companies in your area and then drill down to people you might want to connect with to help you in your job search.
Happy hunting!