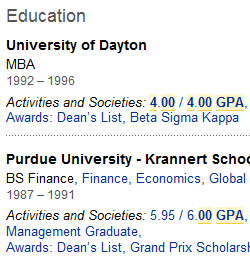 Have you ever wanted or needed to search for top students of people who have achieved high grade point averages in high school or college?
While GPA is relatively unimportant to many employers – to others, a high GPA is indicative of a person's ability to achieve results in an unstructured environment (no one is there making you go to class or study for your exams), which can provide clues to self-management capability and the drive to excel.
Some employers simply won't hire candidates for certain roles without a specific GPA or higher, with few exceptions (e.g. Google).
Regardless of your personal philosophy on the (in)significance of GPA's, a grade point average is an objective measure of performance and achievement, and one of the very few that can be found on a resume or a social media profile. Continue reading →