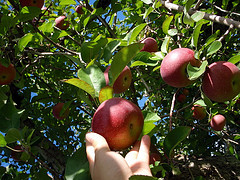 If you're a regular reader of my blog, you know I'm a fan of leveraging every information resource available to me – my internal ATS/CRM, the Internet, LinkedIn, Facebook, Twitter, and yes, even job board resume databases (gasp!).
Have you ever heard job board  naysayers refer to the resumes you can find on Monster, Dice, Careerbuilder, Hotjobs, etc. as the equivalent of "low hanging fruit?"
I know I have – MANY times.  When I hear people say it or read people write it, it always seems to be used with a negative connotation, and sometimes with derision. 
Is "low hanging fruit" intrinsically a bad thing? Is it even an accurate way to describe searching for resumes on the job boards? 
From what I can tell, "low hanging fruit" is a concept most people understand because they've heard others use it in context. But what does such a statement actually mean?  In this article, I will show you there are at least a few different takes on the meaning and use of the phrase and you may be surprised at what actually fits the bill as low hanging fruit in recruiting.  Continue reading →