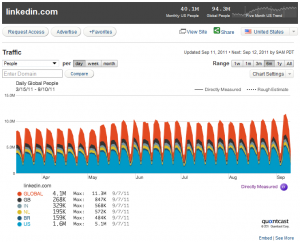 Would you like to know more about LinkedIn's user demographics, as well as LinkedIn's visitor statistics broken down by country, city, and state?
If so, you've come to the right place!
After patiently waiting for a whole year since my last post on LinkedIn statistics, I'm excited to bring you LinkedIn's latest user demographics and visitor statistics for 2011.
In this post, I will compare the data I presented in September 2010 to the data I just pulled from Quantcast.
Quantcast is used by 9 of the top 10 media agencies because they quite accurately quantify Internet audiences.
While some sites are not directly measured and only have estimated data at this time (such as Facebook and Twitter), LinkedIn is fully "quantified."
In other words, Quantcast directly measures LinkedIn's visitors – which gives us great information and some very interesting insights!
Read on to see the following LinkedIn data:
Global monthly visitors
Global monthly visits
Visits per person
Pageviews per person
Visit frequency
Business activity
User demographics (gender, age, ethnicity, income, education level)
Monthly visitors by country
Monthly visitors by city (global)
Monthly visitors by state (U.S.) Continue reading