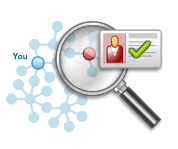 Ever wonder how many executives are on LinkedIn?
How about accountants, software engineers, "Big 4" employees, or people with TS/SCI clearances? 
Well I did. So I decided to run a number of searches for common titles in information technology, finance and accounting, recruiting and human resources, business development, social media, and administrative support and publish the results for the world to see.  I also searched for "Big 4" employees, people that mention specific security clearances, and executives of all types to see how many results would be returned, and I broke the results down by global/U.S. totals.
Method
Unless otherwise noted, I searched specifically for current titles while using LinkedIn's advanced search interface. When I created the searches below, I was not trying to be totally exhaustive – I chose to target a sample of some of the most common titles.  Continue reading →