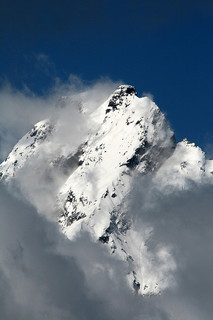 When it comes to recruiting – it's all about timing and opportunity, right?
I've had a great 15 year run in the staffing industry, starting off in 1997 at a small privately held company in Chantilly, VA, and ultimately ending up at Kforce after they acquired that no-longer-small staffing company back in February of 2005.
Over the years, I've progressed from a top producing recruiter to a VP of recruiting, and I've relocated twice with Kforce from Ashburn, VA to Tampa and more recently to Atlanta.
As with most people in the recruiting and staffing industry, I'd received my fair share of opportunity pitches.
Some came from companies I would have loved to work for, but none were the right match for what I was looking to do, and disappointingly, most seemed to be looking for someone to fit into very defined and scoped roles offering little room for me to bring all of my knowledge, experience, and passion for sourcing and recruiting to bear.
I've enjoyed many rewarding roles at Kforce that offered me the ability to stretch the boundaries of my job descriptions to be able to add value to the entire firm in as many ways as possible. When I was contacted about positions that were limited in scope and seemed more like the company was looking for a specific piece to fit their puzzle, it was an easy decision to not pursue them any further, as I promised myself I would never take a step backwards, even if it was an opportunity with a marquee company.
However, after 15 years in the staffing industry, the right opportunity finally came along.
My friend Eric Jaquith had recently joined SourceRight Solutions, the RPO business of the SFN Group which had been acquired by Randstad. He let me know they were looking for someone to come in and lead/architect the evolution of SourceRight's sourcing and recruiting.
As I found out more about the opportunity, it was quite clear they were not looking for a specific puzzle piece with clearly defined and limited responsibility to fit neatly within a job description. In fact, it was quite the exact opposite.
I found out that SourceRight was looking for the right person to come in as serve as their sourcing and recruiting thought leader and wanted to give this person carte blanche to ensure SourceRight would have the most effective sourcing and recruiting capability as possible.
On top of that, I learned that Randstad, a $22.5 billion global provider of HR services & the 2nd largest staffing organization in the world, was interested in expanding their RPO offerings and capability globally (they have presence in 40 countries!) and that I'd be able to play a key role in that global expansion.
As if that wasn't enough, I'd be leading a team including Eric Jaquith and Shally Steckerl.
And their office is 4.3 miles from my house.
Are you kidding me?
How often does an opportunity like this present itself?
Even so, it's never easy to leave a company that's treated you well for 15 years, and I was in a great position working with a great team (shout out to the Kforce Atlanta office!), and I was being compensated handsomely for getting strong results. I could have easily retired with Kforce.
That's part of the problem though, at least with me.
Whenever I get comfortable, I get uncomfortable – I am always hungry for the next challenge.
Once I climb a mountain – I am not satisfied to sit at the peak and enjoy the view. Sometimes I wish I could though – life would be much less stressful.
However, that kind of life would also be much less challenging and rewarding. If you don't challenge yourself, you rob yourself of the opportunity to learn exactly how far you can go and what you are able to accomplish in life.
Ultimately, leaving my comfortable and familiar position to strike out and tackle the unique challenge that SourceRight was offering was a "no brainer."
I knew it was a special and incredibly rare opportunity, that it was highly unlikely that anything even remotely close would come along again, and quite importantly, the SourceRight role presented me with a mountain I hadn't climbed before, with a peak well above the clouds.
Not only was I prepared for the challenge, I'm now relishing it!
I am now leading SourceRight's Sourcing Center of Excellence along with sourcing and recruiting luminaries Eric Jaquith and Shally Steckerl where we are responsible for conceiving, evaluating, testing, implementing, and continually improving sourcing and talent acquisition tactics, processes, strategies, and technologies in pursuit of the most efficient and effective methods of talent discovery and acquisition.
And I couldn't be happier with my decision!
For those of you who may be considering making a change to pursue the next challenge in your career, I offer you words from Steve Jobs' 2005 Stanford commencement speech that resonated deeply with me and that I found extremely helpful when making my own decision:
"You've got to find what you love. And that is as true for your work as it is for your lovers. Your work is going to fill a large part of your life, and the only way to be truly satisfied is to do what you believe is great work. And the only way to do great work is to love what you do. If you haven't found it yet, keep looking. Don't settle. As with all matters of the heart, you'll know when you find it. And, like any great relationship, it just gets better and better as the years roll on. So keep looking until you find it. Don't settle."
"When I was 17, I read a quote that went something like: "If you live each day as if it was your last, someday you'll most certainly be right." It made an impression on me, and since then, for the past 33 years, I have looked in the mirror every morning and asked myself: "If today were the last day of my life, would I want to do what I am about to do today?" And whenever the answer has been "No" for too many days in a row, I know I need to change something."
"Your time is limited, so don't waste it living someone else's life. Don't be trapped by dogma — which is living with the results of other people's thinking. Don't let the noise of others' opinions drown out your own inner voice. And most important, have the courage to follow your heart and intuition. They somehow already know what you truly want to become. Everything else is secondary."
Stay hungry. Stay foolish.