Did you attend the SourceCon event in D.C. at the International Spy Museum online? Did you watch it via live stream? Did you miss it altogether?
Whether you attended or viewed SourceCon 2010 or not, I'd like to share with you my reflections on the event, including:
An observation and a question about social recruiting vs. sourcing
The fact that sourcing does not just mean using the Internet
Mike Notaro has raised the bar for conference knowledge sharing
An open call to talented sourcers all over the world
Is Social Recruiting Sexier than Sourcing?
In the weeks preceding the Social Recruiting Summit at Microsoft in Seattle, I noticed there was quite a strong online buzz surrounding the event, which took place on September 13th. SourceCon kicked off on September 28th, and if I had to hazard an estimate, I'd say the "buzzometer" reading for SourceCon was no more than 50% of what it was for the Social Recruiting Summit. I also believe the attendance for the Social Recruiting Summit event was stronger than SourceCon's. Does anyone have the stats?
I'm not sure if this is because the Social Recruiting Summit stole SourceCon's thunder by being the first of the 2 events in the same month, the fact that the SRS event was being held at Microsoft (okay, I wanted to be there), or if "social recruiting" is simply sexier than sourcing now.
I think it was likely a combination of all three factors.
What's your take?
Women are Excellent Codebreakers
Washington D.C. is a cool place. I was happy to return to my old stomping ground, as I was born in Maryland and lived there and in Northern Virginia for 34 years of my life. It's where I stumbled into recruiting (what sourcer or recruiter didn't stumble into their profession?).
Despite living within 20 miles of D.C for the vast majority of my life, I had never been to the International Spy Museum, which is where the SourceCon event was held. I did not know what to expect, and given that I am somewhat of a skeptic when it comes to all things, I was prepared to be underwhelmed.
At the end of day one I took the tour of the museum, and not only was it was fascinating, it was impressive. If you're in D.C., I do recommend you take a tour. If all you know about spying is from what you've seen on television and in the movies, prepare to be amazed at some of the things that have taken place in the name of espionage, which can only leave you wondering what you'll never know about what's taking place right now to protect your safety.
Of particular interest was one display focused on the German Enigma machine –  I read that at one point the Allied forces employed over 12,000 people in codebreaking efforts (including the infamous and supposedly unbreakable Enigma cipher), of whom over 80% were women. Cool!
Given that statistic (and the photo below), it appears we need more sourcing representation of the non-male persuasion at these events. :-) To her credit, Amybeth took this shot (thanks for hanging with the XY's!).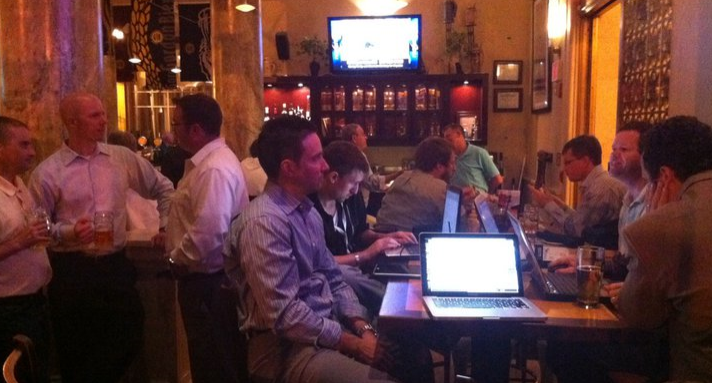 Sourcing is More than just Internet Search
Having attended 3 SourceCon events, I would have to say the majority of the sourcing content focuses heavily on Internet sourcing. By Internet sourcing I mean using Internet search engines to find resumes, names, leads, etc.
Am I the only person thrown by this?
I'm no stranger to using Internet search engines to find people and information, but I've been spoiled my entire (nearly 14 year) career by having access to highly searchable and well populated resume databases, both internal and external. When I need to find people with specific skills and experience, I don't go to the Internet first – I go to the deepest, most structured data I have access to, and for good reason (see my keynote).
I can't be the only person with access to highly searchable and structured data, can I?
Don't other people want to hear more about searching resume databases? Or is it that people assume searching resume databases is easy? News Flash: Just because you can find some resumes doesn't mean you're finding the best people, let alone all of the people you actually have access to. In fact, the dirty little secret is that a large chunk of the available search results of every database, social network and the Internet is never actually found. Contemplate.
Speaking of social networks, what about sourcing LinkedIn or Twitter? Both are highly searchable, although not necessarily deep in data, and LinkedIn is particularly well structured (current title, current employer, school, industry, etc.).
One logical explanation for the strong focus on Internet sourcing is that we all have access to the Internet, so at the very least, it's a common playing ground. But so is LinkedIn, and so is Twitter. Also, I'm pretty sure a good number of people attending the SourceCon events likely have access to at least one of the "Big 3" job board resume databases (Monster, Dice, and Careerbuilder).
On the non-Internet sourcing front, I was particularly pleased to see Maureen Sharib present on phone sourcing (great video demonstration and nice to finally meet you!), and we could all benefit from more phone sourcing content at future SourceCon events.
Mike Notaro Set the Bar for Sharing
Mike presented on the topic of automation and shocked most of the audience with the depth of his content. I love the fact that he titled his session "Automation 101" – I think most people would have called it "Automation 401." :-)
What really struck me was the fact that he took the time to prepare a veritable portfolio of sourcing resources for people to download via drop.io, including pre-configured Yahoo Pipes, Google Docs and a Tweet scheduler to learn from, modify and experiment with. At the end of his slide deck he also has extensive how-to documentation that anyone can follow.
On behalf of the sourcing community, thank you for not only sharing your knowledge, but also for taking the time and effort to create such extensive downloadable content for everyone to use!
For the majority of my recruiting career, I've had my head down simply getting stuff done.
Using a classic pre-1980's black and white kung fu movie analogy, I was the guy who was raised in an secluded mountain top dojo who spent his entire life training, learning, practicing, sparring and fighting, totally unaware of the outside world. As someone who's self-taught and who has worked at the same company for nearly 14 years, I quite literally had no idea there were other people out there who were as passionate about sourcing as I was.
Back in 2007 I stumbled, completely by accident, across something online mysteriously referencing "SourceCon." Unfortunately, I found out about it too late to attend. However, I was intrigued that there was an event solely focused on talent discovery and identification – I made it a point to keep an eye out for the next one.
As MC Jaquith noted to the SourceCon audience in DC, I attended the 2nd SourceCon event in ATL in total stealth mode. Some would say I was a "lurker." Honestly, I had no idea what to expect, and I didn't know anyone – I was there to check out the scene and see what these people knew in comparison to what I knew.
In less than 2 months after that event, I started blogging in October 2008.  Since then, I've delivered 2 SourceCon keynotes in 1 year.
The moral of this story is that I know there are many talented people out there who are passionate about the sourcing process and the various techniques, methods, strategies and technologies associated with sourcing candidates, who are doing great things in the talent discovery and identification space, who are at their desks with their heads down just getting their jobs done and making things happen for their employer. If you know someone who fits this description, encourage them to attend SourceCon events!
The global sourcing community can benefit from these people – fresh ideas, experience and perspective. And if you happen to be of those people I just described, lurking on my blog (yes, I know you're out there – it's all good!) and watching SourceCon events online, come to the next SourceCon in New York city on February 8th and 9th.
If you know a thing or two and have knowledge to share, you just might find yourself presenting on the SourceCon stage at some point, enriching the International sourcing community!