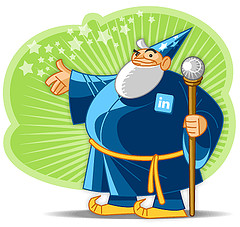 Is LinkedIn a social networking site, a job board, or a little of both?
Most people consider LinkedIn to be a social networking site, or more specifically a professional network service. LinkedIn describes itself as an "interconnected network of experienced professionals." However, when I take a step back and take an objective view of LinkedIn, I see a great deal of "job board" functionality with some social networking features.
Before you cry "blasphemy!," let's do some research and look at the facts. 
What Exactly is a "Job Board?"
I tried doing some research to find a definition of exactly what a "job board" is, and found that Wikipedia considers Monster, Careerbuilder, Hotjobs, Dice, etc. to be employment websites. According to Wikipedia, an "employment website" is "…a web site dealing specifically with employment or careers. Many employment websites are designed to allow employers to post job requirements for a position to be filled and are commonly known as job boards."
Common Features of Job Boards
According to INTERNET Inc, "job boards are usually free for job seekers though there are some exceptions mostly in the realm of upper management and executive jobs. Job ads can usually be found by browsing or through search on keywords, job type and location. Employers usually pay a fee to post job ads… Most job boards also offer employers resume database access for searching out candidates that match specific criteria. Additional services offered by job boards to employers often include: job agents that alert recruiters by e-mail to newly published job seeker resumes that meet specific criteria, …and brand building advertising with e-mail campaigns, banners, buttons and company profiles."
What LinkedIn Says About LinkedIn
I did some digging and found LinkedIn's press site. Under the heading of "What is LinkedIn?," you can read that "When you join, you create a profile that summarizes your professional expertise and accomplishments."
That sounds a lot like writing a resume.  
Reading further, LinkedIn says, "Through your network, you can:"

Reviewing those bullets, I see a mix of finding and being introduced to a variety of people, facilitating business, and posting jobs.
Towards the bottom of their "About Us" page, LinkedIn further explains, "We also offer a premium version of your accounts that give you more tools for finding and reaching the right people, whether or not they are in your network."
Hmmm…paying to search through profiles detailing professional expertise and accomplishments…why does that sound so familiar? Oh – I know! It sounds remarkably similar to paying Monster or another job board for the ability to search for resumes. 
Job Search
If you've never used LinkedIn to search for jobs, you may be surprised to see how robust their job search functionality is.  Here is a screenshot of a search for the keyword "accountant." You can see the first 4 jobs that are listed as "LinkedIn Jobs."  Notice, however, there is another tab labeled "The Web."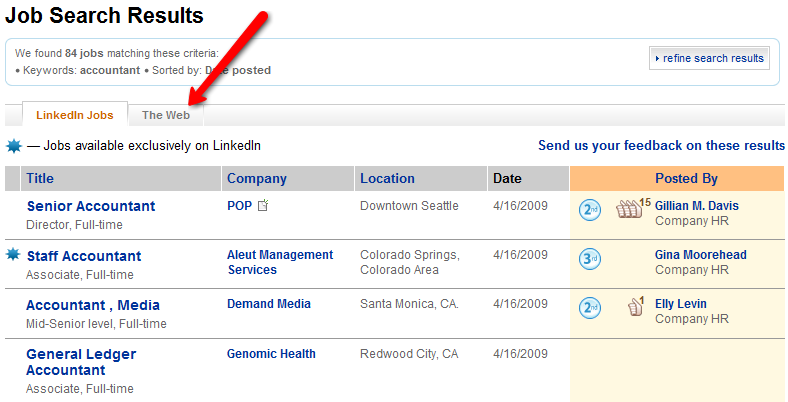 If you click on "The Web," you get taken to job search results for your keywords from SimplyHired, which is a "vertical search engine" company that is working to build "the largest online database of jobs on the planet."
I think that's a pretty cool feature – to be able to search for jobs using the LinkedIn interface and have the option to expand the results to jobs from outside of LinkedIn from the Internet. An especially nice feature for job seekers is the "Jobs insider" – which allows you to explore people you may already be connected to inside of the companies who posted the jobs you're reviewing.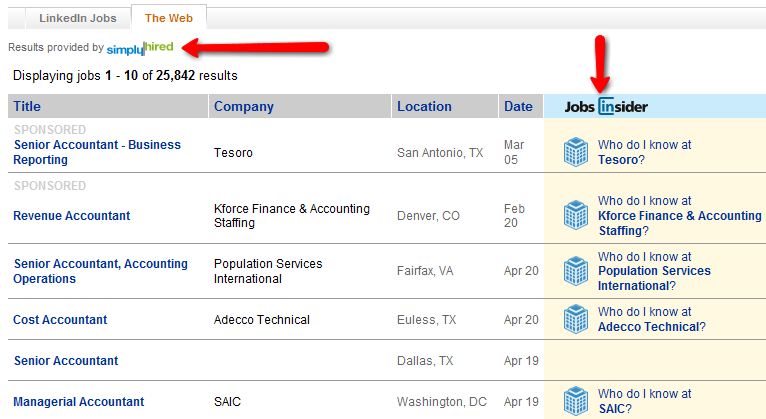 Pretty powerful and extensive job search functionality for a "social network," wouldn't you say? 
LinkedIn Hiring Solutions
While you certainly don't have to pay to be able to search Linkedin for candidates, LinkedIn does offer premium "Hiring Solutions:"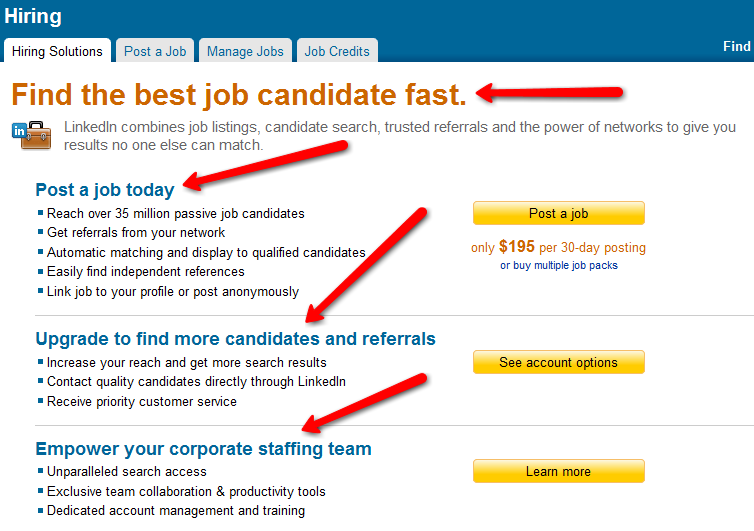 Hmm…let's see – "find the best job candidate fast," "post a job today," "find more candidates," and "empower your corporate staffing team." Is it just me, or doesn't that sound like job board speak?
Would you like to see more? Here we see exactly how many candidates you can see per search at each price point, as well as how many saved alerts you can get to "deliver a weekly list of new qualified candidates."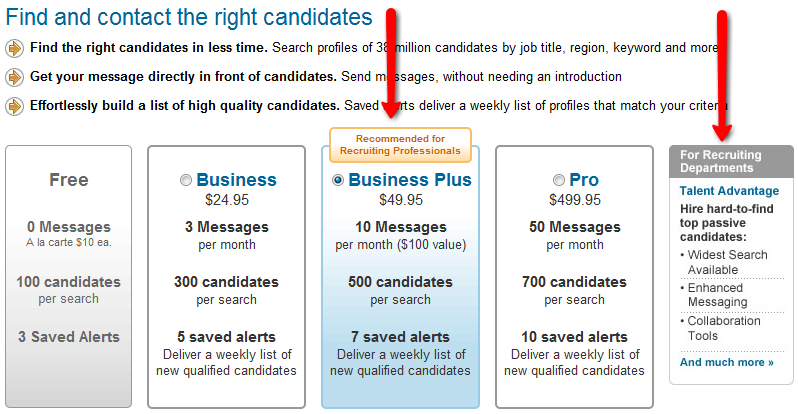 What's Your Verdict?
Now that you've seen all of the evidence, what's your verdict?
Conclusion
LinkedIn is definitely not an "employment website," because it is not a website that deals "specifically with employment or careers." There is no doubt that LinkedIn is used HEAVILY for employment/career related activity – I've seen estimates of 500,000 + recruiters on LinkedIn (click here for the results of a simple search for a few common recruiting and HR titles yielding 545,000+ results). However, LinkedIn is certainly not restricted to, nor solely defined by employment/career related activity, as employment websites are.
LinkedIn undeniably has some very cool and useful features that job boards don't offer, including InMail, recommendations, network connections (being able to see the people other people are connected to), groups, Answers, etc.
However, when we compare many of LinkedIn's people search (free and premium), pay-for-job-posting features, and LinkedIn's own self-description to Internet Inc's definition of job boards, there is a striking similarity:
Free for job seekers
Job seekers can browse through or search for jobs based on on keywords, job type and location.
Employers pay a fee to post job ads
Employers and recruiters can pay for access to search for candidates that match specific criteria
Search agents can be configured that alert recruiters by e-mail to newly published profiles that meet specific criteria
Companies can use LinkedIn for brand building with company profiles
My verdict is that I think that LinkedIn is essentially a job board in a social network's clothing – which is not a bad thing! "Job board" is not a four letter word – job seekers need to find jobs, research employers, etc., and companies need to find quality talent – this will never change. I think LinkedIn basically beat the traditional job boards to the punch by having all of the standard job board functionality PLUS a buch of cool social networking features.
LinkedIn was smart – they built the social network first, people came, THEN they added in the job board functionality.  Brilliant!