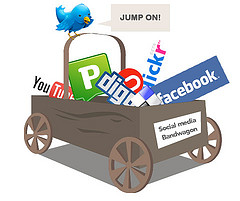 I follow a number of recruiting blogs as well as many sourcers and recruiters on Twitter and I see a growing trend of job board bashing – typically comparing them (very) unfavorably to social networking sites and applications.
I love and leverage social networking as much as the the next recruiting professional, but I refuse to just blindly follow the crowd or jump on the bandwagon when it comes to anything. With all of the buzz about social media and so many people running away from and disparaging the job boards, I am going to step out of the crowd and try to figure out where this perspective that job boards = old/bad, social networking = new/good comes from, because to me, some of the reasoning doesn't add up.
JOB BOARDS: JOB POSTING vs RESUME DATABASES
First, let me say that when I think of the job boards, I think of their resume databases – not job posting. Job posting is job posting – whether it's on a paid job board, a free board, LinkedIn, Twitter, or Indeed.  While it can definitely work, it's a passive and reactive technique that has a low ROI in most cases with many respondents who do not meet the basic qualificiations of the position posted.
I ACTUALLY USE BOTH JOB BOARDS AND SOCIAL NETWORKING
One thing I want to make clear is that I actually have access to and use major paid job board resume databases, and I also use LinkedIn, Twitter, and Facebook. It is very important to realize that some people who speak negatively about the major job boards actually don't use them. I am not really sure how someone can review or form an opinion of a product they don't use. I'll leave that for you to figure out.
EXCELLENT BLOG POST
This well-presented post was brought to my attention via Twitter recently: Top 5 Reasons Why You Should Recruit Thru Social Networks, and I agree with most of the points made and reasons presented. However, because there is an undertone of job boards = old/bad and social networks = new/good, it offers a good platform to me to offer some counterpoints.  Continue reading →