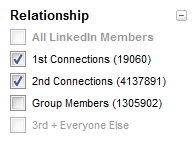 When someone connects to you on LinkedIn, they gain the benefit of any non-overlapping  network connections from your first and second degree network. Your first degree connections become their second, and your second degree connections become their third.
Have you ever taken a look at your LinkedIn network at the first and second to see what your network value proposition is to people who may be interested in connecting with you?
Eric Jaquith has, and now so have I.
I highly recommend you do the same.
Using LinkedIn's filters, I ran a search with no keywords for all of LinkedIn, selecting only my 1st and 2nd degree connections – no groups or "3rd + Everyone Else." Here's what my network looks like at the 1st and 2nd degree, from the perspective of the top 10 locations, industries, current companies, and past companies, as well as years of experience, seniority level, and Fortune 1000 rank. Continue reading →