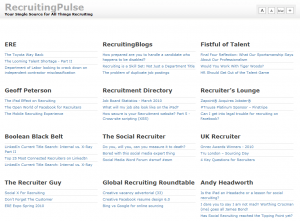 Overwhelmed by the sheer volume of sourcing, recruiting, social recruiting and HR blogs?
I know I am – a new recruiting blog seems to pop up almost daily!
So how can anyone possibly stay on top of all of them? Subscribing via email? Using an RSS reader?  
My initial approach to not missing a post from my favorite recruiting bloggers was to use Google's Reader. However, I found that over time, I simply stopped reviewing all of the posts and articles that were piling up.  Admittedly, my Google Reader is now essentially a dumping ground.
I switched to email subscriptions, but I found that to be equally unmanageable.
Then, not too long ago, I stumbled across a couple of interesting sites – Alltop and POPURLS – and I started to think…why not create a similar site that is focused 100% on aggregating sourcing, recruiting, social recruiting, and HR blogs?
So I did create one – and thus Recruiting Pulse was born.
Recruiting Pulse features the most recent 3 posts from over 50 sourcing, recruiting, social recruiting, HR, and UK recruiting blogs. On the main page, you will find a mix of 40+ blogs from all categories.
At the bottom of the page, you will find links to pages where blogs are arranged by category:
So What's the Big Deal?
I didn't say it was a big deal. :-)
I simply created the site as a blog post dashboard of sorts to enable people (including myself, I must admit) to easily stay on top of the content generated by over 50 of the top sourcing, recruiting, social recruiting and UK recruiting blogs.
Mouse over a link and you can see the beginning of each post.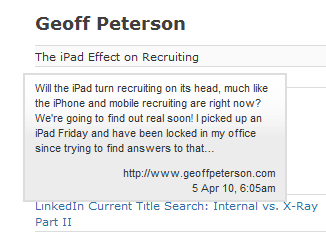 If you like what you see, you can click the link to be taken directly to the entire post.
It's that easy.
A Work In Progress
I did not intend to make Recruiting Pulse a site that tracks every last sourcing, recruiting and HR blog in existence – that would defeat the purpose of what I am trying to accomplish.
To keep it manageable, I chose a combination of blogs from HR Examiner's Top 25 lists and some blogs I read on a regular basis written by people I respect.
However, I am open to suggestions – so please feel free to let me know if there is a high quality sourcing, recruiting, or HR blog you think should be added to the site and I will take it into consideration.
I must say there are a few well known sourcing/recruiting blogs that I wanted to add to Recruiting Pulse, but I could not find an RSS feed for their blog (which is odd), and I found some Ning-based sites that only offered a "recent activity" feed as opposed to feeds for posts or discussions.
If you are a blog author and don't see your blog on any of the pages of Recruiting Pulse – please let me know if you would like to be added. I can't promise to add every blog/site as I am looking to keep Recruiting Pulse to a relatively reasonable size. However, I am open to adding blogs with quality content and at least weekly posts.
I do plan to modify the site in the future to feature even more specialized categories (e.g., global recruiting) – so let me know if you have any ideas there.
I hope at least a few people find the site helpful!