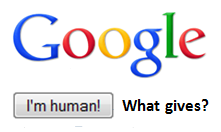 Have you ever been searching the Internet with Google to find resumes or LinkedIn profiles, and instead of getting your search results, you get a nice apology from Google saying that your computer or network might be sending automated queries and can't process your request?
In the past week alone I have received a number of inquiries from curious sourcers and recruiters as to what to do about this.
Typically, this notice is accompanied by a CAPTCHA that will allow you to enter some characters to prove that you're human.
You are human, right?

Performing a lot of X-Ray searches of LinkedIn profiles seems to trigger Google to ask me for proof of humanity.
However, just the other day I was searching for resumes online, and when I clicked to see the "cached" version of a search result, I got a different Google apology. This one didn't even allow me to prove my humanity. Dang!

If you choose to click on "Google Help", you'll see that they advise you to #1 Check for malware on your computer, #2 Contact your network administrator, and #3 If the problem persists, have your network administrator contact Google.
Apparently, sending automated queries of any sort to Google is against their Terms of Service, which states that among other things, it is unacceptable to use software to Google to determine how a website or webpage ranks on Google for various queries, 'Meta-searching' Google, and performing 'offline' searches on Google.
Last time I checked, manually searching for resumes and LinkedIn profiles isn't any of the above.
What To Do
Because I get stopped by Google's CAPTCHA quite frequently, I did actually contact Google, inasmuch as you can contact Google by filling out their form. Not sure if anything came of that as I have never heard back (not that I was expecting to).
However, what I have found is that simply clearing my browser's cookies gets this annoying search result interruption to go away, at least for a while. You can be selective in clearing specific cookies or you can delete them all – which will remove your saved settings for sites you've previously visited. Small price to pay in order to get your search results from Google.
You could also abandon Google altogether and switch to Bing, which doesn't make you suffer through proving you're human. Plus, Bing is actually a much better way to X-Ray search LinkedIn.
I hope that helps you if you ever got blocked by Google. Let me know if you have any other suggestions/fixes for this issue.
Thanks!