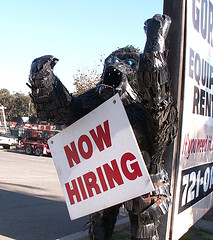 I read a brief sidebar article in the November 1, 2010 Fortune magazine that detailed the hottest jobs of 2010 and I was pleased with what I saw, and I thought you would be too.
Apparently, Fortune worked with "LinkedIn's top data crunchers" to pull some exclusive information about the job titles that saw the biggest percentage increase in 2010 over 2009.
Here are the 10 titles they listed:
Social Media Manager
Principal Sales Consultant
Recruitment Officer
Digital Designer
M&A Analyst
Investment Banking Analyst
Junior Software Engineer
Technical Recruiter
Transition Manager
Corporate Communications Manager
Recruiting and Social Media
It doesn't take a rocket scientist to see a few themes here:
Social Media Manager, Corporate Communications Manager
Recruitment Officer, Technical Recruiter
M&A Analyst, Investment Banking Analyst
Yes, I know some people might say that the tie between Social Media Manager and Corporate Communications Manager might be weak – but not necessarily.
Who is to say that Corporate Communications Managers can't/don't use Socialtext, Yammer, Confluence, Drupal, Jive, Novell Vibe or Salesforce Chatter to push corporate communications? Many already do! Continue reading →