LinkedIn's been busy.
I don't know about you, but I have always wondered what LinkedIn was going to do with all of the deep/rich data they capture with every profile that is created on their site.
With the release of 4 new dynamic search refinements that are now available to users of LinkedIn's Recruiter and Recruiter Professional Services, we gain some insight.
LinkedIn contacted me last week and gave me the honor of an exclusive sneak peek into what users of their 2 premium recruiter offerings will be able to take advantage of to quickly find more relevant candidate search results.
LinkedIn has definitely been busy, and they apparently appreciate the value of human capital data – maybe as much as I do. :-)
Data = Intelligence!
With every LinkedIn profile that is created, valuable candidate and company data is captured, including overall years of employment, years of experience with most recent employer,  and years of experience in most recent role.
LinkedIn is able to harness the latent power of this kind of information, and they refer to this as "derived data." That's because when people create LinkedIn profiles, they are not prompted to directly produce this data. However, LinkedIn is able to derive/calculate it from the information people enter into their career history because the data is there.
This isn't too dissimilar to resume parse, search, and match applications that "derive" current employer, years of experience, and most recent experience from resumes when they deconstruct them through the resume parsing process and subsequently make this data specifically searchable.
LinkedIn's 4 New Dynamic Search Filters
What users of LinkedIn's Recruiter and Recruiter Professional Services offerings now have the ability to do is dynamically refine search results by:
Overall Years of Experience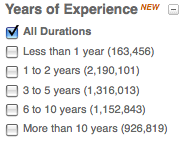 Years at Most Recent Company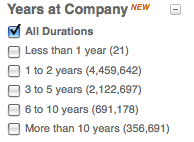 Years in Most Recent Position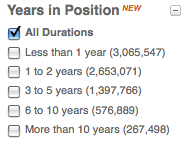 By Group (coming really soon!)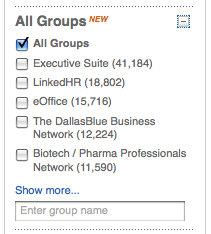 What's the Big Deal?
Sourcers and recruiters know that the ability to search for people with a minimum years of experience is a very nice feature. When the position you're sourcing and recruiting for requires a minimum of 10 years of experience, sifting through all of the search results of people with less than 10 years of experience is essentially a waste of time. If you need 10 years of experience – you should only get people with 10+ years of experience.
Also, it's very convenient to be able to refine search results by people who have been in their most recent position for a specified period of time. This feature can help sourcers and recruiters avoid (if they so choose) profiles of people who have been in their most recent position for less than a year.
Have a hiring manager or client that doesn't like job hoppers? LinkedIn's got your back. Now you can search for people who have been at their most recent employer for a minimum period of time that you can specify.
I know I've had my fair share of clients/managers who did not hesitate to tell me they preferred candidates who've been with their employer for 3-4 years or more. If you have access to either of LinkedIn's 2 Recruiter offerings, now you can target these people with the click of your mouse.  That's cool!
X-Ray searching
What's that? "So what?" you say?
Yes, you can search LinkedIn for free using a free account. However, you're limited to viewing the names of those people who are in your network, and you won't have access to the 4 new Dynamic Search Refinements.
Yes, I also know that any sourcer/recruiter worth their salt can search LinkedIn for free using Internet search engines such as Google to X-Ray and view any public profile.
But that ability comes at a price. The price is paid in the form of more false positives and imprecise results that come from the intrinsic inability to execute very targeted searches when searching unstructured data.
With X-Ray searching, you're unable to control current company, exact location (beyond a 50 mile radius metro area), reliably control current titles. With X-Ray searching, you're also unable to refine your search results by overall years of experience, years of experience with most recent employer and in most recent role.
Do You Really Need a LinkedIn Recruiter Account to Extract Value from LinkedIn?
Of course not.
However, those with LinkedIn Recruiter access will essentially have a competitive advantage over those who do not in that they can more precisely target candidates with specific career histories. The sword they use to slice and dice human capital data will be sharper than those used by people who subsist on searching LinkedIn for free. Premium users will be able to extract more value from LinkedIn more quickly, and more precisely than those searching LinkedIn for free.
Remember, the value of data (in this case, human capital data) lies not in the data itself. Simply having access to data is not enough – this is something that people who claim sourcing is dying or dead don't really understand.
Extracting value from data is directly tied to the ability to quickly find exactly what you want – retrieve highly relevant search results that closely match the intent of your search (not just the search terms – there's a big difference!). 
And these 4 new dynamic search refinements from LinkedIn help you do exactly that.
What the Future Holds
I have a feeling that these 4 new dynamic search refinements are only the beginning of what LinkedIn is planning to with the data they have on hand. I can only imagine the possibilities – and I can think of a few that are quite exciting!
Disclaimer:
I don't have a LinkedIn Recruiter account, nor was I compensated in any way for this article. LinkedIn didn't even ask to proof/approve this post before I published it, and for that unconditional extension of faith and trust, I sincerely thank Esteban and Francois!