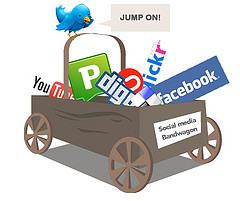 I feel a moral obligation to weigh in on "social recruiting" again.
I'm not trying to be a buzzkill – but with the continuing swell of momentum and hype that social recruiting is building up, someone has to play the devil's advocate, refuse to become a victim of BSO (Bright Shiny Object) syndrome, and jump off of the bandwagon to be the voice of objective reason amidst the din of social recruiting cheerleading.
From the many blog posts I am seeing on the subject to the webinars I see popping up frequently, it's clear that many people see social recruiting as a branding and/or money making opportunity for them.
On the flip side of the coin, there are many people who seem ready to view social recruiting as "the next big thing" and are eager to absorb (and pay for) the message that if you're not performing "social recruiting" you're behind the curve, you'll be left behind, your competitors will laugh at your antiquated recruiting methods, and you'll never make another hire.
Okay, maybe I'm getting a little dramatic with the last part(s).
But you get the point.
While social media/networking has undeniably added a new dimension to recruiting, it's important to know that the emergence and evolution of LinkedIn, Facebook, Twitter and other sites have not changed many fundamental aspects of recruiting.
First, You Should Know That…
I use social media – I blog, use LinkedIn, Twitter, and Facebook, and I've made and facilitated hires using them. I train recruiters on how to successfully recruit using every tool and resource available to them – including social media. I work with many recruiters who regularly use LinkedIn, Twitter, and Facebook to identify, engage, and recruit candidates – and yes…get results. One recruiter recently made 3 placements in a month using Facebook. 
So I am no stranger to "social recruiting." I just don't like to call it that.
What Social Networks HAVE Changed In Recruiting
Access and Engagement
It's never been easier in the history of recruiting to find and communicate with potential candidates and we've never had such easy access to them. The "Big 3″ social networks afford recruiters with unfettered access to 10′s to 100′s of millions of people that they can find, communicate with, engage, and build relationships with. 
For free. That's a BIG deal.
Listening
Social media allows recruiters the unprecedented ability to listen to/observe their target talent pool prior to making contact or engaging them.
Marketing
While social networks give companies fantastic new opportunities and mediums for employer branding – that's social media marketing - NOT social recruiting, as far as I am concerned. Although marketing and recruiting often go hand in hand, they are two very separate and distinct concepts.
Talent Communities
LinkedIn, Twitter, Facebook and other online social networks can easily and effectively be used to create and/or tap into talent communities of like-skilled/minded professionals.
However, one could easily argue that this isn't a new concept at all (let's not forget about BBS's) – but social networks such as LinkedIn, Facebook, Twitter and others definitely put a sexier spin on it along with more functionality. 
What Social Networks Have NOT Changed In Recruiting
Job Posting
Yes – you have many options for posting jobs today aside from the job boards (which are supposed to be dying or dead, just as job boards were supposed to have killed recruiting agencies and executive search 10+ years ago).
You can post jobs on Facebook (manually, through services, and apps), on LinkedIn (paid or free in groups and status updates), and Twitter (manually, automatically through feeds, and through services).
So who cares?
Yes – you should be posting your jobs wherever they can be potentially seen by your target talent population.
However, posting jobs is posting jobs, regardless of where or how they are posted.
As I have written before, posting jobs is a passive and reactive talent acquisition strategy, affords no control over candidate qualifications, attracts active and casual job seekers only (the minority of all people), and is ineffective at snagging passive and non-job seekers.
Plus, posting jobs to social networks via social media is not "social recruiting," it's social job posting.

Would you even say that job posting is really "recruiting" anyway?
Engagement
While social media and social networks do give recruiters a new medium through which they can engage and interact with potential candidates, communicating electronically/digitally is not revolutionary and is definitely not limited to social networks. 
Is an InMail, Twitter DM, or Facebook message any more "social" and engaging than an email? And where do most of those social media messages end up? In the person's email inbox.

Which would you say is more engaging – a Twitter conversation, or a phone conversation?
You Still Have to Talk to People
Social media gives recruiters and employers one more medium through which they can interact with potential candidates. However, social networking sites such as LinkedIn, Twitter and Facebook are neither replacements nor prerequisites for telephonic or in-person communication.
Just because you can, is it really necessary to use a social network to message or interact with a potential candidate before speaking with them over the phone?
Social
Recruiting has always been social – social networks did NOT put the "social" into recruiting.
Which is more "social" – having an exchange via Facebook/LinkedIn group or Twitter chat, or talking to someone on the phone or in person?
Talent Identification
While LinkedIn, Facebook, Twitter and other social networking/media sites afford sourcers, recruiters and employers with unprecedented access to millions of potential candidates, some sites aren't very searchable and most social profiles are very shallow sources of professional information.
Facebook is well-nigh unsearchable, for all practical intents and purposes (at least for anything more specific than a keyword or phrase), and very few people list employers, titles, and other information that would give you any sense of what a person does, how much experience they have, and what they are capable of doing.
Twitter has 160 character bios where some people will give away clues as to what they do professionally, but many don't. Also, a great many people simply don't tweet about what they do for a living. 
Categorized as the most "professional" social network, while some LinkedIn profiles are fleshed out nearly as well as a typical resume, most contain employers and titles and little-to-nothing else. While that level of information can certainly be used for some degree of talent identification, it's not as effective, efficient, nor as accurate as using deeper sources of data such as resumes (like the ones in your ATS/CRM – you know, the ones from people who at some point expressed interest in your company?).
While social networks have given recruiters unprecedented access to more people than ever in the history of recruitment – simply having access does not grant the ability to find and identify the right (and best!) people easily, quickly, or at all. If anything, having more access to more potential candidates only stresses the importance of good search skills.
Point to ponder – just because a recruiter uses a social network to find a potential candidate, does that mean they are performing "social recruiting?" For example, if you search LinkedIn, find a potential candidate, join a group they are in and send them a message – is that any more "social recruiting" than searching your ATS/CRM or an online resume database and emailing the candidate? 
What if you find someone on LinkedIn and you research the main number for the company listed as their current employer and give them a call – is that any more "social recruiting" than searching your ATS/CRM or an online resume database and calling a candidate?
Is one of those methods more effective than the other?
Final Thoughts
Social media and social networks that enable and facilitate social interaction have unquestionably given recruiters unprecedented access to and the ability communicate with large populations of potential candidates where they live online, but social media is no more "social" than attending a user group/networking event or simply picking up the phone and speaking with a potential candidate.
The "human element" of recruiting – effectively communicating and building relationships with candidates, understanding candidate motivators, consultative selling, etc. – none of these have been changed or altered by the emergence of social media.
I fear that "Social Recruiting" has become it's own box that recruiters and employers need to think outside of.
Hasn't recruiting always been social?
Do you really need to use Facebook, Twitter or LinkedIn to be a "social recruiter?"
I say that recruiting is recruiting – by any means available, applicable, and necessary, no matter how it is accomplished (ethically, professionally, and respectably – of course) or through which tool/medium. I don't see how anything is gained by slapping another label on it.